South Ural State University is a multinational university, studying in which are students from 56 countries. In SUSU classrooms one can meet citizens of China, Egypt, Algeria, Côte d'Ivoire, and many other countries.
Especially warm relationships have been established between South Ural State University and Sudan: residents of this country proved to be excellent SUSU students, and the leadership of the Republic frequently visits the university for national holidays' celebrations.
"Students who came to us from Sudan gave a very good account of themselves," noted Liudmila Lapina, Head of the International Student Support. "At the moment, we have 5 people from Sudan studying in both Bachelor's and Master's programmes. Moreover, we have very good relationships with the leadership of the country: in 2018 the Ambassador Extraordinary and Plenipotentiary of the Republic of Sudan to the Russian Federation, Nadir Yousif Eltayeb Babiker came to SUSU to celebrate the Arabic Culture Day. He had a meeting with the Rector and with students from Sudan, and had a positive feedback regarding the students' training and the university as a whole. We are planning to keep developing our cooperation."
Hotor Moez is one of the five citizens of Sudan who are now studying at SUSU. His acquaintance with South Ural State University started in 2017, when he got enrolled on Russian language courses.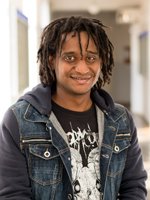 "I had been choosing a university to get enrolled at for a long time. I browsed many higher education institutions in the Internet, but in the end I've chosen SUSU. First, I completed a 10-mont long Russian language course. Studying was difficult, but SUSU has very good teachers who always helped me. After the courses, I decided to continue my study and get a Master's degree," says Moez.
Despite the fact that Moez obtained his first degree in the sphere of construction, he chose to continue his studies in the Master's programme on Strategic and Corporate Planning under Conditions of Digital Economics in the major of Management. Studying at the School of Economics and Management will help bringing into reality the young man's dream to start his own business, as this Master's programme is targeted at training of highly qualified specialists, who are capable of elaborating and efficiently implementing strategies for development of businesses.
No matter the fact that the study is conducted in Russian, Moez is getting ready to defend his thesis.
"When I just got enrolled at SUSU, I felt the language barrier because I had poor knowledge of Russian language, but my groupmates were helping me. Education provided by SUSU is very good. I came to study in this major because I want to start my own business, and the university gives me the necessary knowledge and skills."
Another student from Sudan named Mustafa Abbaker came to SUSU to become a builder. The young man entered the Institute of Architecture and Construction to major in Industrial and Civil Construction, because he has been dreaming to work in this sphere since childhood. Mustafa's friends who have already graduated from the university advised him to enter SUSU.
"I have always wanted to be a builder. This profession has very good outlooks so I've chosen this major. Over the time of my study at SUSU I learned many interesting things about architecture and construction. After graduation I am planning to continue studying at South Ural State University, first as a Master's degree student and then as a postgraduate," says Mustafa.
Let us remind that foreign citizens who want to get a prestigious degree at SUSU can learn all the details regarding the procedure of admissions via the portal for university applicants by clicking the link. If any questions, please also send an email to applicant[at]susu[dot]ru. (International Student Support at the SUSU International Office).
Contact person:
Евгений Загоскин, отдел интернет-порталов и социальных медиа, 267-92-86