The potential of South Ural State University is so high that citizens of not only Russia, but also of the neighbouring CIS countries and far abroad, including the Republics of the former USSR, want to get an education and perform research activities here. One of such enquiring minds is a postgraduate student Shahboz Kodirov, a native resident of Dushanbe, the capital of Tajikistan. Now he is working on his thesis of the Candidate of Sciences under the supervision of a prominent scientist, Doctor of Sciences (Engineering), Professor, and Rector of SUSU Aleksandr Shestakov. If you want to find out why the postgraduate student has chosen SUSU, read the material of the SMART University newspaper:
– Please tell us if you had any favourite subjects at school?
– Yes, of course, I loved and still love Chemistry, Biology and Mathematics. My parents are medical workers, and when the time was due they recommended me to follow their footsteps. I even wanted to become a dentist.
– Have you been interested in science, technical creativity before entering the university?
– As a child, I spent most of the time with my mother's parents. My uncle, an energy engineer, lived in the house of my grandparents. For me he was an idol, I thought that for an engineer there were no barriers in creativity and solving any problems. It was then that I fell in love with electronics, electrical engineering, and design.
First, I entered the Tajik Technical University named after academic M.S. Osimi, at the Department of Chemistry, Technology and Metallurgy. As an applicant with a high passing score, I received an offer from the Ministry of Economic Development and Trade of the Republic of Tajikistan to apply for admission to one of the 45 leading universities in the world under the Durakhshandagon (The Blossoming Ones) program, funded by the personal fund of the President of the Republic of Tajikistan Emomali Rahmon. It covers universities in the USA, Europe, Iran, Turkey and Russia. In the opinion of the expert commission, my knowledge was enough to enter a Russian university. From the list of the proposed ones I chose the specialty "Mining Engineer", submitted documents, passed an interview and became a student of Sergo Ordzhonikidze Russian State University for Geological Prospecting. Five years later I graduated from that university with honours.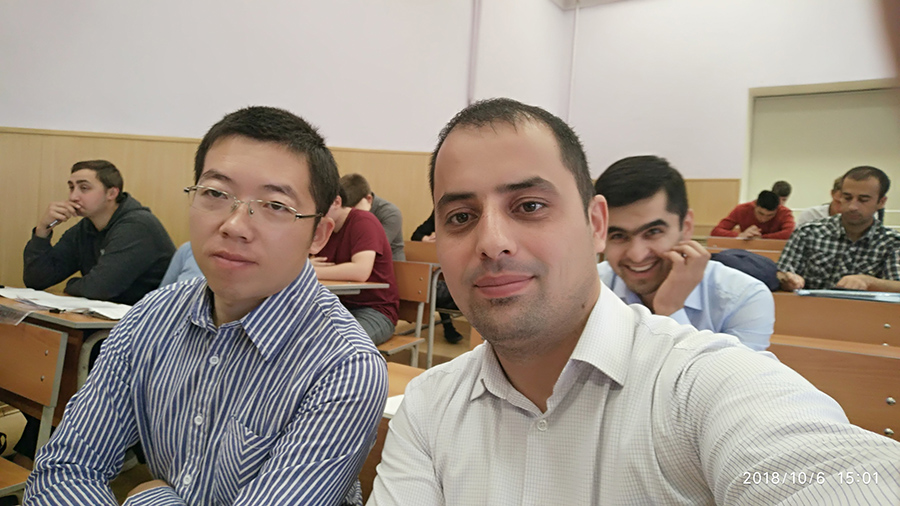 – Mr. Kodirov, why did you choose South Ural State University to enter postgraduate studies? How did it happen that SUSU Rector Aleksandr Shestakov became your supervisor?
– I had several options for entering postgraduate school. In 2018, SUSU and the Tajik National University, where I worked as an assistant, entered into an agreement. The Department knew that I was planning to enter the Russian postgraduate school. At the university meeting it was announced that TNU intended to send its employees to the SUSU postgraduate school. A few days later, the Head of the Department, Nosir Safaraliev said that he wanted to recommend me to the university commission. I had no objections. I said for a joke that in Chelyabinsk I had relatives whom I had wanted to visit for a long time. Two days later, Nosir Safaraliev called me and asked me to urgently send copies of the documents by e-mail and handed over the original papers to the representatives of SUSU, who were in Dushanbe at that time. I did it with some delay, because at that time I was out of town with student trainees.
I met the SUSU Vice-Rector for International Relations, Olga Yaroshenko, who told me that if I passed the entrance exams, then the SUSU Rector would become my supervisor. In Google I have read the information about the scientific achievements and managerial abilities of my future supervisor, and was dumbfounded with joy. I doubted whether I would pass mu exams. But I said that I would do it, it could not have been otherwise. I eve didn't remember how I came back home. My relatives asked me sadly if I really wanted to go to Russia in a week. I should have warned them. In the morning I left for work and then I came back and reported that in a week I would fly to Chelyabinsk. But I persuaded them, got their approval, flew to Chelyabinsk, entered the SUSU postgraduate school and met Aleksandr Shestakov. He chose me as the nominee. In the first years of studies, I often heard that Shestakov worked only with strong postgraduate students. And I set a goal of becoming a worthy student as soon as possible.
– How do you feel working under supervision of the SUSU Rector?
– Tajik culture is rooted in the culture of ancient Persia. Among the peoples of Persia it was a custom to give a child at the age of three to five to be raised by a wise and successful person, and subsequently such a tutor for the Persian became even more of an authority than his mother and father. Having worked for almost two years with my supervisor Aleksandr Shestakov, I have learned a lot and formulated the "golden rules of success by Shestakov." Here are some of them. First: honesty in work, studies and in everything is economically and socially beneficial in the long run. Second: like the character of "Through the Looking Glass and What Alice Found There" by Lewis Carroll said 'You see, it takes all the running you can do, to keep in the same place. If you want to get somewhere else, you must run at least twice as fast as that!' Third: do not spread yourself, but focus on the main thing. Fourth: learn how to use intuition (your gut) properly. Everything seemed to be obvious, clear and understandable, but very few used those rules in everyday life.
– Does any of your friends or relatives study at the university?
– At that time I didn't have any acquaintances there, but I knew about SUSU, since I studied automation and optimization of drilling exploration wells from books written by a famous scientist who had worked at the university for many years, Doctor of Sciences (Engineering), Professor Rafaiz Gafiyatullin in collaboration with the Minister of Geology of the USSR Evgeniy Kozlovskiy.
– You graduated from the university long ago, and worked. Why have you decided to do research?
– While studying at the university, I loved science, participated in many conferences and competitions, and won prizes. After graduation, I worked in manufacturing in private companies, made good money, and in a short time made a successful career. I had foreign business trips, a good friendly team, a developing business, everything seemed to be fine. But deep down I felt that I was using my potential for other purposes. I felt like I had betrayed my dreams. And once in silence, I mentally imagined that I owned all the money of the world, and asked myself: 'What will you do next? After all, you do not need to earn money'. And I heard the voice of the soul saying that I wanted to look for new patterns, solve unsolved problems, and always be in a team of scientists. I understood that my purpose was to do research and be an eternal student, a seeker of new knowledge.
– What is the topic of your thesis for Candidate of Sciences?
– "Development of an artificial neural network model for predicting sticking of drill pipe strings." The sticking of drill pipes in the oil and gas industry, especially when drilling oil and gas wells, is a very serious accident, it causes huge losses, and response to that is expensive. Our task is to develop an algorithm, method and model for predicting such accidents.
– Who and why selected that topic?
– Having arrived in Chelyabinsk, I thought that I would be engaged in the same problems as the university and my supervisor. But, having spent a lot of time on me, which I was heartily grateful for, Aleksandr Shestakov developed a combination that I call a masterpiece: I am solvinga very important and relevant problem, and not only for my homeland, Tajikistan; and a problem from my profession (mining) as well, while using the methods and techniques of the field in which SUSU has vast and successful experience and is a leader in Russia, this is the artificial intelligence (neural networks).
In my opinion, a supervisor usually selects a topic that he has already worked on several times, with several graduate students, that is, they all solve the same problem, but everyone looks at it differently. But Aleksandr Shestakov has a different approach: our team of postgraduate and doctoral students deals with a wide variety of problems: from diagnosing a defect in rotating units to drilling wells. And the main idea of the "masterpiece" is that every postgraduate student does what he/she loves and as a consequence works with incredible passion. Once I asked a postgraduate student colleague how his workdays were planned and he answered: 'I don't have business days, I don't really work, my business is my life'. Then I realized that I was not alone in that, everyone had their own "masterpiece" topics.
– How is the research going?
– The structure of the work has already been formulated, a model has been developed and tested, the testing phase of the second model is being completed. The problems to be solved in our thesis are unique; this is a synthesis of two approaches, and they reflect those parts of the overall picture, those problems that no one had previously noticed or solved. Our work has been highly appreciated by the experts from the leading oil and gas companies, such as GAZPROM BURENIYE, LUKOIL-Engineering.
– What is the most interesting in your research?
– There are no unsolvable tasks and problems. If there is a passion for learning and searching, there will be new ideas. Sooner or later the solution will be found, and it would seem that it has always been nearby, lying on the surface.
– What are your plans for the near future?
– I want to complete and defend my thesis successfully.
– What position and which department do you work in at SUSU?
– I am a junior research fellow at Self-Validating Sensors, Systems, and Advanced Instrumentation Laboratory, where a team of Russian and foreign scientists works.
– In your opinion, what are advantages and disadvantages of distance learning?
– For me its main advantage is that it minimizes the unproductive waste of time on the road, on waiting for a lecture, on roll call; the time is irreplaceable, and therefore it is the most valuable resource. Secondly, financial costs are significantly reduced: the Internet is much cheaper than daily trips in transport. Thirdly, you can view the lesson notes. I always turn on the video stream playback mode at "+1.5", which is very productive: it is easier to catch the necessary information. There are also disadvantages of such method of education: firstly, you have to adapt to it, train your brain, especially when you need to listen to a few lectures a day. Secondly, I have developed a pain in the cervical spine after spending several hours working on a laptop. But regular gymnastics helps, and I have even made a program that includes an alarm when the time comes to stretch. In addition, you need to connect to the Internet - this is a minor disadvantage, but it's there.
– Did you adapt to the distance learning format quickly?
– Very quickly: this format is not new to me. I have regularly attended online courses from various universities before. But then the training was not so intense. Now I have full experience in distance learning. The hardest thing is to get used to self-isolation but gradually I get used to it.
– Which is easier: common classes or distance learning?
– For me distance learning is easier. Especially if the subject is difficult, then it is better to master it remotely, using different sources and materials at the same time. But, no doubt, common classes are better from an "energy" point of view: these are emotions, friendly faces, smiles, discussions and disputes.
– Are you planning to connect your future career with SUSU and Chelyabinsk, or you would like to work somewhere else?
– SUSU and Chelyabinsk are the sources of my bright research life, with an excellent team, with excellent scientists, wonderful and successful people. Wherever I am, I will be a useful and grateful son of SUSU. I think I will be able to present the power and potential of the university in a new format in Tajikistan.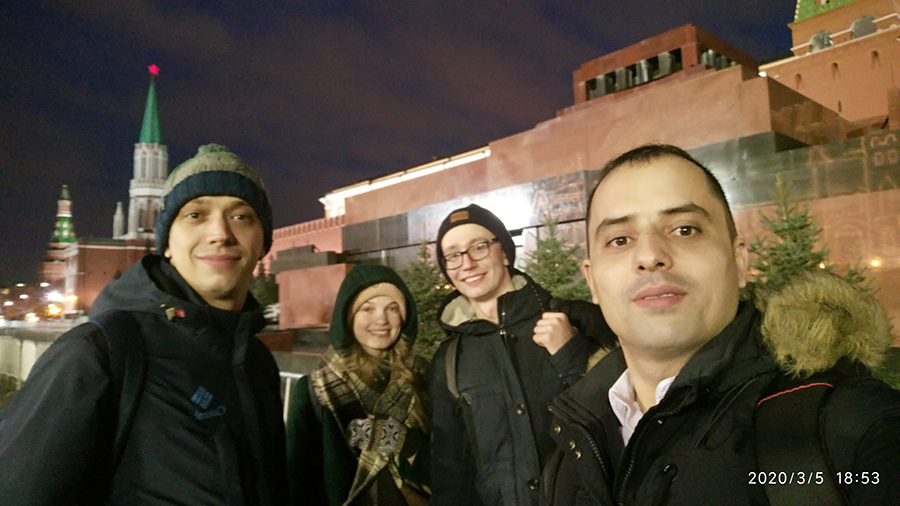 – Will you return to your home town?
– No doubt. I love my homeland and I am very grateful for having trusted me and invested in me. I understand that many barriers and difficulties in the scientific world have to be overcome, but I'm sure that, having mastered the methods of a supervisor, I can raise Tajik science to a new level, in the name of our country's prosperity.
– What would you advise for those who want to enter SUSU?
– SUSU is a team of the best, honest professionals devoted to their country and their work. This is the most modern university, having the most favourable conditions for students, in particular for international students. Empirically, I have deduced the formula: SUSU is Professionalism + Politeness + Punctuality + Efficiency + Care + Honesty + Sociability + Progressiveness + Modernity + Discipline + Uniqueness of Strategies.
When I was studying geological prospecting in Moscow, I was heading the university's association of Tajik students for several years. Thanks to that, I was able to visit many leading Russian universities, I still maintain contacts with their students and am convinced that SUSU holds a leading position in the country according to the above criteria, which are very important for foreign citizens.
And also here works the most polite, caring and sincere Director of the campus Liudmila Zadorina, who is "the mother of all foreigners", and she is irreplaceable! I think these arguments are enough to correctly choose the "University of a Happy Fate".
– What do you do in you free time?
– I have almost no free time, but if I do, I read books mainly on the psychology of human behaviour, the psychology of success, and neuropsychology.
– Do you manage to socialize with fellow postgraduates?
– Unfortunately I do not. I remember how much fun it was when international postgraduates from one batch gathered last year. But since then, everyone has matured, new concerns have appeared... With the introduction of the self-isolation regime, our meetings have ceased completely. And if you ask about online ... I have few accounts on social networks, I can't always communicate with everyone, and I don't have time. But I have made friends with my neighbours. I have new friends from Algeria, Egypt, China, Syria. We cook together in the kitchen, go to the store. It is interesting with them, I learn a lot from them, I get acquainted with their languages, traditions, and their views on life.
Taking this opportunity, on behalf of all international students and postgraduates I want to express my gratitude to the management and staff of SUSU for their paternal care and help during the pandemic. Here, much attention is paid to supporting international students: events are held aimed at preserving spiritual and cultural values, and associations, community members are established, and the interaction with Consulates and Diasporas is established. I will memorize Chelyabinsk as a city where the kindest and most caring people live. Thank you everybody!
Contact person:
Office of Internet Portals and Social Media, 267-92-86