On February 14th, the SUSU Sociocultural Adaptation Centre offered interactive games for international students at the Sigma academic building. The event was dedicated to Valentine's Day.
Preparations for the event began in the beginning of February: volunteers of the Sociocultural Adaptation Centre prepared blank valentines to be sent and a mailbox. The organizers also made a big, beautiful sign, where students could profess their love.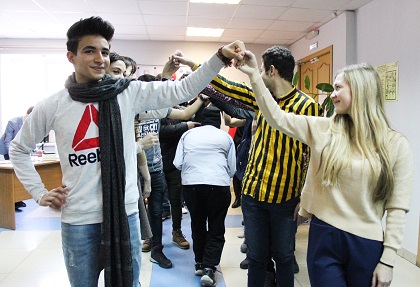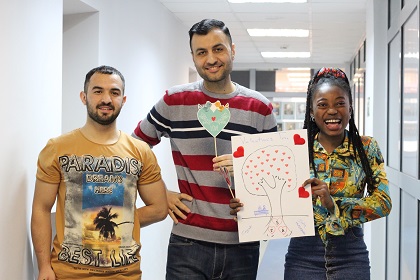 During the lunch break on February 14th, international students had the opportunity to play a number of games: make a heart out of pieces of paper, draw the woman or man of their dreams, play the traditional Russian game "Rucheyok" (Rivulet), and also find their other half through cardboard hearts which were handed out at the entrance. During the event, the students also had the chance to dance to romantic music and take photos.
"This is not the first year we have celebrated Valentine's Day, and our students really like this event. They participate in all of the contests actively, and send their friends and teachers valentines. For us, this holiday is one more opportunity to gather all the international students, introduce students from different groups to one another, and for them to speak Russian," says Head of the Sociocultural Adaptation Centre, Dina Valeeva.
One of the participants of this interactive event was first-year student of the Department of Russian as a Foreign Language of the Institute of Linguistics and International Communications, Ibrahim Ahmed. The young man shared his impressions of the event.
"I really liked this event! The lounge was decorated very beautifully and music was playing. We danced and drew. They often hold events for us. I like that our teachers participate in the events with us. I have found many friends at SUSU."
As a reminder, more than 2500 students from 52 countries study at South Ural State University. Each month, the Sociocultural Adaptation Centre organizes a large number of events for the students aimed at supporting their active interaction with one another.