Scientists of South Ural State University have developed a new recipe of biscuits enriched with nutritious properties, right for the New Year's table. The main distinctive feature of the new recipe is that a pumpkin, containing a whole set of biologically active substances, is added.
The aim of the study was to develop a technology of mashed pumpkin production, as well as to determine the most nutritious variety of pumpkin, which would not lose its nutritious properties during heating. Next, the scientists studied the physicochemical, organoleptic and nutritional values of the biscuits, in which flour was partially replaced with mashed pumpkin. The scientific article on this subject was published in the journal Scientific Study and Research: Chemistry and Chemical Engineering, Biotechnology, Food Industry, indexed in Scopus and Web of Science databases.
"Nowadays, there is a trend of using vegetable processing products in confectionery production. Pumpkin is the most valuable nutritional and dietary food product, filled with biologically active substances. It contains proteins, pectin, carbohydrates, starch, organic acids, fats, vitamins, mineral salts and more, which are useful for a human body and are well digestible. High content of pectin substances allows to think of pumpkin as of a product for the production of gelling materials, that are widely used in confectionery production and in making sweet dishes," tells Aleksandr Lukin, Candidate of Sciences (Engineering), Associate Professor of the Department of Food Technology and Biotechnology of the SUSU School of Medical Biology.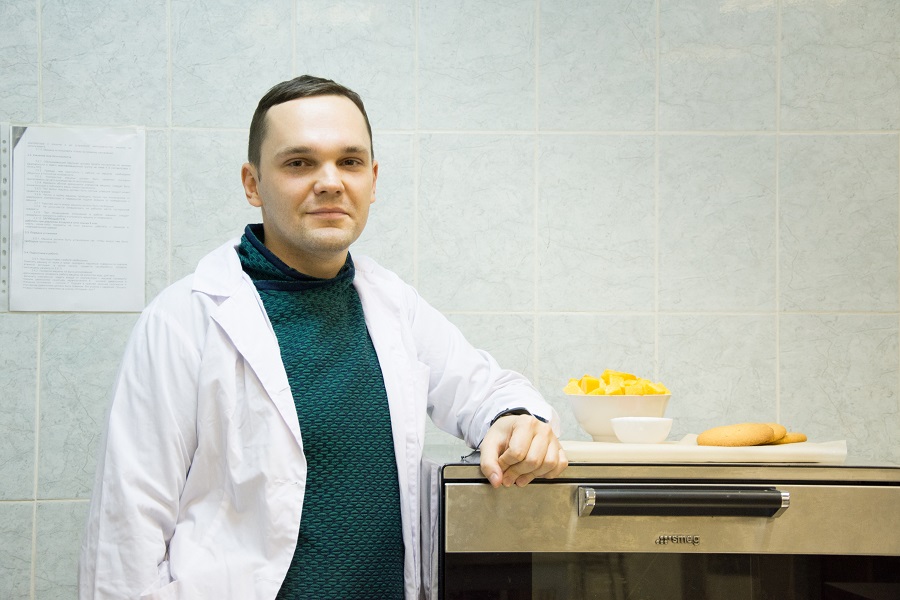 Photo: Aleksandr Lukin, Candidate of Sciences (Engineering), Associate Professor
The scientists studied certain varieties of pumpkin and defined the variety having the biggest number of biologically active substances, β-carotene and pectin substances. Experimental samples of biscuits were made by adding mashed pumpkin in the amount of 5%, 10%, 15% to the wheat flour amount. Such parameters as shape, surface, colour, its look in fracture, taste and smell were examined organoleptically. The biscuits with mashed pumpkin in the amount of 5% to the flour amount turned out to be the most acceptable ones in terms of taste.
Mashed pumpkin, added to sugar biscuit dough, not only increased the number of nutritious substances, but also changed the structure and texture of the finished products. This also led to a change in the colour of a product, from light-straw to orange, which is explained by β-carotene. The taste and smell were most intense with the amount of 10% and 15% of mushed pumpkin added to the wheat flour.
Thus, the most successful recipe, in all respects, became the biscuit recipe with the 5% of mushed pumpkin to the total flour amount. Such innovation would not only allow to increase the content of nutritious substances: pumpkin fruits are also rich in pectin that helps to remove cholesterol from body. The new biscuit recipe with mashed pumpkin can become popular in confectionery production as a healthy dessert.