New Year's Eve is a practically universal holiday that's often celebrated with fireworks, parties, and a toast to a happy and healthy year to come. But different countries around the world ring in the New Year with unique cultural traditions.
Upasak Bose, India
Master's in Economics, SUSU
India has 28 states and each state has its own language, culture, and traditions. Therefore, in each state, the New Year is celebrated on different days. For English New Year families can gather together, prepare a family dinner, bake cookies. But in my Bengali culture New Year is celebrated on April 15. This is the most important occasion to meet the whole family - relatives come from all over the country and gather in the one house, we dance and have nice time together. Sometimes people make promises to quit bad habits and become more responsive, but they don't always keep the promise.
I want to congratulate all students and professors of SUSU and wish them to be happy and healthy. SUSU is my second home and I am very happy to be here.
Sanjana Probod, Sri Lanka
SUSU Foundation Year
At home we celebrate New Year on April 13 and 14. Our new Year is a bit similar to your Maslenitsa because the most important thing for us is the Sun. Our celebration starts at home when we put on new clothes of one color (last year it was white, this year it will be red), we go to the temple at 6 pm for religious service. We celebrate with the whole community as one family. The whole country starts and finishes the celebrations at the same time.
Last New Year I was in Russia and spent time with my Russian friends - we decorated a fir tree, sang songs till the morning, went out outside at night and played snowballs. I liked it very much! I really like the Russian tradition - on New Year's Eve you forgive your friends mistakes that they've made during the year and you continue to be friends. Unfortunately, we don't have such tradition in our culture.
I want to thank the university for becoming my second home and I want to wish everybody happiness, love and luck.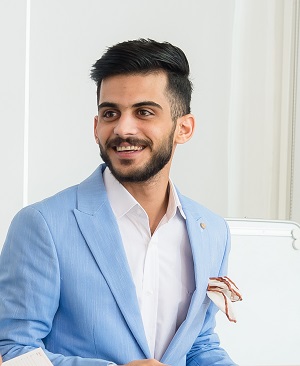 Ali-Al Delphy, Iraq
Master's in Physical Education
We celebrate New Year on January 1. For us the holiday is firstly the family holiday, we gather together, talk and share plans for the next year. Usually we should have a mirror, eggs, and candles on the table. Candles symbolise the light that protects the house from evil spirits, while eggs and a mirror are needed to say goodbye to the passing year. Then at 12 o'clock we go to the square to watch firework display. The next day we meet with friends and celebrate New Year in the club or restaurant.
I want to congratulate the students and professors of SUSU on the New Year and wish them happiness and love.
Gabriel Lubo, Kongo
Bachelor's in IT
In my country we celebrate New Year on January, 1. We gather the whole family, sit around the table and try to remember all good things that happen in the passing year. At 12 o'clock we open champagne, sing songs, dance and eat festive food. The next day we invite friends and distant relatives to our home to have good time and share our impressions.
I really liked to celebrate New Year in Russia. I watched firework display in the Revolution Square and went down the ice slide. It was great!
I wish all students to pass their session successfully and after getting the diploma not to stop studying. It is interesting and useful!
Uday Bagale, India
PhD in Food Technology
New Year is a family holiday, but last several years I've been outside my home city. That's why I celebrate with my friends. We go outside, eat what we want, play music and dance.
But usually Indian families celebrate together. It's practically impossible to book a room in a hotel because there are no vacant rooms. Families cook the dinner. We eat, dance, enjoy the company of each other and watch TV.
In India we don't have a special Christmas tree. We have lack of rains, that's why we plant a tree near our houses every year and the trees that will give us shadow. Students plant trees at the university territory. This way we take care of our environment. We believe that if you don't have trees near by your side you won't get rain.
This year will be the first time I celebrate New Year in Russia. I am going out to a club with my Russian friends, then we are going to have a walk in the center of the city.
I want to say thanks to my faculty as I always feel at home here and I wish my faculty to be very happy, healthy, prosperous and continue to develop cooperation with Indian universities. I wish SUSU students to find their way in life and hope that they will have more bonds between people of different nationalities.