The educational event "Family School" was held within the frameworks of the grant project of the Regional Family Festival "7fest: vse ryadom!" ("7fest: Everyone Is Close!") by South Ural State University with the support of the Federal Agency for Youth Affairs, on November 7th. At the event, plenary speeches were made by professionals in the field of youth policy of the region, trends in the development of modern youth labour market, problems of housing and banking sectors for young families, and organization of charity events aimed at solving burning problems of young people.
The "7fest: vse ryadom!" festival promotes family values and is a conductor of information from the true professionals to SUSU students. It focuses on strengthening the institution of the family and preservation of traditional values among youth. Vyacheslav Burmatov, the SUSU Vice-Rector for Student Affairs, gave the welcome speech at the opening ceremony of the festival and said about the idea of creating a festival and its relevance for young people:
"Today, a project that has won the competition among all-Russian youth projects, organized by Rosmolodezh Federal Agency, is being implemented. This year, "Family, Family Values and Support of Young Families" nomination has been introduced for the first time. We took part in writing a project related to the topic, and won a grant to implement the event. The topic is considered to be up-to-date, taking into account the contingent of students at the university. But I would like to note that the issue of creating families as a priority among our students, because 7 marriages have been registered every month since the beginning of the year. We think it is really a big deal and we want to support our students. Within the framework of the event, we believe it necessary to share as much information as possible on the legal, psychological and financial aspects a young family may encounter."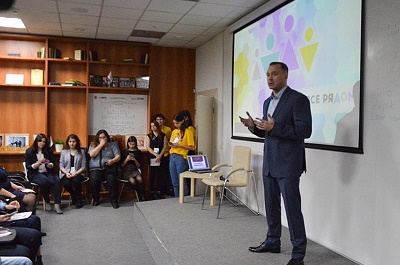 The event was held at "Tochka Kipeniya" ("Boiling Point" space) at 31 Molodogvardeytsev Str. Such format was chosen specifically to create the most comfortable atmosphere. Ksenia Gernega, a mentor of the regional festival of family values "7fest: vse ryadom!" told about the purpose of the event and further plans of the project:
"The purpose of the today's event is to support family values of SUSU together with Rosmolodezh Agency and regional family festival "7fest: vse ryadom!". We promote family values among youth of our university, and today we start our educational project "Family School", to be functioning at SUSU. It is a diverse program and it implies the focus not only on family values, but also on the spheres of interest of young people: how to buy inexpensive housing accommodations in our city, how to get a loan, how to register young family, where to do it, where to solve family issues. All of these matters will be considered today in terms of master classes and poster presentations. At the moment, 118 people have registered, while only 75 people applied in the first place. It is a good indicator for us. Within the frameworks of the project, 2 more blocks will be implemented: "Health Promotion and Human Ecology" and "Family Arts Festival".
The festival touched upon the topics of: "Housing for a Young Family: How it Works in Our City"; "Youth for Youth: How to Help Properly"; "Wedding Budget: When Small Details Cost Dear"; "2035 National Technological Initiative Strategy: Economics for You"; and "Modern Family Values from the Perspective of Contemporary Cinematic Art". The lecturers were the heads and specialists in the legal field, social sphere, charity, event organisation field, and many others. Маria Аnferova, Head of the Home-care Social Services Department of the Complex Centre for Social Services of the Tsentralniy District of Chelyabinsk, told about her lecture and what family means to her:
"I talked about the main issue: housing. Housing accommodations for young families is the most important and burning topic right now, because young families do not have any money to buy it and often seek help from their relatives or parents, or take mortgage loans. Besides different campaigns and state programs, I wanted to tell the students about simple opportunities, for example, about housing complexes, which are many and available in Chelyabinsk. The main thing is to convey information, so they will not be afraid to search for it further. What I wanted to say to young families: 'Don't be afraid'. Being afraid to create a family is, probably, the most common fear among youth, who are 18-20 years old. They think that a family is a burden that drags you down. But in fact, a family is something that helps two spouses develop, because of the support, and because of the common family budget, which creates common objectives and common life strategies."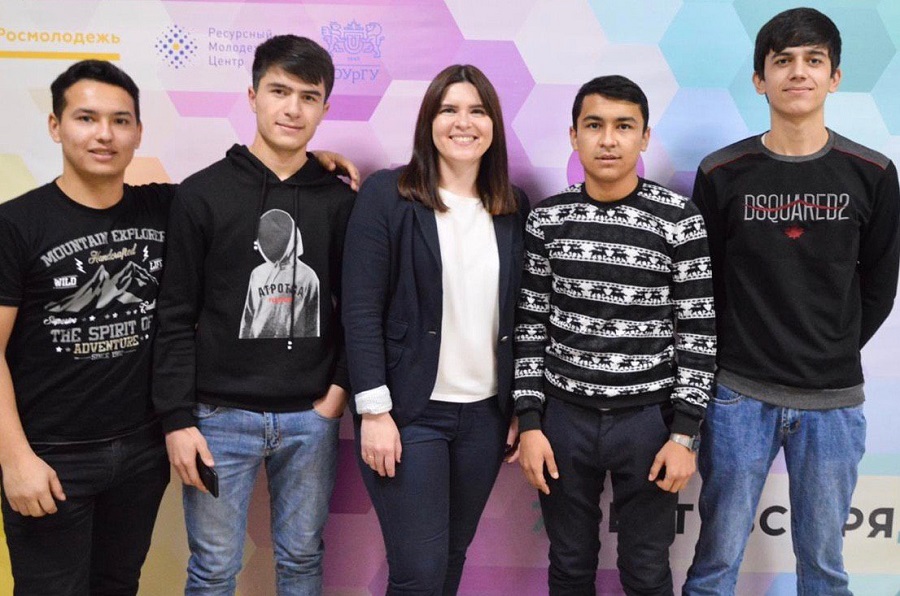 After the festival lectures and speeches, master classes were held for the participants by specialists in a young family's life in three fields: finance, legal issues, and solution of social and psychological problems. The guests of the festival learned how to find a way out of everyday critical situations or to prevent them altogether, how to solve general financial issues and make a family budget.
"I was invited to the festival, and I decided it would be interesting and informative for me, because, after all, I love my family, and everything I learned here I will add to the little island of my family. Nowadays, young people forget about their families and spend all their time with friends at parties: this encroaches upon family time. Maybe they will understand it at this event and will start spending more time with their families," shared Viktor Ursaev, a 4-th year student.
To close the festival, a film from the Chelyabinsk Cinematographers Society was screened. The guests were shown Aleksander Pietrzak's (Poland) film Me and My Father, which was awarded Grand Prix at Kinoproba 2018 festival. The film tells a story about a son busy with his personal life, who has to take his elderly father suffering from a progressive Alzheimer's disease to live in his house.