On November 1, 2019, the "Job Fair" of the School of Electronic Engineering and Computer Science was held at South Ural State University. Leading companies in the IT sector and electronics of Chelyabinsk and Russia, as well as more than 200 students interested in getting a job attended the job fair.
The "Job Fair" is an event held annually by the School of Electronic Engineering and Computer Science jointly with the partners and representatives of enterprises interested in specialists in the fields of information technology, automation and radio electronics. At the meeting, in a live dialogue with students, potential employers managed to conduct preliminary interviews with candidates, invite them to undergo practical training or internship, and agree on further cooperation with the university. In addition, during the fair the potential employers distributed gifts and information materials to students, conducted initial interviews or questionnaires. Gleb Radchenko, Director of the School of Electronic Engineering and Computer Science, told about how the job fair was going on:
"We deliberately hold the fair in the autumn period because students are right now deciding where to undertake their internships. And we see the result of the work with enterprises in the employment reports of our students. Now, the job fair is expanding annually. It now includes not only IT, but also fields related to automation and radio electronics. These are the fields that are historically associated with the Faculty of Instrument Engineering, which has now entered the School of Electronic Engineering and Computer Science. Besides, a new fair stand format has appeared recently at the job fair, where the students can talk directly with company representatives and discuss where they can undertake their future internships."
In connection with the advent of Industry 4.0, contemporary enterprises are thinly staffed and feel "hungry" for qualified specialists, such as specialists in data analysis, information security, automation, including automation of industrial processes. In this academic year, the meeting with students was attended by such companies as Intel Corporation, NapoleonIT, Academician V.P. Makeyev State Rocket Centre, ChelPipe Group, ElMetro-Engineering, TRIDIVI, Tele2, Ural Engineering Centre, Intersvyaz, Fuse8, NPO Elektromashina, Polet Chelyabinsk Radio Plant, Ministry of Information Technology and Communications of the Chelyabinsk Region. Alexander Zhestkov, Director of ElMetro-Engineering, said why they came to the job fair:
"It would be strange, if we did not participate. I had been working as a teacher at SUSU for 20 years. Our company was born as a team within the walls of the university laboratory, and now 90% of our employees are SUSU graduates. We are an entire profile company, and first of all, we are interested in the brilliant staff members, which is to say developers. We also need direct labour and managers. In our professional field, there is a large shortage of personnel in analogue electronics, and therefore we together with the university and its field-oriented departments try to support this field and attract students to our jobs and internships."
The job fair took place in several stages. First, the students got acquainted with the companies at the stands, filled out applications, exchanged contact information, and after that the companies made interactive presentations for them.
"It is not the first fair we participate in. We have a long-standing friendly tradition with SUSU: we are always active participants in events held within the walls or under the guidance of SUSU," said Nail Akhmetov, Head of the Intersvyaz training centre. "We are active participants in the labour market. We are a progressive company that provides a variety of services and ready to provide jobs for young people who are today proactive and interesting. Today, 4th-year graduates and 3rd-year students who want to come to us to work part-time have left their resumes for us. SUSU students already work in our company. Many of them come to us after graduation and get a job. They are full-fledged members of a large team of the Intersvyaz company."
At the orientation presentations, the companies told about the labour market of information technology, radio electronics and automation, the requirements for candidates, the level of wages that should be expected at the initial stages of a career, and why it is worth going to work in a particular company. The administration of the School of Electronic Engineering and Computer Science and students asked their questions of interest. The most common questions were about practical training and the possibility of working part-time.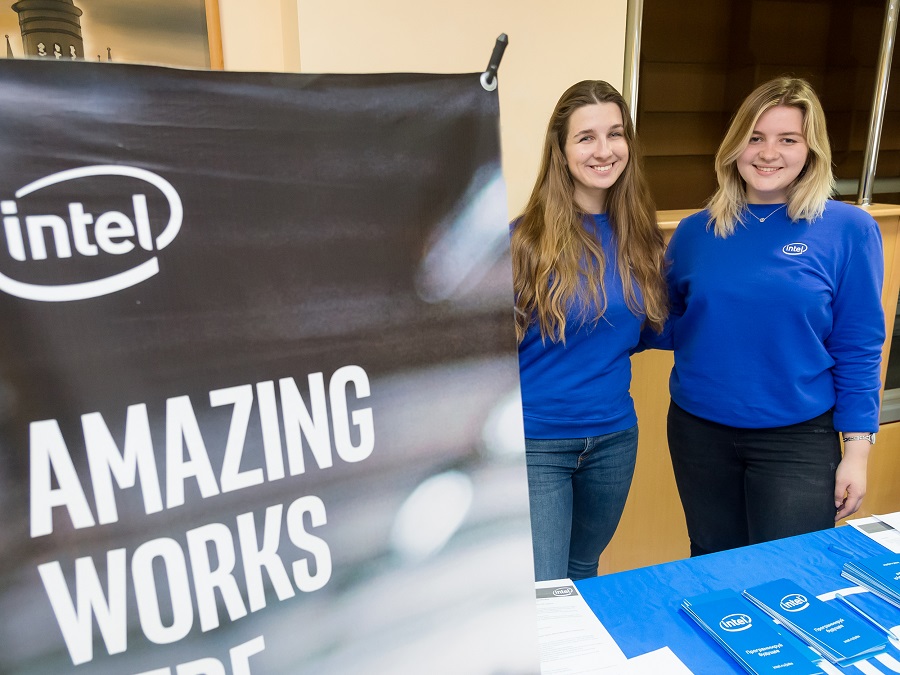 О
4-th year student Tatiana Serebrennikova commented on what she chooses for herself:
"I came to get acquainted with the companies that exist in Chelyabinsk. Now I decided in favour of Intel. I think this company provides me the prospect for further development, as I study management in technical systems; and a data engineer is a person who comes to an enterprise, comes up with a program and prescribes the logic of one or another enterprise system. I believe that IT-companies are the thing of the future, so I want to enter IT life. I strive to upgrade my skills in this field."
Now fields related to information technology are some of the most popular at the university. The passing score ranges from 221 to 260 points. These are the fields which entered by students interested in their future and who want to receive promising and potentially important work after graduation.