On October 8th, representatives of SMS Group, Germany, held a presentation of the "SMS Data Challenge" international data analysis contest at South Ural State University.
Among the participants were fourth-year Bachelor's students and first- and second-year Master's students of the SUSU School of Electronic Engineering and Computer Science and the Institute of Natural Sciences and Mathematics.
Head of the Data Mining and Virtualization Department of the Laboratory of Supercomputer Simulation Mikhail Tsymbler greeted the participants of the presentation.
"We have a very interesting event today. We are welcoming representatives of SMS Group from Germany specifically to launch the "SMS Data Challenge" international data analysis contest. SUSU is the only university in Russia at which SMS Group representatives are making such an announcement. Here is your chance to ask any questions you have about the contest and get the answers firsthand."
Over two months, participants of SMS Data Challenge will need to develop machine learning algorithms which will detect, evaluate, and forecast defects of final products in the manufacturing process of high-quality alloys based on the analysis of sensor data coming from a continuous steel casting line. At the presentation, all of the objectives and conditions of the contest were announced.
Head of the SMS Group Research and Development Division and General Director of the subsidiary company, SMS Digital, Markus Reifferscheid greeted the students.
"This is not the first Data Challenge contest in which student teams from SUSU are participating. In the previous contest, a team from your university became the winner. The solution offered by the winning team was modernized by graduates of the Master's programme of the Department of System Programming from the previous academic year and implemented into commercial products that are being sold by our company around the world. The developer was given an interesting job at SMS Group with good pay. I hope that at the end of this contest, we will once again find talented SUSU students who will successfully solve the tasks we set and will represent your university well."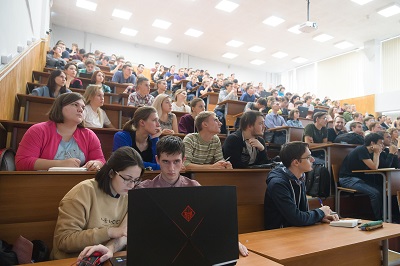 SMS Group company truly has a strong partnership with SUSU, and this is not the first time they have invited students and researchers from our university to participate in the SMS Data Challenge contest. In 2017, six teams from SUSU participated in the contest, two of which took first and second places and were awarded cash prizes of 4,000 and 1,000 euros, respectively. In addition, students of the team which took the first place were invited to an internship at SMS Group in Germany. In the 2019 contest, the winning teams will be awarded cash prizes of 15,000 and 5,000 euros, accordingly.