South Ural State University has become a participant at the 31st annual conference held by the European Association for International Education (EAIE Conference and Exhibition 2019). The Conference and Exhibition has been held on September 24th through 27th in Helsinki (Finland). SUSU is represented by the Vice-Rector for International Relations, Olga Yaroshenko, and the Head of the International Office, Liudmila Lapina.
Participants of EAIE 2019 are the world's leading higher education institutions of Germany, Italy, USA, Finland, Poland, Czech Republic, Spain, China, South Africa and other countries. Russia exhibited a separate stand which united 18 Russian higher education institutions included in the 5-100 Programme for enhancement of Russian higher education institutions' competitiveness among leading research and education centres.
The main topic at the Conference in Helsinki is inclusion in education. Representatives of universities discuss the systems of higher education in different countries, internationalization, efficient strategies for implementation of joint programmes and summer schools, assistance to students in self-government, the role of international alumni in universities' promotion abroad, and many other issues. Special attention is paid to adaptation of international students, their psychological health and comfortable stay in new conditions.
EAIE Conference is not just a large venue for discussion where experts in the sphere of higher education can share their experience in international cooperation development. Here, representatives of different universities can establish new connections and business contacts and discuss topical issues with specialists from international companies.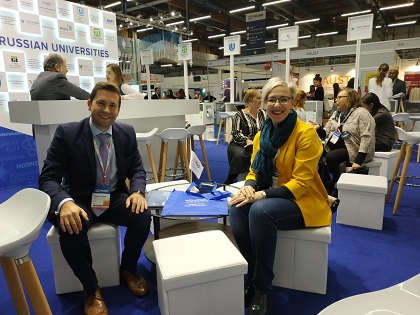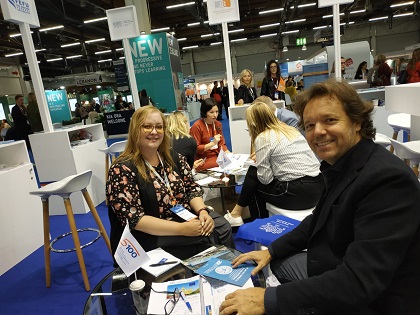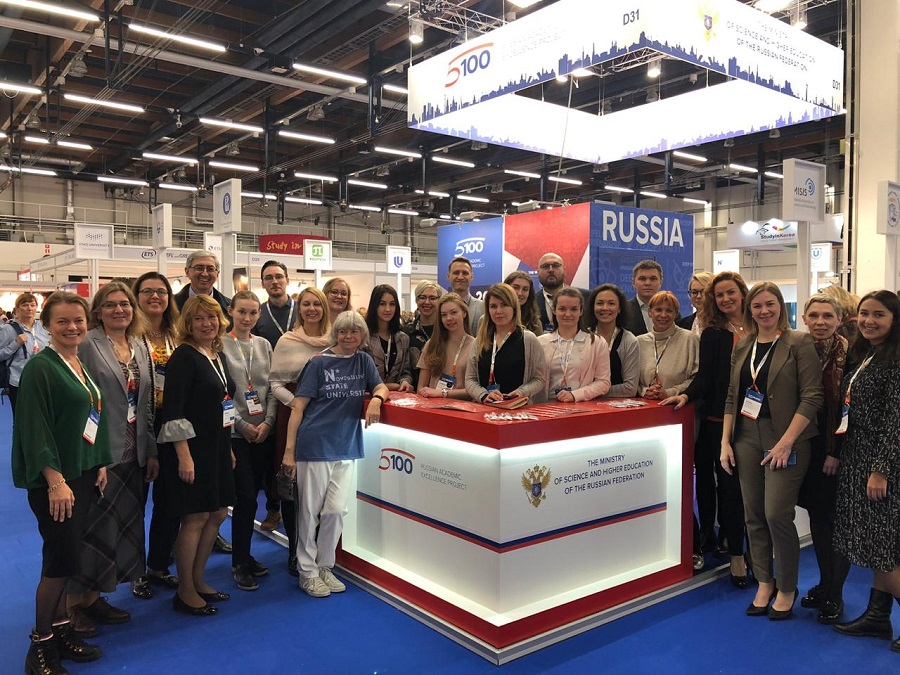 In the course of EAIE 2019 exhibition, SUSU representatives arrange a series of meetings targeted at strengthening the already-existing connections and searching for new partners to discuss prospective directions for cooperation. Olga Yaroshenko and Liudmila Lapina introduce guests of the exhibition to the university in the frameworks of operation of a joint stand of Project 5-100 as well as in the meetings with representatives of other countries held in B2B (Business to business) format.
"In the course of operation of the Project 5-100 stand, we talked to the representative of Rossotrudnichestvo in China; it is nice to note that he recognized our university although he had visited it 6 years ago and got familiar with its specificities and potential. Discussion of possibilities for cooperation with representatives of other higher education institutions are held in a very dynamic manner: every half an hour we have new meetings, new partners, new delegations. Yesterday we held 20 of such meetings at which we signed cooperation agreements, discussed participation of our Turkish partners in Erasmus+ programme, so we are going to return to the university with certain agreements and programmes. Speaking about European universities, they show a big interest in educational programmes of Bachelor's and Master's studies taught in English. There is active work being done with representatives of China and Korea. Double degree programmes might be implemented with higher education institutions of Czech Republic and Poland, and today we are going to have a meeting with Italian reps. I think that this trip will be very fruitful," said Olga Yaroshenko.
Let us note that EAIE Conference and Exhibition is considered to be the main annual European conference and exhibition on international education in Europe. More than 5700 people from 95 countries took part in the event held in 2018.