A delegation from the Islamic Republic of Iran paid a visit to South Ural State University in order to discuss academic and scientific collaboration. The delegation representatives met the SUSU leadership and were taken on a tour around the university's top research and education centres and laboratories.
The delegation consisted of 15 members, including the representatives of the Iran Nanotechnology Initiative Council and the director of this country's big companies specializing in manufacturing modern equipment for nanotechnologies. The head of the delegation, Secretary General of the Iran Nanotechnology Initiative Council, Professor Saeed Sarkar explained that they consider SUSU to be one of the most promising Russian universities in terms of developing the collaboration with the leading universities in Iran.
"We know that SUSU is one of the major universities in Russia and has great potential. We could start our collaboration from nanotechnology, but we hope that we will not limit it to this field only and arrange interaction in other spheres as well. The goal of our visit is to prepare the necessary working environment for the collaboration between professors, academic staff of SUSU and those of the universities in Iran. The collaboration may comprise student exchange, exchange of academic staff or other staff members of institutes, as all of that could result in various research studies and developments, which will be beneficial for both parties. It is also important for us to make the process of student exchange easier, because students act like a bridge, which unites universities of different countries. We are confident that such collaboration will be beneficial for both our countries."
In the course of the meeting with the delegation, Vice-Rector for Academic Affairs Andrey Radionov and Vice-Rector for Research Aleksandr Diakonov shared on the possibilities of the university's collaboration with foreign countries. In particular, Andrey Radionov noted that has vast experience in training international students and is constantly extending the list of specialities being taught in English.
"SUSU originated as the Institute of Engineering and Technology, but today it is a multiple-programmes university, which offers training in all consolidated groups of specialities existing in Russia, except for medicine and agriculture. We are fulfilling about 180 educational Bachelor's and over 100 Master's programmes. As far back as 10 years ago, we did not have international students at all, and today about 3,000 people from other countries are studying at our university. Many of the students are studying in Russian language, but we also offer programmes in English. Year after year the number of the programmes being taught in English increases, and we want to open them in all the SUSU institutes," stressed Andrey Radionov.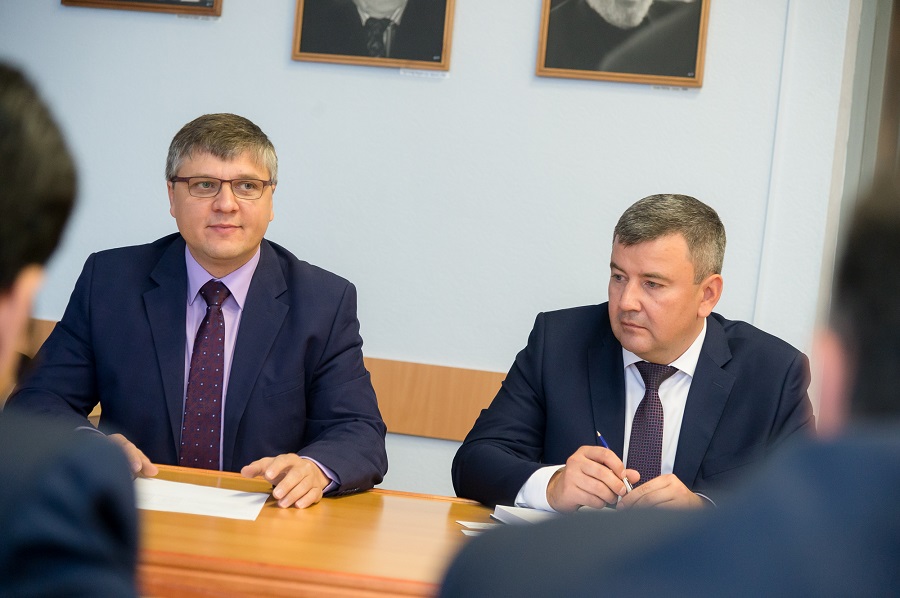 The delegation representatives were especially interested in conducting joint research and fulfilling projects. In particular, they were willing to communicate with the leading SUSU professors in order to find common spheres of interest and organize further acquaintance with scientists from the universities in Iran. Vice-Rector for Research Aleksandr Diakonov shared on which fields of scientific work are currently most topical for SUSU:
"SUSU is a participant of the 5-100 Competitiveness Enhancement Program for Russian Universities, and according to this project's goals, we have opened more than 40 scientific subdivisions, including those of international level. Today, our university is focused on three strategic fields: digital industry, materials science and ecology. In terms of collaboration with the representatives from Iran, who are interested in modern research in nanotechnology, it would be promising to learn more about our Nanotechnology Research and Education Centre, which deals with a wide range of research tasks."
In the process of the meeting, the delegation representatives were taken on a tour around the Nanotechnology Research and Education Centre; Laboratory of Mechanics, Laser Processes and Digital Production Technologies; Supercomputer Simulation Laboratory; and Laboratory of Composite Materials. The heads of the research and education subdivisions explained which research and production processes are possible to be completed thanks to state-of-the-art equipment in the laboratories and centres, and presented the major projects fulfilled, as well as suggested the promising fields of joint work.
Professor Sarkar expressed his confidence in positive results of the negotiations and invited the SUSU leadership to visit Iran to learn more about the potential of Iran in the field of developing nanotechnologies and strengthening the successfully launched interaction in the spheres of education and science.
At present, 6 research fellows from Iran work remotely in various subdivisions of SUSU. In addition, 3 agreements on international inter-university collaboration have been signed with universities in Iran, with one thereof signed this year. Students from Iran also begin showing more interest in SUSU. They are currently studying at the Faculty of Pre-University Education.