On August 31, South Ural State University was visited by Deputy Chairman of the Government of the Russian Federation, Tatiana Golikova, and Acting Governor of the Chelyabinsk region, Aleksey Teksler. The visitors handed student tickets to the best freshman students and discussed the role of SUSU in the global learning environment.
A ceremonious meeting featuring lecturers, administrative staff and students of the university took place in the Activity Hall of South Ural State University. Rector of SUSU, Aleksandr Shestakov, delivered a solemn speech and talked about the results of 2018-2019 academic year: inclusion to prestigious national and international ratings, arrangement of large-scale events, education, construction of a new dormitory, and admissions campaign – 2019. Also, Aleksandr Shestakov talked about plans for the upcoming academic year.
"In order to be successful, we need to change the culture of our university. Each Department should set a goal which exists at the frontline of science, should be able to form a team and achieve success. We must bring up a generation of young leaders who will be completing these goals, because this is the only way we can become number one in the global competitive struggle. Today we've learned that we are to cooperate with the city administration and with our partners from Moscow in order to get included into a major project on ecology. The university also has three strategic directions of development, ecology being one of them. This will be an important task for both our university and our region. Another goal we wish to complete is establishing a large centre of artificial intelligence in Chelyabinsk intended for young people working on relevant projects."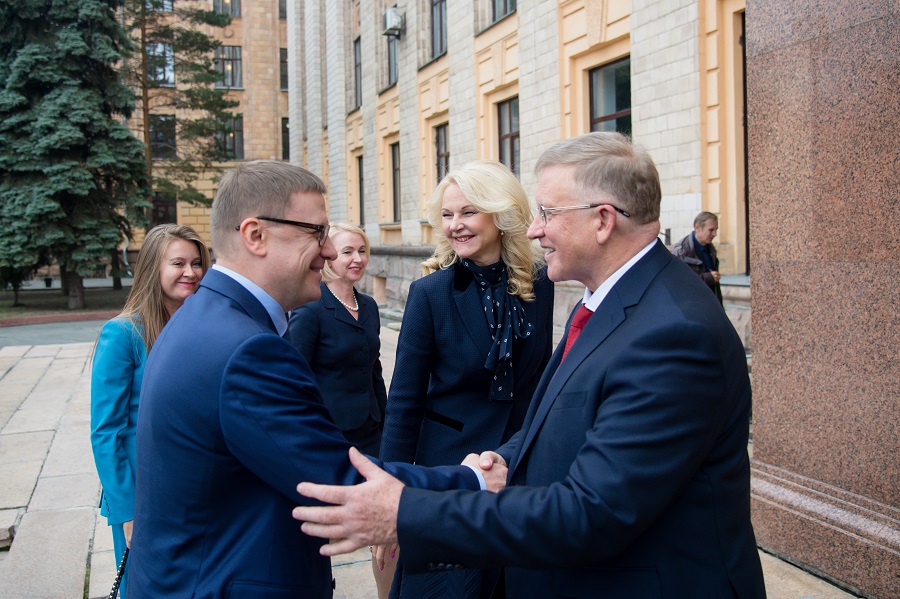 Key guests at the event were the Acting Governor of the Chelyabinsk region, Aleksey Teksler, and the Deputy Chairman of the Government of the Russian Federation, Tatiana Golikova. Tatiana Golikova noted that, together with other higher education institutions included in Program 5-100, South Ural State University demonstrates quite serious progress in all international ratings and performs training of brilliant specialists.
"Today we discussed outlooks of SUSU's development, taking into account the possibilities provided by national projects called Education and Science. We discussed the possibility to create an international-level federal interregional science-and-education centre. We also discussed other directions in which SUSU can develop. The possibilities provided here to young and adult people suggest that Chelyabinsk region with its considerable industrial potential might have a real economic breakthrough. If we keep developing research and education competencies in the directions which SUSU is moving in, specialists will be gladly comping here to get employed."
South Ural State University is one of the leading universities of the region, which is going to become the engine in implementation of Nauka (Science) national project in the Chelyabinsk region in the new academic year. Acting Governor of the Chelyabinsk region, Aleksey Teksler, talked about the role of SUSU in this project.
"This large-scale project assumes cooperation of a whole series of research organisations, universities, and enterprises of the real sector of economy for a serious upgrade of professional education programmes, among everything. Presently, Council for Science of the Chelyabinsk region has determined our regional priorities. They regard hi-tech production in metallurgy and mechanical engineering, exploration of new materials and composites, development of robot-aided systems, as well as with agricultural product recycling, digital technology development, nuclear industry, and with all the technologies that ensure protection of our borders from outside intruders. This is a basic list of the fields in which we need a close cooperation with other research centres, including the ones abroad. I think that Nauka national project will help us to provide favorable conditions for scientific and technological development and create an innovative system capable of transforming scientific research into a market product."
In July of 2019, an Inter-Government Agreement on Cooperation which aligned three regions - Chelyabinsk, Sverdlovsk and Kurgan - has been signed at the Innoprom Forum held in Yekaterinburg. The essence of the project is to establish a world-class Ural interregional research centre on the premises of three leading higher education institutions of the region. According to Aleksey Teksler, establishing such a centre will allow the region to considerably promote its research inventions, excite interest and bring the potential that the region possesses into research and manufacturing activity. He also noted that the spheres for South Ural State University to develop within the soon-to-be-established centre have already been determined: they are digital industry and aerospace engineering.
Upon conclusion of the ceremonious meeting, lecturers, administrative staff and students of the university had a chance to ask the guests of honor their questions of interest and get irrefragable answers.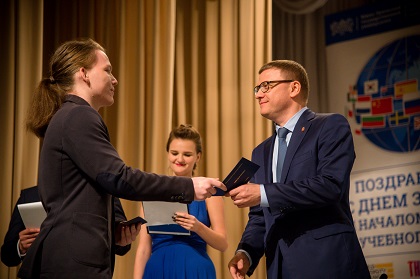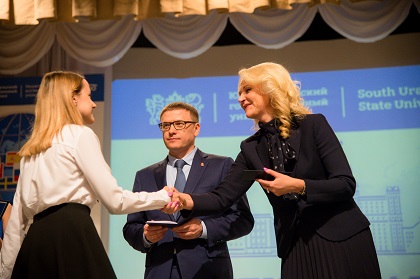 Within the meeting, a ceremony of student ticket awarding to the best freshman students of SUSU took place at the Activity Hall of South Ural State University. Named students included those who got 100 EGE points and those who became winners or prize holders of national subject Olympiads. One of the students is Semen Speranskiy, who has chosen the major of Construction at the Institute of Architecture and Construction.
"Without a doubt, this was a very important moment for me, which has provided a boost of energy for the beginning of study, and I came to understand that everything I've been doing is right. And, of course, I feel certain responsibility, the desire to keep the bar set high and, maybe, receive my Diploma from the hands of the President in four years. SUSU definitely gives a lot of opportunities and I hope to use them. Studying remains to be my top priority. I intend to take active participation in student conferences, try myself in subject Olympiads and in article writing. Besides, I am not going to quit sport and if my skills seem applicable, I will gladly take part in competitions, spartakiads and other sport events."
The honorable guests had a look at two advanced laboratories of the university: Emerson, which has been opened by the President of Emerson transnational corporation, Michael Train, and Supercomputer Simulation Laboratory supervised by Pavel Kostenetsky. Tatiana Golikova and Aleksey Teksler were told on the opportunities and competencies that students acquire in these laboratories.
At the end of celebratory activities held on the occasion of the Day of Knowledge, a pageant called Matriculation Ceremony – 2019 started at the university square. Directors of the university's Schools and Institutes were introduced to freshman students of SUSU. As per tradition, Deep Vision Dance Theatre and Mannequin Studio Theatre performed on stage. Another benefit of the celebration were performances of the SUSU Recreation Centre teams, including the Ballroom Dance Ensemble supervised by Tatiana Zenina, Primavera Academic Choir conducted by Aleksey Prosekov, Jazz Orchestra conducted by Georgy Anokhin, male voice choir of the Automobile and Tractor Faculty conducted by Nonna Streltsova and Liubov Streltsova, and many others.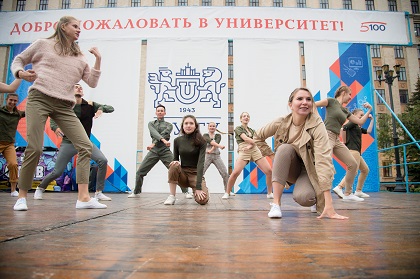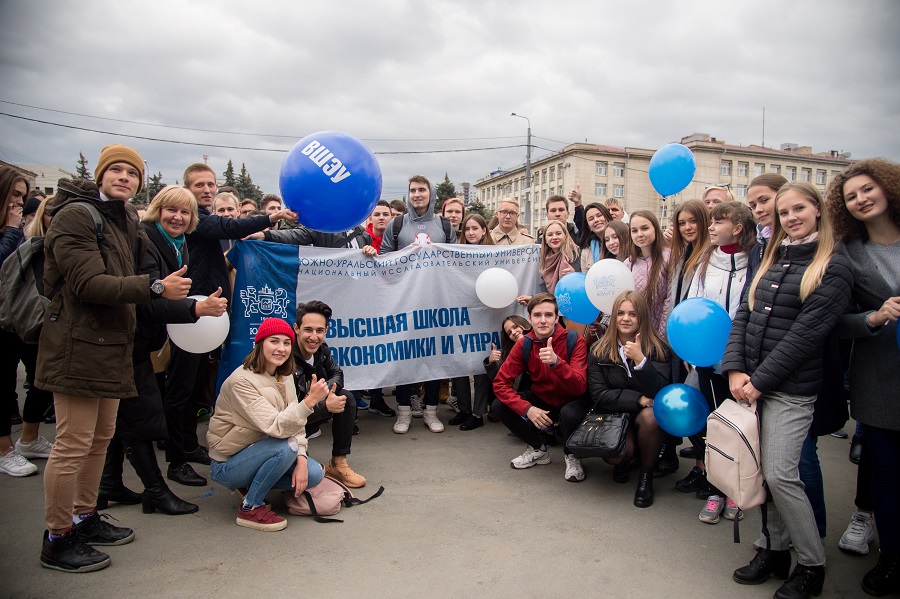 As a reminder, matriculation ceremony for students of South Ural State University is to be held on September 25 in Megapolis culture and entertainment complex. On the threshold of this event, pageant hosts raffled 10 entry tickets among freshman students.
In this celebratory evening, bright balloons made of quickly-decomposing material soared into the sky from the university square. In a conclusion of the event, there was a party with entertaining programme hosted by DJs from D-club night club.
СМИ о нас