South Ural State University is once again offering openings for the English-language Master's programme on Mechatronics and Robotics. This programme is being fulfilled since 2016 and is becoming more and more popular among international students.
The Mechatronics and Robotics Master's programme is offered at the Department of Mechatronics and Automation of the SUSU Institute of Engineering and Technology. Mechatronics is the integration of mechanics, electrical machines, automation methods, power electronics, microprocessor technology, and software. It is considered to be one of the most promising and most in-demand fields of engineering.
The Mechatronics and Robotics programme was elaborated with consideration of the development of digital technologies in the Industry 4.0 era. Students from various countries come to Chelyabinsk for this programme, including students from China and Arab countries.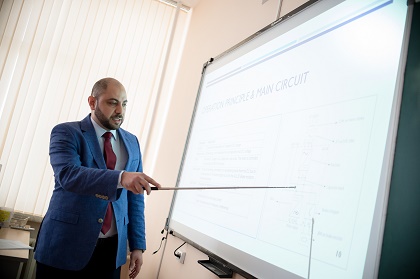 The level of training of engineers who complete this programme is rated highly by recognized experts in this industry. The President and General Director of SMS Group company, a world's leader in the field of metallurgical equipment manufacturing, and SUSU Professor Emeritus Pino Teze stresses the demand for graduates in this field.
"There is high demand in the market right now for such specialists. I believe that "typical" engineers are going to slowly become a thing of the past. Engineers who are able to solve several tasks simultaneously will move to the foreground – graduates of this program are such specialists. Also, many businesses are in need of bilingual staff members who can speak two languages. This program makes it possible to train such unique workers, who can find work in many countries around the world."
Graduates of this programme can work in many modern international engineering companies and high-tech manufacturing companies that work in the fields of design, production, set-up, and operation of modern robotized equipment. The programme allows them to become true engineers of the future who are able to solve the most difficult tasks in the development and servicing of automated systems in various fields.
Over two years, students of this Master's programme both learn technical disciplines and study Russian. This makes them competitive in both the Russian and international labour markets. The demand for such specialists is also noted by potential employers. Representatives of two big companies, Siemens and AO PG Metran (part of Emerson transnational company), are members of the state attestation commission for dissertation defence. According to them, special attention should be paid to the fact that the students' dissertations present projects that are applicable to today's industrial market.
"I am pleased to note that all of the students in this programme have a high level of training. Metran is interested in the development of automated systems, and many of the students elaborated upon this aspect very seriously in their projects. Our company is happy to work with graduates from SUSU, and if any of the international students express a desire to build a career with us in the future, we will be glad to consider their candidacy," says Aleksandr Kenzin, Head of the Management Systems Office of AO PG Metran.
The future specialists can apply their obtained theoretical knowledge in the university's laboratories. In total, there are more than 30 laboratories and research and education centres operating at SUSU, as well as 8 international laboratories under the guidance of leading international researchers. In addition, graduates can continue their personal development in research and academics by enrolling in a postgraduate programme.
The head of the programme, SUSU Vice-Rector for Academic Affairs, Professor Andrey Radionov notes: "Our university gives graduates of this programme a chance to continue their education in postgraduate programmes. Last year, one international student enrolled in the postgraduate programme; this year, one more Master's student of the programme is considering this option. We have everything you need for this: the appropriate laboratories, highly-qualified researchers and lecturers, and a dissertation committee to whom the postgraduate students can present their candidate dissertation, and, if they defend it successfully – obtain the academic degree of a Candidate of Sciences."
One big advantage of SUSU is it created a polylingual environment: 2,000 international students from 52 countries around the world study at our university. Besides gaining the main skills necessary for building a career successfully or successfully completing research, SUSU international students can realize their potential in the arts or in sports. They participate in national holidays' celebrations, days dedicated to the cultures of different countries, go hiking outdoors, and compete in various sports. All of this makes the university an excellent place for international students to study, and many of them recommend SUSU to their friends and acquaintances.
"I studied in a programme which is related to mechatronics for five years in my home country. I love my field, and having gained the opportunity to study in Russia three years ago, I began searching for the best university for me. My acquaintances recommended SUSU to me because of the good level of education that is offered in all fields, and I'm glad that I gained first-hand experience in this. It is very important to me that I was able to study Russian here and obtained a lot of new knowledge on working with software. In the future, this will allow me to find a job with good prospects," said Ahmad Ali, graduate of the Mechatronics and Robotics programme, sharing his impressions.
International applicants can find all the necessary information about enrolling at SUSU here.