Every year, students of South Ural State University successfully perform at two international and one Russian Olympiads. This year, the SUSU theoretical mechanics team once again became one of the most successful teams at the Russian Olympiad, having significantly improved their results compared to the previous year.
April 15th through 18th, the 15th International Student Olympiad in Theoretical Mechanics was held at Belarusian State University of Transport in the city of Gomel. The Olympiad featured 150 students, the best representatives from 40 higher education institutions of Belarus, China, Russia, Poland, Ukraine and Turkmenia. The number of Olympiad participants in Gomel is growing year after year. For example, Chinese united team included not two but six teams representing the best universities, who are the winners of the All-China Olympiad in Theoretical Mechanics.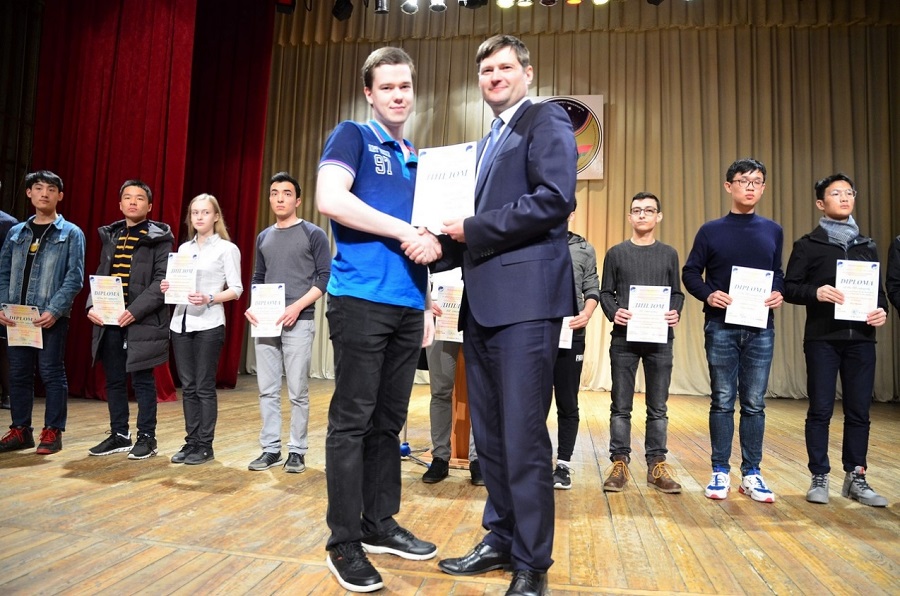 At this prestigious competition, SUSU students handled all assignments decently and showed a high level of training in theoretical mechanics, compared to representatives of other universities. The team was prepared by Associate Professors of the Department of Engineering Mechanics, Yury Pryadko and Svetlana Slepova.
The team of SUSU included students from the Faculty of Aerospace Engineering of the Institute of Engineering and Technology; Institute of Architecture and Construction; Faculty of Mathematics, Mechanics and Computer Sciences of the Institute of Natural Sciences and Mathematics; and the Faculty of Computer Technology, Control and Radio Electronics of the School of Electrical Engineering and Computer Science. These students are: Ivan Vaganov (P-423), Viktor Ponomarev (ЕТ-411), Aleksey Leonov (P-325), Nikolaos Tsiopliakis (КE-213), Yury Shirokov (АS-221) and Daniil Fedotov (P-222).
In theoretical competition, participants were given eight complex problems regarding all sections of theoretical mechanics: statics, kinematics and dynamics, which they had been intently solving for four hours. Complete solution of each problem was awarded 10 points.
After a thorough checking of all contest works and one appeal claim, competent jury consisting of academic staff of the hosting university and all leaders of the participating teams published results of the main competition in individual and team events. The team of SUSU students gathered 134 points and received a 3rd-degree certificate.
Ivan Vaganov, Viktor Ponomarev and Aleksey Leonov received 3rd-degree certificates in individual event. Nikolaos Tsiopliakis, Yury Shirokov and Daniil Fedotov achieved good results by having been placed the 8th, the 18th and the 32nd.