Students of South Ural State University received honorary credentials in the first regional contest of social advertisement called "The World without Fear". This contest is dedicated to preventing of wrongdoing among young people. In their artworks, contestants needed to reflect the most topical issues of the society. Awarding of the winners took place at the government of the Chelyabinsk region.
Organisers of the contest were: Head Office of the Ministry of Internal Affairs for the Chelyabinsk region; Centre of Cultural and Religious Research, Social and Political Technologies and Educational Programmes Autonomous Non-profit Organisation; and children's rights ombudsman for the Chelyabinsk region. The event was held under support of the region's government.
Authors of social projects presented to the contest commission were residents from seven cities of the Southern Urals: Chelyabinsk, Magnitogorsk, Miass, Katav-Ivanovsk, Zlatoust, Ozersk and Kartaly. Overall, more than 100 artworks were submitted in various categories: 25 for the category of Video, 57 for the Social Poster, and 28 for the Screenplay of a Social Video.
The awarding ceremony featured the Acting Governor of the Chelyabinsk region, Aleksay Teksler.
«Everyone of us has these moments when you need to face yourself, to face your family and say your clear and unyielding 'No!' to drugs, to alcohol, to violence, to suicide, to acts of terrorism. I would like to thank organisers of the contest, they are people who care. This contest has got its winners but hasn't got those who'd lost," stressed Aleksey Teksler. "It is very important that young people take part in this contest, actively state their civil position, creatively approach to solving issues of the modern society. I am sure that the contest will be held regularly, and together we will be able to solve the problems and threats that exist nowadays in our society», – said the Acting Governor of the Chelyabinsk region.
Director of the Head Office of the Ministry of Internal Affairs of the Russian Federation for the Chelyabinsk region, general lieutenant of police, Andrey Sergeev, told us about problems that exist in the youth environment, and why participation of young generation representatives in such projects is important.
"Nowadays, our life is very dynamic and hectic, and, unfortunately, we deal with distribution of very negative phenomena such as drugs and school bullying in the youth environment. All of these are absolutely abnormal phenomena and threats for a young person who is to fulfill oneself in profession, family and creativity. What is important, in the frameworks of this event you yourself create artworks sending a simple message after evaluating the existing problems."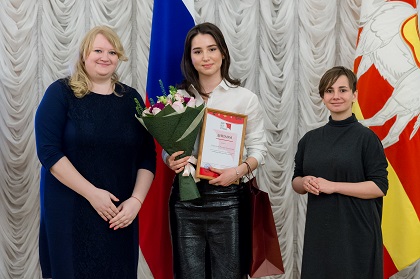 Artworks of contestants concerned such topics as counterterrorism, prevention of wrongdoing, life without drugs, and other issues that a child or a teenager might come around. SUSU students were especially active. They presented artworks in all categories and acquired many rewards.
«This contest was held for the first time and it turned out to be extremely in-demand as it concerns topical issues of the society. SUSU students submitted many applications and presented very good social projects. I would like to especially note the quality of work done by organisers, who were very attentive to every project of contestants and gave them valuable recommendations taking into account their professional experience. We are glad that 99% of the winners are our students. Without a doubt, we are already waiting for the next contest», – said SUSU's Vice-Rector for Student Affairs, Vyacheslav Burmatov.
Acting Governor of the Chelyabinsk region, Aleksey Teksler, and Director of the HO MIA of the region, Andrey Sergeev, awarded diplomas and memorable prizes to winners in the Video category. Video advertisement entitled "Say No to Drugs" made by students of the Faculty of Journalism at SUSU's Institute of Social Sciences and Humanities was claimed as one of the most memorable social projects. Authors of the video were: Ksenia Lantukh, Aleksandra Prasol, Anastasiia Ivanova and Artem Minasyan.
«Our video regards the problem of fighting against addiction to drugs. We made the video within several days, and winning the contest was a big surprise to me. In the social video we wanted to show love, sport, study and creativity in order to demonstrate that all of this has its place in our lives, and this is exactly what makes it valuable», — said Artem.
Also, SUSU students received rewards in such categories as Social Poster and Screenplay of a Social Video. The best artworks will be published on billboards and broadcasted in public transport as well as in cinemas in cities of the Chelyabinsk region.