The 5th International Festival "We Are All Different, but We Are Together" was held at South Ural State University and featured performances by students of different nationalities who study at SUSU.
The festival of tolerance "We Are All Different, but We Are Together" is held every year. After all, SUSU students speak more than 50 languages and include representatives from many nationalities. For South Ural State University students, this is one of the most important and beloved events.
On April 22nd, a master class on Russian folk dances was held. International students tried to learn a small dance number consisting of popular Russian folk elements.
Third year SUSU student Anastasia Ustelemova acted as the choreographer. She explained why international students are interested in performing at such events.
"The students are very interested in immersing themselves in our culture and trying out our dances. Of course, they all move in their own way, and it's difficult to make everything in sync, but none the less, they are very happy to be in a big group of people from different countries, and they learn something new together."
One of the participants of the master class was Sergio Gustavo Gardel Claudio, an international student from Angola. He noted that he did not find Russian folk dancing difficult.
"I love dancing! I like kizomba, samba, and house. I haven't done the dance that they taught us today before, but I didn't find it difficult."
Another master class was held on making of a Spanish piñata – a quite big papier-mache toy, which is filled with various treats and surprises.
The master class for international students was held by student of the Institute of Natural Sciences and Mathematics Gilbert Flores, who came to SUSU from Venezuela.
"We're making piñata for the first time. We decided that this would be a very interesting lesson, so we wanted to make this with other international students. The piñata came to us from South America, it's very popular there, because it is a fun toy for children, which is traditionally filled with candies. Piñata can be of any size or shape, but today we decided to make the national Spanish ball-shaped piñata."
SUSU student from Jordan Al-Uleymat Adnan tried making this national toy from papier-mache for the first time.
"I really liked making piñata! These kinds of toys are not popular in my home country, but I have seen such things often in movies. When I go back home, I'll make one for my friends and will fill it with sweets."
On April 23rd, a big concert was held in the South Ural State University's Activity Hall, opening with a parade of countries' flags.
Aleksandr Shestakov, SUSU Rector, welcomed the international students.
"Our university is one of the best and biggest in our country. We try to give you all a good education in the fields you study in. Studying at a university implies an atmosphere of friendship and partnership, which you will remember your whole lives. We try to make these years helpful, nice, and fruitful for you!"
During the concert, the dance Valenki and the song Moscow Nights were performed, with Chinese and Russian students singing.
"The international students participate with enthusiasm in the festival, we never have to persuade anyone. We begin rehearsals one and a half months before the concert. We rehearsed Valenki dance around one month. The students didn't understand why Russian folk dances are so energetic, and even joked that this was like a sport!" said Head of the Sociocultural Adaptation Centre Dina Valeyeva.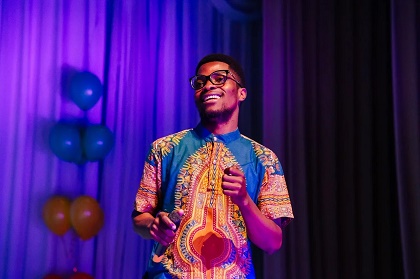 Among of the most exciting performances was the one of Yuri Shatunov's song Sedaya Noch (Gray Night) by Mulumba Joel Bomoi from the Republic of the Congo. He noted that he listens to Russian music every day, but he likes this song most out of all of them.
"I came to Russia around a year and a half ago, and I have been studying Russian for about that long. I liked the song Gray Night as soon as I came here. When I found out that the "We Are All Different, but We Are Together" festival was going to be held, I decided to learn the song and sing it. I can also play guitar and dance. I hope that I can show all of my talents in future concerts."
The organizers stressed, that it is not easy for international students to sing or dance. While dancing is a universal language of body and is easier to learn, singing in Russian is a difficult task.
"We organize this festival to show the students how different and interesting they are. The fact that they study here together is a big advantage. I had only the most positive feelings from this. We see how our students open up every year. They are very happy to show their talents and share them with one another," noted Head of the Department of International Relations and Regional Studies of the Institute of Linguistics and International Communications Lyudmila Shestakova.
Every year the Institute of Linguistics and International Communications acts as the organizer of this festival, with support from the SUSU Sociocultural Adaptation Centre.