On April 8th the SUSU's Nasledie Research-and-Development and Project Centre celebrated its 15th anniversary. The Centre is mainly intended for efficiently solving the tasks on conserving, reconstructing and preserving the historical and cultural heritage of the Chelyabinsk Region.
The Centre was founded and is headed by Valentin Olenkov, corresponding member of the Academy of Architectural Heritage, councilor of the Russian Academy of Architechture and Construction Sciences (RAASN), member of the Union of Art Conservators of Russia, member of the National Committee of the International Council on Monuments and Sites (ICOMOS), Professor of the Department of Town Planning, Engineering Networks and Systems Institute of Architecture and Construction. However, works on preserving the historical and cultural heritage had been performed at Chelyabinsk Polytechnic Institute starting from 1952 and under the supervision of M.P. Mochalova, with whom Valentin Olenkov had begun his work while still being a student.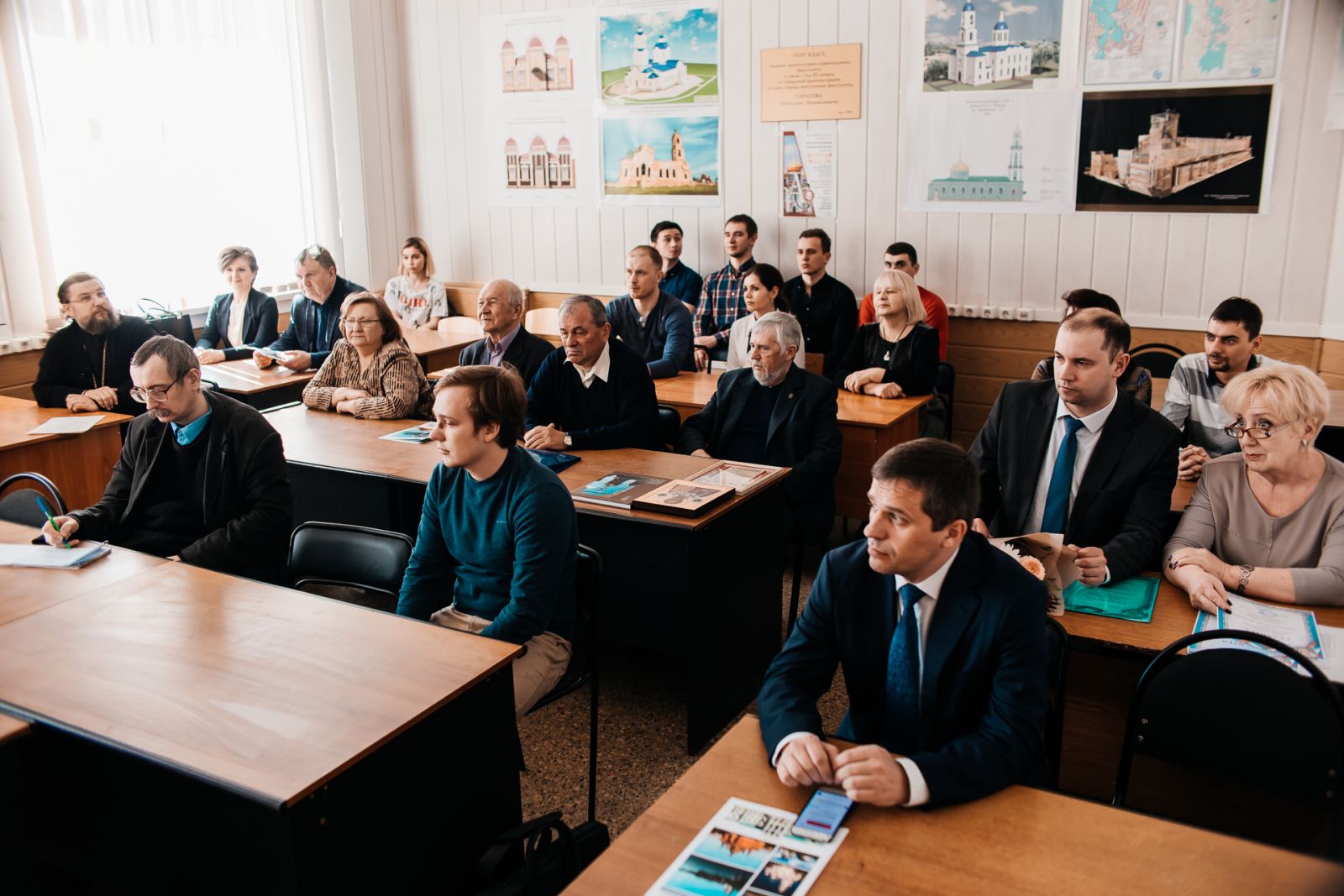 Nasledie Centre developed research-and-project documentation for conservation of over fifty sites of cultural heritage of the federal and regional importance, as well as the historical-and-cultural plans and projects for the zones of protecting the historical cities of South Ural region: Verkhneuralsk, Kyshtym, Kasli, Zlatoust, Miass, Ozersk, and Snezhinsk. Based on these materials, a monograph on Orthodox Churches of the Chelyabinsk Region was published, which systematizes the majority of the Orthodox churches in our region in their current condition.
Staff members and students helped to carry out the inventory of more than 1500 sites of historical and cultural heritage. Over 30 diploma papers on conservation of churches in the Chelyabinsk Region were completed under the advisory of Professor Olenkov.
Among those who came to congratulate Nasledie Centre on the occasion of its anniversary were: Head of the SUSU Research and Innovation Services Anton Korzhov, Director of the Institute of Architecture and Construction Dmitrii Ulrikh, Chairman of the Committee for Protecting the Cultural Heritage Sites of the Chelyabinsk Region Aleksandr Balandin, archpriest and Father Superior of Alexander Nevsky Church in Chelyabinsk, father Boris Krivonogov, writer and Chairman of the Chelyabinsk Division of the All-Russian Culture Foundation Kirill Shishov,  design and art conservation colleagues from Chelyabinsk and Yekaterinburg, and students and alumni of the Institute of Architecture and Construction.
The majority of the Nasledie Centre staff members were awarded with letters of appreciation and certificates by the metropolitan of Chelyabinsk and Zlatoust and by Director's Office of the SUSU Institute of Architecture and Construction.