South Ural State University has a Brand Studio – a store of brand items with the university's logo. SUSU international students got familiar with activity of the Studio and competed for prizes.
South Ural State University has more than 2000 international students from 52 countries around the world. It is often that after their graduation that international students buy souvenirs before returning to their home countries.
Director of the SUSU Brand Studio, Liudmila Sheffing, told us why it was important for international students to visit the shop.
"Here at Brand Studio we have a lot of items for both study and for everyday life. All items depict the logo of SUSU and this attracts international students. They often come here and buy some souvenirs to bring them home as a present."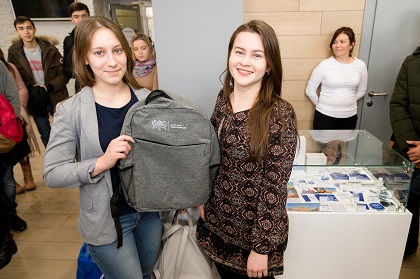 Recently, SUSU's Association of International Students (AIS) had a contest with cooperation with the Brand Studio. The contest was to repost a publication in official group of the AIS in VKontakte.
"Our university's logo is some kind of an identification mark that unites all students of the university, both Russian and international. We organised a giveaway of three items among international students: a backpack, a thermal mug and a T-shirt. We tested students' knowledge about SUSU and, of course, displayed the entire assortment of the Studio," says specialist of the International Student Support, Valeria Chachina.
Student of the Institute of Engineering and Technology, Isfandier Mirzoev, gave a correct answered to the contest's question and won a T-shirt with the university's logo.
"I didn't expect to win the prize! It felt nice, and in the future I'm going to try my luck again. I liked this Studio a lot."
Let us remind that the Brand Studio is open for all the willing in room No.116 of the 2nd academic building of SUSU (85 Lenin prospect).