Open House Day took place at South Ural State University. School seniors and their parents learned about prospects of education in one of the leading higher education institutions of Russia. Open House Day is a chance to get the most up-to-date information regarding training areas and specificities of studying at SUSU. University applicants and their parents had a chance to informally talk to Directors of schools and institutes and ask them all questions of interest.
"This time, we are holding the Open House Day in a format of getting familiar with specific institute or higher school at SUSU. We decided to do it so that 11th-grade students, who have already made up their minds regarding exams in the EGE format they are going to take, could purposefully get the necessary information about training areas from Directors of schools and institutes as well as from Deans of faculties and Heads of departments. Many 10th-grade students came to the meeting today. For them, this event is necessary as well, so that they could already start thinking of exams that they are going to take in order to get admitted to the university," said SUSU's Deputy Vice-Rector for Academic Affairs, Yulia Bolotina.
University applicants had a chance to learn from SUSU representatives about unique educational technologies contributing to enhancement of graduates' competitive ability. In particular, school children learned about project-based learning introduced at SUSU in September of 2018. Specificity of the new technology is in the fact that Master's degree students of all majors and a number of specializations within Bachelor's and Specialist degree programmes are working on a certain project provided by a partner organisation of SUSU (enterprise, company, governmental institution, etc.) in the course of several semesters. This allows students of the university to not just learn the theory but also acquire certain practical skills necessary for employment and a successful career.
SUSU's Institute of Engineering and Technology implements many joint projects with such large industrial partners as ChTPZ Group, Transneft JSC, SMS Group and other:
"We are working with various enterprises, and together we create the new strategy related to Industry 4.0 and obtain grants. Together with specific ordering customers, our students implement projects which allow them becoming highly trained professionals. Taking part in projects, students acquire supplementary knowledge and skills. When SUSU graduates come to an enterprise with which one project or another had been implemented, they can be placed on higher positions right away, as distinct from university graduates who don't have such an experience," emphasized Director of the Institute of Engineering and Technology, Sergei Vaulin.
The possibility to do military service while studying at the university is especially important for many university applicants. SUSU is the only higher education institution at the South Ural which has the Faculty of Military Education. In 2019, it is going to be renamed into the Military Training Centre, though this will not essentially affect its operation.
"Nowadays we perform training of privates, sergeants and reserve officers. After the Faculty is renamed into the Military Training Centre, we will keep perform training of privates, sergeants and reserve officers just like before. Students who completed training at the Faculty are not subject to obligatory military conscription. At the same time, they still have the possibility to apply for service upon a contract at the Armed Forces of the Russian Federation and other law enforcement agencies. Many of our alumni fulfilled themselves in a military career," said Deputy Head of the SUSU Faculty of Military Education, Konstantin Krikunov.
It is important to note that students majoring in engineering and natural sciences can study at the SUSU Faculty of Military Education on the programme for training of reserve officers and get the military rank as a lieutenant. This gives them more opportunities for a successful career in the Armed Forces of the Russian Federation or in other law reinforcement structures such as MIA, MES, Investigating Committee, Prosecution Office, or FSB. Students of other specialties can get admitted to the Faculty of Military Education and get the military rank as a private or a sergeant.
On the Open House Day, soon-to-be students could ask the SUSU Admissions Committee all questions regarding them entering the universit. University applicants learned about the document submitting procedure, about exams required to be passed in order to get admitted to one or another specialty, about creative trials, and many other things.
"Regardless the fact that website of the university features the whole volume of information regarding admissions to the university, we hold Open House Day so that university applicants could informally talk to their future lecturers in person and get into the atmosphere of the university. In particular, Admissions Committee can tell them about the possibilities of being admitted on a state-funded basis. This year, the majority of state-funded places have been assigned for in-demand engineering specialties. Moreover, we got state-funded places for economic ("Economy", "Management") and humanitarian specialties ("Philology", "Journalism") within Bachelor's degree programmes," noted Executive Secretary of the SUSU Admissions Committee, Aleksandr Gubarev.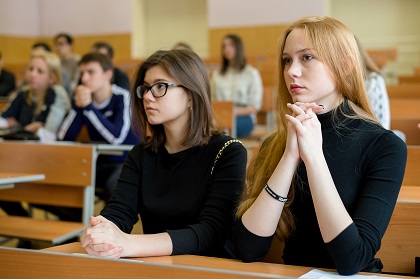 Moreover, school children learned about the chance to get additional points for personal achievements when submitting the documents, for example, a GTO (Ready for Labour and Defense) badge provides additional 10 points. They also learned about awarding of a personalized scholarship for those who got admitted with high scores. The scholarship is paid every month in the course of the 1st semester.
"Today I've visited SUSU for the first time, although I've been thinking about entering this university for a long while. I think this is one of the best universities providing high-quality education. I haven't decided which precise major I'd like to study yet, but I would like to choose an engineering specialty, so I am most likely to submit documents to the Institute of Engineering and Technology," said SUSU applicant, Maksim Mironenko.
SUSU is going to hold a few more profession-oriented events for university applicants. In March, the Single Professional Orientation Day is going to be held. Representatives of institutes and higher schools will hold excursions around laboratories and research and education centres of the university, as well as present their educational programmes in the frameworks of various interactive activities and master classes. Another Open House Day is to be held in April, where university applicants will learn even more about the prospects they are going to get while studying at SUSU.