On February 14th, on the occasion of Valentine's Day, more than 50 couples "got married" at South Ural State University. The Student Council of the School of Electrical Engineering and Computer Science traditionally acted as the organiser of the festivities.
The Student Wedding is an annual event when all those willing can make their relationships "official" in a mock Civil Registry Office.
"We offer students to go through a mock wedding. They participate in many different contests aimed at proving their love to each other and the fact that they are a real couple."
This year the theme of Traveling through Time was chosen. The differences and and similarities between the wedding traditions in the times of the Wild West, Maya civilization, the golden age of the Greek archipelago, and the Renaissance in the European culture were demonstrated, shares Student Wedding organizer Sergei Pasechnik.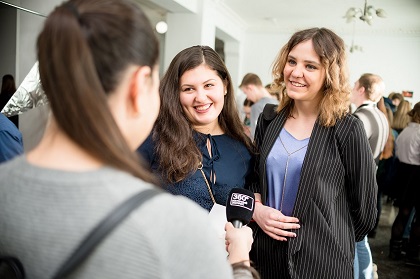 In the course of the celebrations the lovebirds could take part in various epoch-related competitions. Thus, a darts tournament was held at the Wild West venue, at the Renaissance venue students were offered to paint portraits of their other halves, the Greek archipelago venue gave a chance pass a trust test, and the venue on the times of Maya civilization made couples untangle themselves from a web with their hands tied.
One of the "newlywed" couples were students of the Institute of Linguistics and International Communications Aleksei Kirdiashkin and Alina Kimova. They share why they decided to get a "marriage certificate" to make their relationships official. 
"We have decided to get married today, on St. Valentine's Day! We've been dating for a year now, so when we heard about the event, we immediately decided to participate. Student wedding for us is a demo version of a real wedding!"
A long-time partner of Student Wedding is the Regional AIDS Centre. Its PR specialist Natalya Brylina tells what role has their stand played for students.
"Its not our first year of collaborating with SUSU. Today it has been important for us to remind young people about the safety rules, and namely that they must be aware of their HIV status, stay faithful to each other, and of course, take precautions. As part of our participation in the event, we have held a quiz on HIV prevention for students and awarded small souvenirs."
This is not the first year when this festive event is being held to entertain SUSU students, and every time the organisers try to come up with a different style theme. Last year's theme was the Mafia and the epoch of black-tie dress code, jazz and the Prohibition Law. Two years ago the keynote of the event was the turbulent 90s: wall carpeting, which every post-Soviet child liked contemplating before going to sleep; Dendy (illegal copy of the Nintendo Entertainment System) and men in Raspberry-red Blazers.