South Ural State University is actively developing international collaboration with universities of the near abroad. On February 13th–14th a delegation from D. Serikbayev East Kazakhstan State Technical University visited SUSU.
EKSTU is a university, with which SUSU signed a Memorandum of Understanding back in 2017. This time among the visitors were First Vice-Rector of EKSTU Saule Rakhmetullina and Director of the Department of Information Technologies Natalia Denisova. The delegation members learned about the possibilities of our university and its efficient approaches to conducting the educational work.
"One year ago a Russia-Kazakhstan Forum of University Rectors was held at SUSU, where a number of memorandums were signed, including one with D. Serikbayev East Kazakhstan State Technical University. The tasks set before the Republic and our country are similar in many ways. We are interested in the activity approach to academic training, attraction of talented youth to universities, academic mobility programmes, creation of Double Degree programmes; so our collaboration under these fields and others can be very promising," shares Vice-Rector for Academic Affairs Adrei Shmidt.
The SUSU Vice-Rectors for Academic Affairs Adrei Shmidt and Andrey Radionov discussed with their colleagues the specifics of teaching students, new educational technologies and the possibility of creating joint Master's programmes in Ecology – this topic is important both for Chelyabinsk and for Ust-Kamenogorsk, where EKSTU is located. These two cities both are industrial centres, that is why they have before them a task on reducing the level of environmental pollution.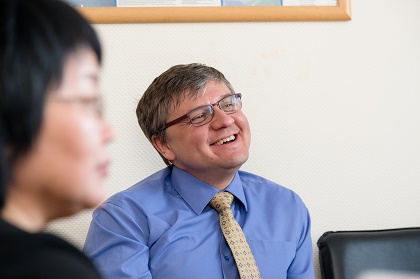 The representatives of the Kazakhstan university met with Director of the Institute of Linguistics and International Communications Elena Yaroslavova, Head of the Department of International Relations and Regional Studies Liudmila Shestakova and Director of the Centre for International Education Tatiana Vasileva. One of the most discussed issue was the student exchange. In particular, this opportunity is provided under the SCO University international programme, as well as by the Federal Agency for the Commonwealth of Independent States Affairs, Compatriots Living Abroad, and International Humanitarian Cooperation (Rossotrudichestvo). Currently, an issue is being solved on creation of academic mobility programmes for students of Economics and Power Engineering, as well as organising summer schools.
"Together with our colleagues from Kazakhstan we have discussed the possibilities for our collaboration in the field of summer schools. For EKSTU students we can offer to create a summer school in engineering. The representatives of East Kazakhstan State Technical University are considering a possibility of organising a summer school on the culture of Kazakhstan for the SUSU students in Regional Studies," notes Tatiana Vasileva.
Our colleagues from East Kazakhstan State Technical University became interested in the SUSU's experience in organising of extracurricular activities. This is a topical issue, since the 2019 has been proclaimed the Year of Youth in the Republic.
"Extracurricular activities comprise such main blocks as creativity, sports, and student self-governance. And in all these fields students can fulfil their potential. In particular, there are about 24 groups in the SUSU Recreation Centre: dance, music, theatre, and many other teams. We support student initiatives, which are beneficial for the development of SUSU. And when students suggest creating something new, we help them organise it," shares Vice-Rector for Student Affairs Vyacheslav Burmatov.
As part of their excursion program, the university guests visited the 2020 Volunteer House SUSU Resource Centre.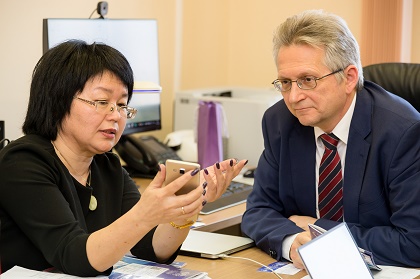 After that a meeting was held with Vice-Rector for Informatization Leonid Sokolinsky, representatives of the Marketing and Strategic Communications Department headed by Lidiia Lobodenko, Director of the Institute of Open and Distance Education Alexander Demin, and Head of the Supercomputer Simulation Laboratory Pavel Kostenetskiy. At the meeting the delegation members discussed the promotion of the university brand, efficient practices of improving university standing in the global digital space, specifics of distance education, and other issues.
"I see the EKSTU representatives as full partners. In certain fields we have moved ahead of them, but in some others there are things we could learn from our colleagues. It's good to know that we're on trend and are guided by the same global benchmarks, that is why such communication is especially valuable. Collaboration with our colleagues will allow both parties move towards reaching our common goals faster and more efficiently," notes Vice-Rector for Informatization Leonid Sokolinsky.
During their two-day trip the delegation from Kazakhstan visited the studio for recording the Massive Online Open Courses at the Institute of Open and Distance Education, as well as the SUSU laboratories and centres. They got especially interested in our university's supercomputer centre, which helps solving serious tasks for such industrial enterprises as Emerson, ChelPipe and others.
First Vice-Rector of D. Serikbayev East Kazakhstan State Technical University Saule Rakhmetullina shares her impressions and plans after the tour around SUSU.
"SUSU is a successful university, which sets ambitious tasks before itself. In terms its development it is one of the universities we look up to. We really liked the approaches to academic activity, project-based learning – that is orientation towards practice, which we are very familiar with. We also got interested in scientific solutions, especially with regard to energy efficiency. Among the most topical issues was the teacher exchange, since such experience can result in a certain point of growth for joint projects, ideas, and academic programmes."
In the course of the meetings mutual interests for SUSU and the Kazakhstan university were also outlined, which may be promising in terms of collaboration: geological survey, power engineering, IT technologies, and supercomputer simulation. At the moment, the holding of webinars, master classes and other events is being discussed.
"Following the results of the delegation's visit, we have charted a roadmap in the fields of the collaboration between our universities, including academic mobility, organisation of joint academic programmes, scientific research, and other fields of interaction. I believe it will definitely be beneficial for the development of both SUSU and EKSTU, since it is always important to communicate with other professionals and exchange experience in different fields of activity," notes Head of the SUSU International Office Liudmila Lapina.
Our guests from Kazakhstan invited representatives of SUSU to do a return visit, to learn more about their university and other options for mutually beneficial collaboration.