On February 8, a ceremonious opening of the new Laboratory of Robotic Engineering, which became part of the Mechanical Engineering Research Institute, took place at South Ural State University.
Rector of South Ural State University, Aleksandr Shestakov, noted the huge perspectives of using the brand-new equipment:
"Today we've launched the complex for development of technologies at the Faculty of Mechanics and Technology into operation. In a prospect, we have set the goal to develop technologies of processing on the basis of artificial intelligence. This is going to be an important research area for our university."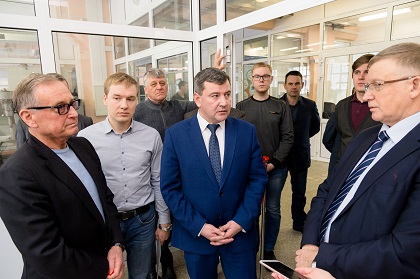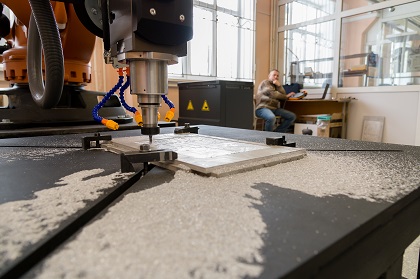 The Laboratory of Robotic Engineering is unique for educational institutions of Russia as it features equipment of the new technological class which allows performing treatment of large items sized 2,5х2,5 m in a very small space. The equipment is also designated to solve complex scientific problems and fulfill industrial tasks.
"This equipment provides new prospects for development of engineering sphere at our university. For example, one of the goals is to elaborate a method for enhancement of processing accuracy for enterprises which possess the similar equipment. In the future, we are also planning to cooperate with industrial companies in order to solve problems in mechanical engineering, rocket engineering, etc.," noted SUSU's Vice-Rector, Aleksandr Diakonov.
Director of the Mechanical Engineering Research Institute, Ramil Zakirov, emphasized uniqueness of the Laboratory and expressed reassurance in high demand of the equipment:
"Opening of this Laboratory provides us with an excellent possibility to process large-sized items, carry out research and development work, and accept orders by enterprises for production of volumetric items. Having such equipment with a high-speed milling head, the Faculty of Mechanics of Technology and the Faculty of Aerospace Engineering at SUSU's Institute of Engineering and Technology will be able to carry out research works."
Within a year, it is planned to equip the Laboratory of Robotic Engineering with new equipment which is going to be used for not just completing scientific and industrial tasks but also for training of SUSU students.