Although no rival to the world's buzzy capitals, Chelyabinsk is rich in culture and fun. The city offers plenty of shops, restaurants, museums, and attractions to suit everyone's taste. Chelyabinsk is a multicultural city and welcomes students from all over the world. Find out what places in Chelyabinsk (and Chelyabinsk Oblast!) international students find inspiring and worth visiting.
Sharif Mazri, Bangladesh
Russian Language Program
I've been to Turgoyak, a lake in Chelyabinsk Oblast. I was amazed by its beauty and purity. Years pass changing everything around, but this lake remains calm and breathtaking. The sunrises and sunsets are a marvel. Even if you swim in the middle of the lake, the water is still clear, and you can see the bottom. Turgoyak is an excellent place for relaxing and having fun. It's a popular tourist destination, and there's a bunch of resorts along the shore. People from all over Russia come here to enjoy Turgoyak's calm water and the stunning nature. And if you want to see some authentic Russian houses, visit the nearest city of Miass. It breathes Russian culture and offers lots of historical places to enjoy.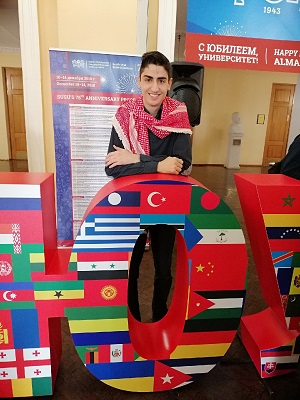 Mohannad Hamed, Jordan
School of Electronic Engineering & Computer Science
Chelyabinsk is a place where you can experience both dazzlingly white winter and lush green summer. No matter the season, you can always find something fun to do in Chelyabinsk. One of the coolest things you can do in winter is ice-skating and skiing. One of the internationally famous ski resorts, Sunny Valley, is located near Chelyabinsk. I've also had a chance to see a frozen lake, which looks amazing. In winter, you can ice sculptures around the city, which is also cool. 

With summer coming, everyone goes outside to enjoy the sun and beautiful nature. Chelyabinsk has a huge park in the city centre, and it's a great place to ride a bike or just among the ageless pine trees.

Theatres are a significant part of the city's cultural life, and they offer a variety of performance to everyone's taste. Every September the city celebrates its birthday, and many cultural events happen during that day, including festivals, fireworks, parties, and more.
Aissa Boulesnam, Algeria
Institute of Linguistics & International Communication
Living aboard is not only about learning a new language. It also means adapting to a new culture. Every culture has its unique traditions that are different from what you might be used to, but following them for some time is an unforgettable and valuable experience. Russian culture is rich in history, literature, philosophy, classical music, ballet, architecture, painting, cinema, and animation. And Chelyabinsk is a perfect place to experience everything Russian and make your Russian-language learning more fun. In Chelyabinsk, you can watch Russian ballet or opera, visit museums, play bowling and billiards, or go skiing to an internationally acclaimed ski resort. The city also offers plenty of excellent restaurants and cafes such as Antalya, Maximilians, Plove, Paul Bakery, Fortuna, and Dozacofe. I've been to those places and enjoyed them a lot! 
Bhante Siri-Sarana, Sri-Lanka
Institute of Linguistics & International Communication
Chelyabinsk Oblast is surrounded by the Ural Mountains that are responsible for making the region's nature so beautiful. Ural nature is what I love most about the place. I've visited lots of breathtaking mountains such as Taganay, Zuratkul,  Uvan, Bolshoi Iremel, Shihan, Urenga, and many others. I've also visited lots of local lakes and parks with my Russian friends. By the way, Russians call the Southern Urals "The Lake Region" as it numbers over 3 000 lakes!

I also love Russian banya for its health benefits. Banya is especially great during winter time. In terms of entertainment, Chelyabinsk offers great theatres where you can enjoy different performances, and a lot of cultural festivals as the city is very culturally diverse. I think it's a great thing that we can meet people of so many different nationalities and make friends. It's an invaluable experience.