On January 25th and 26th a regional round of RoboFest-2019 All-Russian Robotics Festival was held at South Ural State University. More than 400 kids from different cities of our region presented their robots.
Minister of Education and Science of the Chelyabinsk Region Aleksandr Kuznetsov opened the event with his welcome speech.
"This is a traditional event, and we've been organising it for over 10 years now. Its format and venues change constantly. This time we're holding it at SUSU, and I'm sure that many of the young participants of this festival are potential future students of this university. It is very important for our region to be developing the design and engineering way of thinking. There are quite many similar events being organised, as the world immerses itself in robotics and automation more and more. Of course, the number of competences increases year after year, and the tasks get more complicated. South Ural school kids cope with these tasks successfully. I believe that bright future awaits many of the winners who will be demonstrating their mastery today and tomorrow!"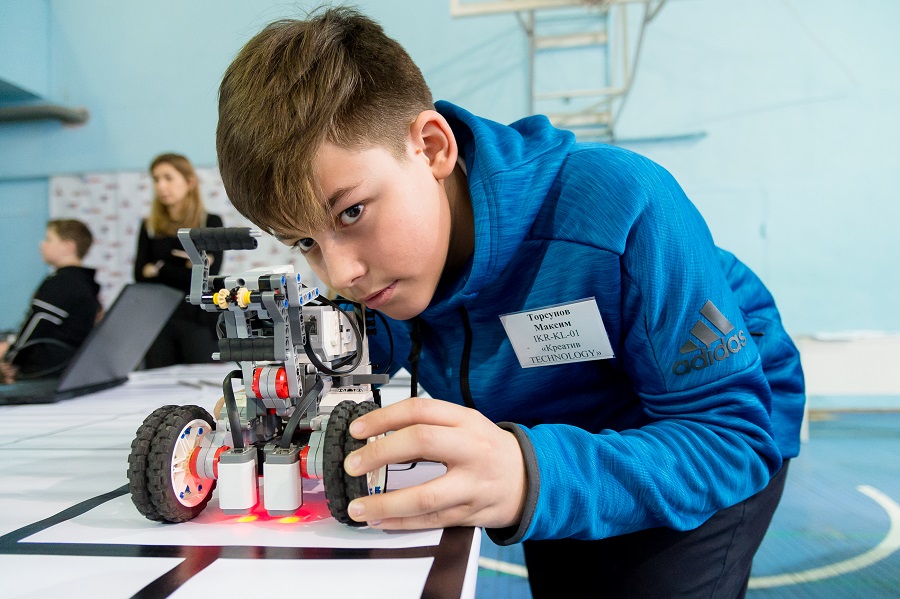 For the first time this year's South Ural RoboFest is being held at a new venue – at the SUSU Sports Complex. Deputy Dean of the SUSU Faculty of Pre-University Education Ivan Sukhikh explains why this university venue was chosen.
"Last year SUSU participated as a guest and organiser of an interactive exhibition. This year we've decided to take it a step further. Due to the fact that Quantorium Technology Park was opened at SUSU, where children can express their engineering creativity, we decided to offer our university as a venue for holding of this festival, so that we could fully demonstrate the possibilities of our university. For the contest participants we organised an excursion program with visiting the laboratories and institutes of our university, where the participants could take a look at what shape their young endeavours in robotics may take, and perhaps make up their minds on choosing our university to continue their studies."
The guests of the festival could not only follow the competitions, but could also appreciate the ready-for-fulfilment projects, which big enterprises showed their interest in. The festival featured an exhibition of IKAR (Engineering Resources of Russia competitions) projects being organised jointly with such companies as Mechel, bakery company OAO Khlebprom, Chelyabinsk Pipe-Rolling Plant, poultry company OOO Ravis-ptitsefabrika Sosnovskaya, South Ural Railways – Branch of JSC Russian Railways, and others.
The this year's Space category was presented by the festival partners, Pokolenie M (Generation M) All-Russian Charity Creativity Project and MTS company.
"When I saw how many children were involved, I felt pleasantly surprised by the scale of the event. Educated smart and talented children are our future and our potential employees. These are active citizens of our city and our region!" shares Director of Branch PAO MTS in the City of Chelyabinsk Vyacheslav Bezhin.
Space robots of the senior team First LEGO League will be competing for victory at the regional round of the contest Robostantsiya (Robostation) within Pokolenie M. Authors of the best South Ural projects will be able to take part in the all-Russian robotics competition, its big prize being internship at Robotics School in Moscow.
Young academics of the SUSU Faculty of Aerospace Engineering were involved as judges under the creativity categories. The topics of the project categories were: Ascending to the Orbit, and Mission to the Moon.
New categories at the regional selections round were included: Avtonet 10+, as well as Aeronet. These categories were introduced in our region in the form of presentations. For the all-Russian competitions, the Chelyabinsk Region is also training its teams to participate in an absolutely new category called Econet.
The winners of the all-Russian round of the festival will also be awarded bonus admission scores by South Ural Stata University.