In this academic year, there were several events organised for international students of South Ural State University that included active outdoor leisure.
One of the favourite activities of SUSU's international students is snow tubing. This activity is held annually by the Sociocultural Adaptation Centre.
"We have already visited Lazurny settlement 2 times in order to do snow tubing and sliding. First time, our group consisted of 38 people from different countries: China, India, Laos, Syria, Algeria, Afghanistan, Iraq, Egypt, Venezuela and Italy. For the second time we had 45 people coming. We have planned one more trip because time after time there are more people willing to slide. Everybody likes snow tubing and sliding because this is increasingly funny and - what's more important – safe!" says an employee of the Sociocultural Adaptation Centre, Alina Kurbanova.
It is not always that international students can see as much snow in Chelyabinsk as they can see beyond its limits. Therefore, a lot of taking pictures and video streaming via social networks starts on the outskirts of the city: everyone want to show their friends and their families the amount of snow around them.
"I would like to express my gratitude to the Sociocultural Adaptation Centre of ILIC for organising the trip and snow tubing. It was an amazing day, an excellent opportunity to gather together with students from different countries and have a lot of fun. Many of us international students don't have the opportunity to do snow tubing and sliding in our home countries, so for many of us this was the first experience. I liked the nature, the landscapes are indescribable! I hope that the Centre will keep bringing us joy by holding similar activities," says a student from Algeria, Kessouar Mohammed.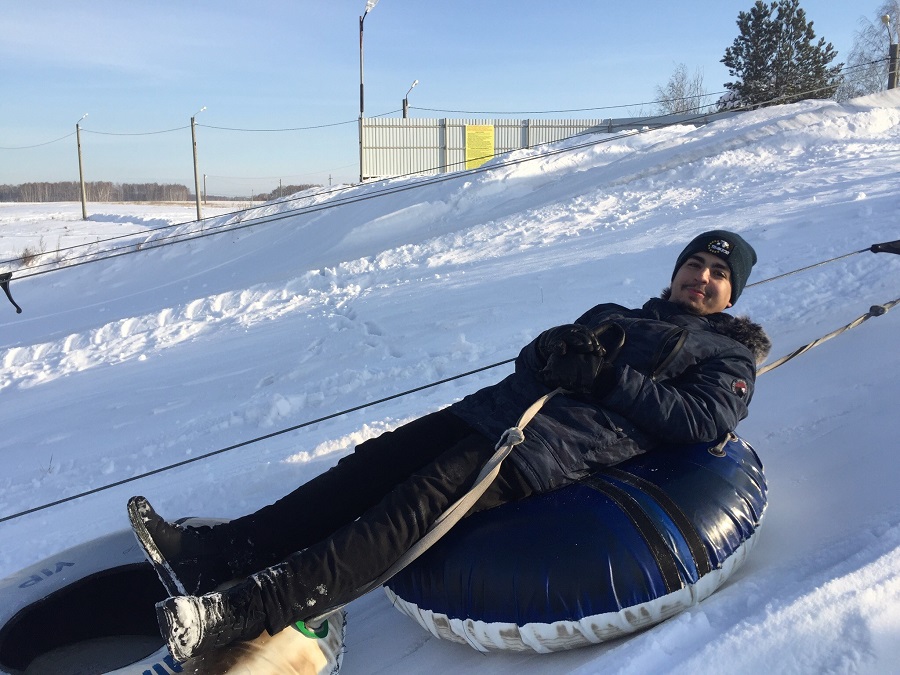 Moreover, every year, the Sociocultural Adaptation Centre's leadership organises a trip of international students to Sunny Valley ski resort in the city of Miass where they practice skiing and snowboarding. In the new academic year, international students have already had a trip to the ski resort's hills in December.
A student from India, Vaibhav Kashyap Kumar, shared his emotions.
"I tried show tubing for the first time on my life; also, in December, I tried skiing for the first time as well. I dreamed about these winter-time leisure activities since childhood and I wanted to experience them precisely in Russia. I like it here very much. The first snow was a miracle to me, I will never forget that day. I enjoy every day of being in this country, of learning Russian language. I acquire a lot of new friends and I feel support of my teachers. I think that my further experience in Russia will be as positive. Thank you very much!"
In February, the Sociocultural Adaptation Centre is planning to repeat the trip to the ski resort so that international students once again could get charged with positive emotions.