Holidays are finally coming! Russia celebrates New Year's and Christmas like no other country, and Chelyabinsk is no exception. Enjoy the best activities the city has to offer during this magical period and spot Christmas trees and lights in every district. Make sure you keep an eye out for movies, concerts, and theatrical performances. Our guide is the perfect starting point for those planning their holidays in Chelyabinsk. Check out the best things to do in the city during January 1-8, 2019.
January 1, 15:00
Akvilon
The Bremen Town Musicians
musical show
The story of Bremen town musicians is known everywhere in the world. Four ageing domestic animals, neglected by their owners, decide to escape and become wandering musicians. The Bremen Town Musicians show will transfer you to a magical world full of adventures. Together with Snowflake you will discover the amazing Akvilon and meet Atamansha, the leader of a criminal gang, the beautiful Princess, Ded Moroz, and of course, the Bremen town musicians. The famous band will sing well-known songs about love and friendship. You will be invited to ride on the dog-pulled sledge, drive through the idyllic winter wonderland on a quad bike, and experience horse-drawn sleigh rides through the snow-covered landscapes. In the blacksmith's forge, you will learn about the craft of heating metal. Do not miss your chance to have great fun with your friends and meet the legendary Bremen town musicians.
January 2, 15:00
Kinomaks-Ural
Hamlet
2,5-hour film
Academy Award nominee Benedict Cumberbatch takes on the title role of Shakespeare's great tragedy. Seen by over 750,000 people worldwide, the original 2015 NT Live broadcast returns to cinemas. As a country arms itself for war, a family tears itself apart. Forced to avenge his father's death but paralysed by the task ahead, Hamlet rages against the impossibility of his predicament, threatening both his sanity and the security of the state. Directed by Lyndsey Turner (Posh, Chimerica) and produced by Sonia Friedman Productions.
January 3, 19:00
Chelyabinsk State Academic Opera and Ballet Theatre
The Nutcracker
2-hour ballet
Tchaikovsky's Nutcracker is well-known and much loved all over the world. It is associated with magic, love, and Christmas like no other ballet every existed. Superb dancing, beautiful sets, and Tchaikovsky's enchanting score - immerse in a magical fairytale! Together with Clara and her enchanted Nutcracker doll you will discover a world full of mysteries and adventures. The Nutcracker is a must-have Christmas treat. Book early to make sure The Nutcracker is part of your holiday celebrations.
January 4, 15:00
Maneken Theatre
Krakatuk
1-hour play
Krakatuk is a play full of mystery. It is a journey into the world of the most enigmatic German writer Ernst Theodor Amadeus Hoffmann. A family idyll is under threat when an unusual present appears in the house. This story captivates audiences of all ages and proves that miracles exist after all. One must only believe in love and good. The festive royal ball is waiting for you! Every guest of the play will receive a special present from the King.
And so we start. We are in 1818 Germany, and it is ten to midnight...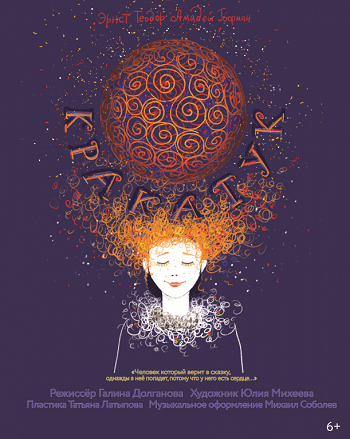 January 5, 18:00
Prokofiev Concert Hall
From the Bottom of Our Hearts
1,5-hour music concert
One of the most famous jazz bands of Russia Ural Dixieland presents their traditional concert! You will hear everything jazz - from early jazz to jazz covers to Russian folk and Soviet songs. There is nothing like a good song to raise one's mood. Ural Dixieland will perform their second part of the concert in the concert hall for the audience to dance till they drop! If you have never danced to jazz and believe jazz is a sit-down concert experience, then this event will surely change your mind.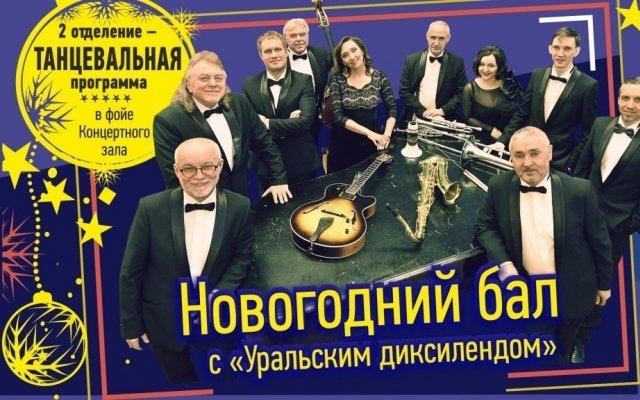 January 6, 19:00
Chelyabinsk State Academic Opera and Ballet Theatre
On the Beautiful Blue Danube
1,5-hour concert
Every year, many people flock to Vienna from around the world to listen to the famous New Year's Concert in the Vienna Philharmonic. Because of the extremely high demand, tickets for the three traditional end of year concerts are booked a year ahead. Since 2016, the New Year's Concert has become an annual tradition in Chelyabinsk. On the Beautiful Blue Danube is one of the most recognised classical masterpieces by Johann Strauss II composed in 1866. However, the now-famous waltz did not gain enough recognition when performed for the first time in Vienna. The premiere was unsuccessful and On the Beautiful Blue Danube was truly discovered in Paris a year after. Today On the Beautiful Blue Danube is the most beloved waltz among the Viennese. It is an unofficial anthem of Austria and is in the repertoire of every New Year's Concert in the Vienna Philharmonic.
At the beginning of the year, the Symphony Orchestra of Chelyabinsk State Academic Opera and Ballet Theatre will brilliantly perform the following masterpieces by the Strausses: Persian March, Radetzky March, Emperor Waltz, At the Hunt Polka, Cuckoo Polka, and of course, On the Beautiful Blue Danube.
January 7, 19:00
Chelyabinsk State Academic Drama Theatre n.a. Naum Orlov
French-Style Fraud (adapted from Blaise by Claude Magnier)
3,5-hour play
In 1959, Théâtre des Nouveautés in Paris saw the premiere of Blaise written by the talented actor and writer Claude Magnier. Since then, the play has been a massive success around the world. The plot takes places in Paris, the city of artists and poets, where carefree Parisians enjoy their glasses of wine at the tables in small cafes, and the whole atmosphere breathes love. The protagonist artist Blaise finds himself in somebody else's flat but brilliantly tackles all the awkward situations that arise thanks to his wit and charm. French-Style Fraud is a typical comedy of situation packed with farcical humour and ridiculous dramatic situations.
January 8, 9:00-21:00
Sunny Valley Ski Resort
ski resort
Located 130 km from Chelyabinsk in the city of Miass, Sunny Valley Ski Resort boasts one of the best ski slopes in Chelyabinsk Oblast that can fit everyone's tastes, whether you ski like a pro or have never touched skis or a snowboard. The beginner slopes are absolutely safe and equipped with ski lifts. Every year the Sunny Valley resort surprises its visitors with building new slopes or ski springboards. Experience your on-hill 'high' and enjoy the unforgettable moments of rushing into the unknown!
Total number of pistes: 12 ski pistes, 1 tubing piste, 1 cross-country skiing trail
Total piste length: 8 km
Elevation difference: 230 m
All the pistes are lit at night and supplemented with snowmaking.