On December 24th, the Association of International Student (AIS) of South Ural State University celebrated 5 years since its founding.
More than 2500 international students from 52 countries around the world are studying at SUSU. They are united by the SUSU Association of International Students.
SUSU rector Aleksandr Shestakov noted the importance of the work of the Association of International Students for the university.
"We created the SUSU Association of International Students, entered the Association of International Students of the Russian Federation, and even entered the International Alumni Association. It's very important to us that students who come to study with us feel comfortable so that they want to continue on to master's programmes and postgraduate programmes after they complete their bachelor's programme. The university should be like a home to them. Today at the celebration of the Association's anniversary the students asked us to create a football team, which of course will be done!"
In honour of the AIS' fifth anniversary, international students have prepared a programme of events that included creative performances, tasting of national foods of various peoples, and a big celebratory cake.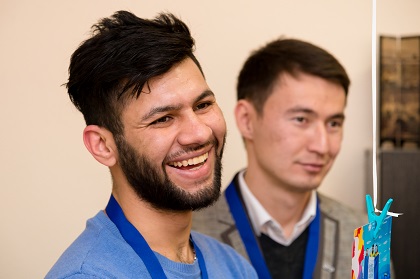 The Vice-Rector for International Relations Olga Yaroshenko spoke to us about which dishes the international students created especially for this holiday.
"Everyone tried to make a contribution, so they prepared national dishes for the celebration of the anniversary: Chinese tea, baked fish from students from Sri Lanka, plov in a cauldron by students from Asian countries, and much more. The culmination was a cake in the shape of the SUSU main building which weighed a symbolic 5 kilograms."
The Association of International Students organises a number of national holidays such as Navrus, Arab Culture Day, Chinese New Year, Eurasian and African Culture Day, and more. Plans in 2019 include holding tournaments in pool, mini football, and basketball. For the first time, they will hold competitions in cricket and volleyball. Per tradition, they will hold national holidays – Chinese New Year, Navruz, Sri Lankan New Year, Eurasian Culture Day, a tea ceremony, and African Culture Day, and for the first time, a South Asian Cultural Festival will be held.
President of the SUSU Association of International Students Uvindu Wijeweera came to Chelyabinsk from Sri Lanka a few years ago. He spoke about his impressions.
"Our association isn't very old compared to the university itself, but we have built an excellent team since we were founded. Despite the fact that we are all different, we are together. We have many international students from various countries, but at SUSU, we try to speak to one another in English or Russian. The team always helps me organise events. I am happy to be the president of our association."
As a reminder, the Association of International Students was founded on December 23rd 2013. The main tasks of the AIS are to help international students adapt, solve problems related to studies, living in the dormitories, and leisure, and also introducing them to Russian culture. The work of AIS supports the development of intercultural communication and the personal growth of every student.