A ceremonious event dedicated to summarizing results of extracurricular activity in 2018 took place at South Ural State University.
As per tradition, December is the month to review the results, and youth and student subdivisions are not an exception. This year, summary of results for youth audience was conducted in a new format.
SUSU's Vice-Rector for Student Affairs, Vyacheslav Burmatov, summed up results and marked out the most important moments.
"Overall, this year's results of extracurricular activity are positive. The university managed to obtain quite significant funds from participation in contests and grants, both at regional and federal levels. A short while ago, we learned about results of the contest entitled 'Student Initiative', organised under support of the Governor of the Chelyabinsk region, Boris Dubrovsky. Out of 81 winning applications, 21 belong to the university. Total amount of acquired funds is 750 thousand rubles, which is a very outstanding result in the scope of a regional contest."
Extracurricular activity of a South Ural State University's student is truly eventful. Anyone willing can fulfill oneself in various spheres: social, creative or sport.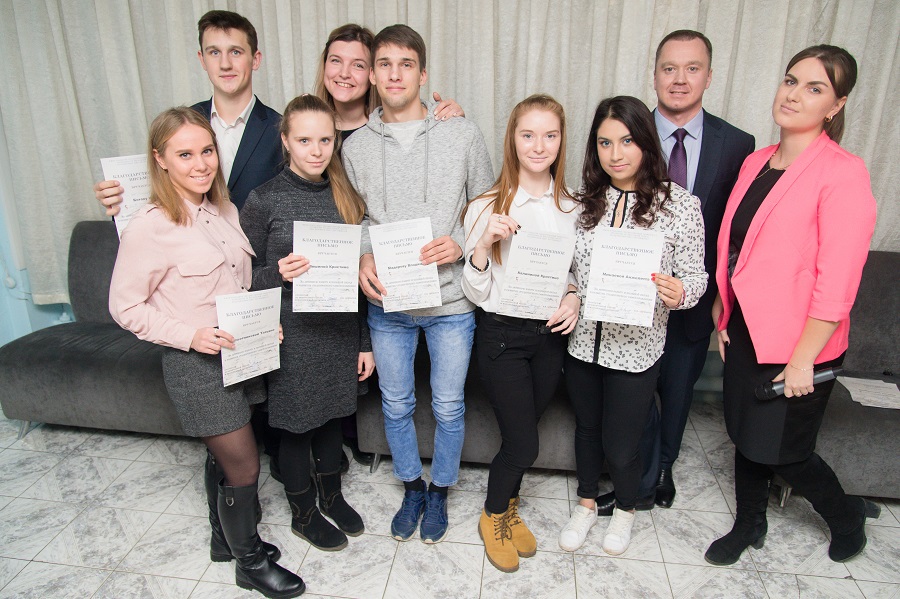 Deputy Head of the SUSU Extracurricular and Discipline Activities Department, Valeria Zasova, explained why extracurricular activity is important for a student.
"Extracurricular activity provides students with a colossal experience. When a student acts as an organizer of various events, he or she acquires many new acquaintances and positive emotions. No matter how hard it is during a year, in the end everyone is happy with their achievements."
For students involved in extracurricular activity, 2018 became a truly unique year. This year, South Ural State University obtained a Grant for establishment of a Student Centre called "The House of Volunteers 2020" and of a Directorate for preparation for summits of SCO and BRICS in 2020. Assigned Head of the Directorate is Deputy Chair of the SUSU Trade Union Committee, Gennadiy Budanov.
"It's not a secret that in one and a half year our region will host the most grandiose events out of those which has ever been held in our region. Right now, everybody is getting ready for this event in one's own way. Organising Committees and Working Groups have been created within each government authority; there is a regional managing board supervising their work. Preparatory works start being held throughout the region so that this event could be held at a really high level, and so that each guest would be satisfied. I think that our university is not an exception as well. We are the base institution for training of volunteers; we are the largest university and we have certain goals to fulfill in the frameworks of this event."
There are plenty of plans for 2019: regional and all-Russian events, internal work with students, establishment of business relationships with other universities and government institutions.
Students involved in extracurricular activities never forget about their study. They are successfully operating in all spheres of student activities. An example of this is a 5th-year student of SUSU's School of Economics and Management, Natalia Lapshina, who has been recently assigned as a Head of Mediatsentr student organisation.
"During four years, I have been actively working in the sphere of extracurricular activity: taking part in projects of various levels, including international projects, as well as in sport events and Trade Union Committee's meetings. Also, I act as a host at almost all events at SUSU; I participate in various contests and afterwards become their organiser. At that, all my exams are passed with excellent grades. Now that I am writing my graduation thesis, it is becoming hard for me, but I try managing my day schedule in a right way and set objectives, so I can keep up."
South Ural State University has given me much more than just a degree in the sphere of Customs Affairs. Here I found my calling and realized what I am really interested in. We have a big number of scheduled events, and I hope to take an active part in projects of our university and our city.
All students who showed distinguished results in 2018 were awarded with honorary credentials. This is an indicator of not just a good work in the student subdivision but of a considerable contribution to development of South Ural State University.
A 2nd-year student of the SUSU School of Economics and Management, Egor Bebekh, is the Chairman of the SEM's Student Council. He told us about why he decided to engage himself in extracurricular activity.
"I help students of the School of Economics and management to take active participation in extracurricular activity of the university. Those students who are working with me are like a family to me. I like working with them, this is a great experience. I am holding an executive position. Together with the team, we hold various events at the university and try to go beyond its limits."
Vice-Rector for Student Affairs, Vyacheslav Burmatov, shared his plans regarding extracurricular activities in the coming year.
"Plans for the following year are ambitious; we need to keep improving our skills in execution of documents for obtaining grants, holding events and providing the subsequent reporting. The team we have gathered is young and daring in a good sense of the word. Our goal is not to slow down but to accelerate the pace of our activity."
According to the organisers, such event as summarizing results of extracurricular activity allows developing corporate culture of the university and provides support for youth initiatives.