It is for the twelfth time when SUSU opens doors to those for whom cooking is not just cooking. Department of Production Technology and Catering Organization of Institute of Sport, Tourism and Service of SUSU became an organizer of the event.
International Youth Festival of Culinary Art at SUSU has become a good tradition; indeed cooking is the art that requires patience, hard work, and creativity. Culinary Festival is another step towards the goal on the way of people who decided to connect their lives with cooking. This year, the International Youth Festival of Culinary Art was dedicated to the 75th anniversary of SUSU.
"The festival is a massive one. Many different people take part in it – schoolchildren, students of colleges and universities, and other organizations that work in Chelyabinsk. People come to us from all over Chelyabinsk. The festival is bright and beautiful, at the same time we have something to learn. Generally speaking, the students of our Department should be the participants of the event, but today they act as judges," says Director of Institute of Sport, Tourism and Service Vadim Erlikh.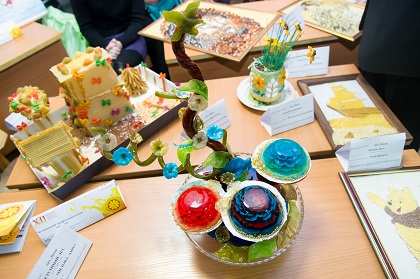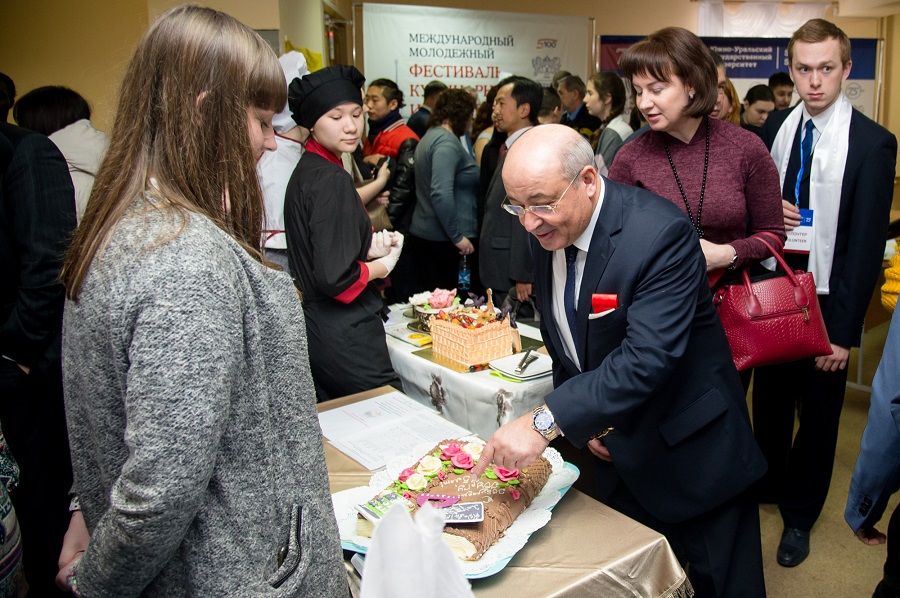 At South Ural State University, there are about 2000 foreign students, so it was impossible to invite all of them to participate in the event. Traditionally, students from Asia and Europe, China, Tajikistan, Uzbekistan, and Sri Lanka presented their cuisine.
"Our foreign students are always ready to show all their abilities and present their traditional dishes. Therefore, there is a great difficulty here, because, for example, Chinese students used to present at least 25 dishes at the festival, they cook a lot. Students from Sri Lanka usually hold a tea ceremony, they make tea, and this is a special ritual for them. Students from Tajikistan traditionally cook pilaf and soup-shurpa. That is, each nationality has its own food preferences and, in addition, it still needs to be correctly presented," says Olga Yaroshenko, Vice-Rector for International Relations.
The jury consisted of leading experts and leaders of the food industry and catering of the city of Chelyabinsk.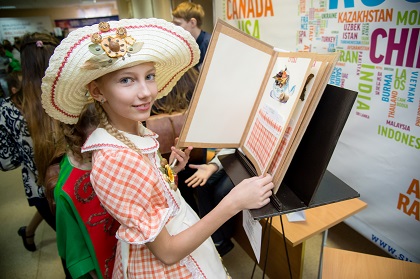 The chief judge was the representative of the Russian Culinary Association and State Expert in the field of certification of services of catering enterprises Anatoly Efimov.
"I am connected with SUSU by long years of friendship. Today is a special day because the festival is dedicated to the 75th anniversary. Such events are basic because for the students who participate in them, for leaders, teachers and skilled specialists of the production we held a seminar, exchanged views on the future direction of culinary art development and I think that this direction has a bright future, and the university has great potential."
The festival programme included five sections: culinary art and service class, confectionery, art design, art model, as well as the culinary traditions of the peoples of the world.
Thus, students of Chelyabinsk State College of the Industry of Food and Trade Adina Akmatova and Polina Gerodotova participated in the art design nomination.
"On the eve of the New Year, we thought why not to make a festive Christmas composition. I would like people to feel this holiday spirit and became glad for a while. The whole composition is eatable: the houses are made of salt dough, the figures and the Christmas trees are made of mastic covered with Candurin, and the snow is sweet cotton, sprinkled with coconut flakes. For us, participation in this festival is a precious experience."
Pupils of secondary schools and students of secondary vocational educational institutions traditionally took part in the event. For young children, participation in the festival is an opportunity to express themselves, to measure their strength in the mastery of cooking dishes and confectionery.
It is important that enrollees of 2019 can obtain additional scores to the sum of for the Unified State Exam in case of victories and prizes while entering the bachelor's degree programme "Production Technology and Catering Organization" as well as "Service".