South Ural State University was visited by delegation of three people from Shenyang Institute of Technology. Within several days, the delegates got introduced to possibilities of the university; as a result, two agreements were signed.
The goal of the visit was discussing further cooperation of the higher education institutions, as well as experience exchange and signing an agreement on opening a joint Laboratory of Food Technology and Biotechnology.
The delegation representing Shenyang Institute of Technology included Rector of the Institute, Li Kangju, Head of the Education Board, Xu Ying, and specialist in education, Cui Honghai.
"The history of cooperation with Shenyang University of Technology dates back 10 years; at the moment, it is a multi-disciplinary research and education centre of the PRC. The institution is acknowledged by its engineering, scientific, economic, managerial, literary, legislative, philosophy and artistic areas. The institution's motto is 'Confidence in one's powers!'; the University is included in top-1000 best PRC's educational institutions of research activity and cooperates with 49 leading universities of the USA, Japan, Germany, Great Britain, Australia, Korea, Finland, etc. Our universities are similar by their structure and development strategy, therefore cooperation with a university of such level is a new step for development of international collaboration at SUSU, which allows taking part in research and development events (by the example of opening the joint Laboratory of Food Technology and Biotechnology) and introducing joint international education programmes of the world level into the education process," says Vice-Rector for International Relations, Olga Yaroshenko.
Opening of the joint Russian-Chinese Laboratory of Food Technology and Biotechnology took place within the delegation's visit.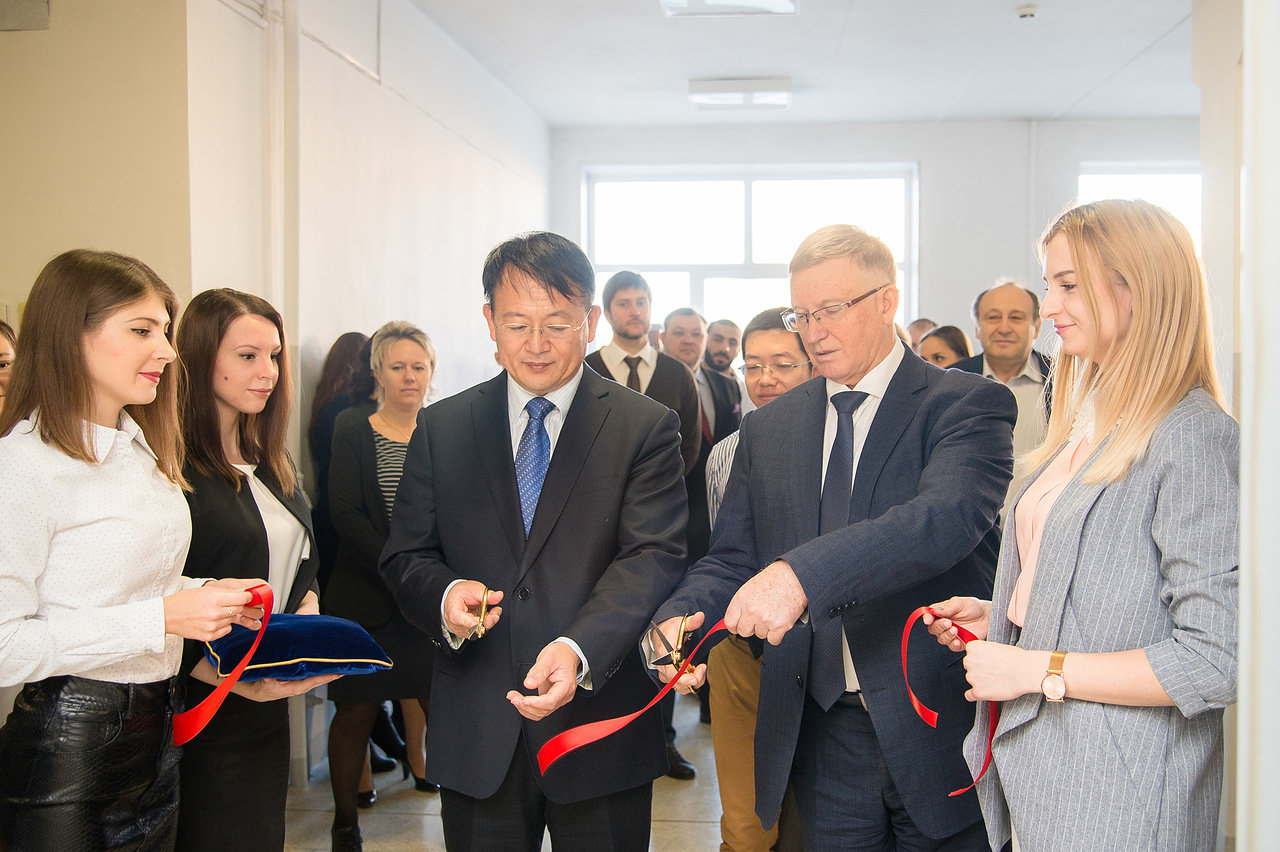 Rector of SUSU, Aleksandr Shestakov, noted that cooperation with Chinese party provides a powerful impulse in the sphere of biotechnology research.
"Opening of this Laboratory is a powerful development of research direction in the sphere of food technology as well as further extension of international connections. Just like we can't live and work in a closed space, just like science and education can't be closed; they are international. We are developing and setting the goal for our university to become an international university. This is one of the steps in this direction. We will try to carry out research in the sphere of food technology and biotechnology and fulfill tasks that would be interesting in a global scale."
Rector of Shenyang Institute of Technology, Li Kangju, emphasized that cooperation with SUSU will be very important for their Institute as well.
"Cooperation with SUSU is very important for us because this university is very well-known in Russia. Project of the joint Laboratory is important for us as well, as it helps enhancing our scientific result. I was surprised in a good way. Here I saw a lot of research projects. I was especially impressed with the project on cultivating wheat grains. This is a long-term project which requires a lot of time in order to obtain results."
Various projects by staff of the Department of Food Technology and Biotechnology of the SUSU School of Medical Biology were presented to the representatives of Shenyang Institute. Head of the Department Irina Potoroko explained why it was important for them to show the guests these precise projects, and what the joint Laboratory is going to be like.
"Today we presented our Laboratory which now is going to be called 'Russian-Chinese Laboratory of Food Technology and Biotechnology'. This Laboratory was being created by analog to 'mirror' laboratories, because the Chinese-Russian one is going to be created at Shenyang University.

We presented several of our global projects – the ones that can be interesting for the Chinese party. We discussed issues of food security and implementation of joint activity. This is important for us if we are going to promote our products not only in Russia but at the territory of People's Republic of China as well."
Also, Irina Potoroko talked about the profit that implementation of joint projects will bring to the humanity.
"The epoch when we simply take some food ingredients and add them to the food system started receding. We have to follow a new direction: peek 'inside the food' and understand how much the contained components can remain healthful after exposure to aggressive technology factors, and be the component which allows a person to grow, develop and stay healthy."
There are 4 students from Shenyang Institute of Technology studying at SUSU within bachelor's and master's programmes, but not all of students can come to complete the programme of pre-university training and learn Russian language in full-time mode of study. Therefore, the Chinese party is interested in development of distance online technologies which are going to allow students mastering Russian language.