On November 13th the Global Smart Industry Conference 2018 opened at SUSU (Schedule of the 2018 Global Smart Industry Conference). The conference was organised and is being held in cooperation with Emerson Corporation (USA), the world's leader in the field of digital industry. The event aims at discussing the achievements of the world's digital industry leaders, and of the top universities and research-and-development centres with regard to developing innovative models, methods and technologies for Industry 4.0, and the experience in implementing those at big transnational and national industrial companies.
The first conference day began with opening of a unique SUSU-Emerson laboratory, which features equipment allowing to improve the educational process in the field of automation technologies. The laboratory is fitted with the most state-of-the-art technologies by Emerson Company. The classroom equipment is intended to conduct joint research, what makes it possible to attract more talented students to the world of automation. The competence centre equipment is a platform for training and research in the field of Industrial Internet of Things and digital transformation of enterprises.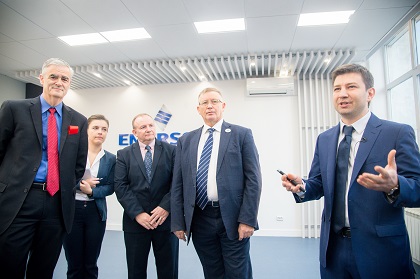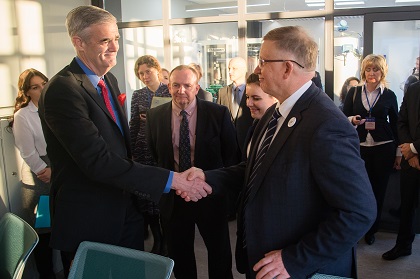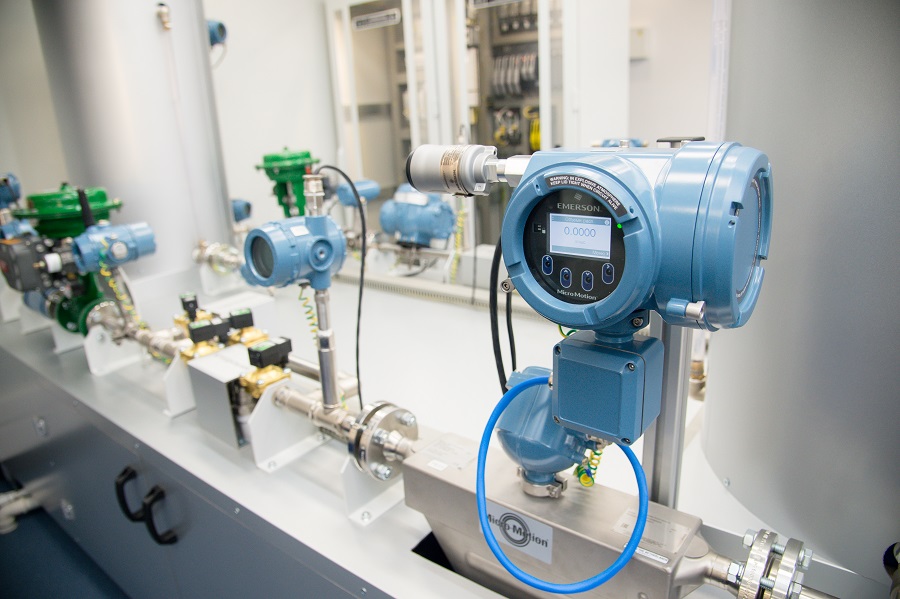 It is planned to perform works and carry out studies on digital technologies at the laboratory, including on: digital conductors of high-accuracy processes, process equipment monitoring, digital monitoring, computations, mobile applications, that is, on all of the key elements of digital transformation of industrial enterprises.
At the opening ceremony the guests of the laboratory were demonstrated a miniature process helping students to form a full picture of how automation is built. The display circuit shows a technological process fulfilled using the laboratory unit. The diagram flares in contrast colours only for warmings or emergency alarms, what allows an operator to fairly quickly and accurately analyse the production situation and make prompt decisions. Thus, this unit makes it possible to switch the process into a safe mode in case any of the parameters fails. This in its turn helps students better understand how to regulate continuous technological processes.
"Emerson and SUSU are fulfilling joint projects for the purpose of training the new generation, who will be developing new technologies in the future. We are working together to train the new generation, who will be engineering new technologies. We are happy to collaborate with the university, which has earned recognition at the international level," notes the President of Emerson Corporation Michael Train.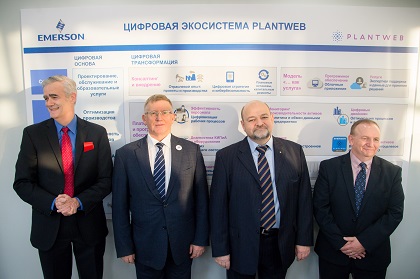 One of the conference satellite events was the opening of an exhibition on Digital Industry: Solutions and Technologies held at the SUSU's main building and organised with support from the Chelyabinsk Region Government. The leading enterprises of the South Ural region presented their solutions for Industrial Internet of Things and industrial automation at this exhibition. Among the opening ceremony participants were Deputy Governor for the Chelyabinsk Region Ruslan Gattarov and Rector of South Ural State University Aleksandr Shestakov.
While delivering his welcoming speech for the exhibition guests Ruslan Gattarov noted that in Strategy 2035, which will be adopted in our region in the nearest future, much attention is paid to digital economy, the transition to which was initiated by the President of Russia Vladimir Putin last year, and universities are intended to play a role of the centres of development of digital competences in this process.
"We hope that South Ural State University with its qualifications, students and teaching staff will steadily promote its digital competencies to already-existing enterprises, as well as to the newly-established ones, which get actively attracted to the region thanks to support of the Governor of the Chelyabinsk region, Boris Dubrovsky, and to his attentive attitude towards investors. I am sure that cooperation with such large enterprise, partner and investor as Emerson will make our region more competitive, interesting for smart young people graduating from the university. Government of the region supports such cooperation. For our part, we at any moment are ready to help with solving problems arising at that," emphasized the Deputy Governor.
Let us note that the 2018 Global Smart Industry Conference exhibition brought together Chelyabinsk's and Russia's enterprises leading in the sphere of digital transformations. Among them is the Intersvyaz Company, which is the leader at the South Ural's market of telecommunication services. Activity of the Intersvyaz Company is aimed at providing people with modern services, applicable electronic services and the possibilities which provide comfortable and secure operation in the Network. Another company is PLANAR South-Ural Instrument-Making Cluster, the engineering partner of Sozvezdye Kontsern (ROSTEC Company Group), which carries out developments in the sphere of radio electronics and also performs approved serial production of measuring equipment. The Informatsionnye Tekhnologii (Information Technology) Company is specialised at developing and launching to production highly-efficient solutions in the sphere of industrial automation. There are also: ALPHA-INTECH Company which has been performing development of industrial robots since 2009; ElMetro Engineering OOO Company, the main sphere of activity of which is development and implementation of manufacturing highly accurate control, measuring and metrological equipment, as well as rendering services in metrological and project-based engineering.
EMIS Company is Russian manufacturer of control-and-measurement devices (flowmeters) and complex systems. EMIS ZAO carries out the entire cycle of instrument-engineering process: development and construction, production and verification, and shipment. The Company also renders services of supervised installation and on-site start-up and commissioning works.
ER-Telecom Holding Company is the national operator of information-and-communication services in Russia, operating since 2001. The Company provides telecommunication solutions.
Napoleon IT Company's sphere of expertise is analysis, development and introduction of modern solutions for intelligent control over distribution and automation of remote employees' and third-party agents' work using machine-learning methods.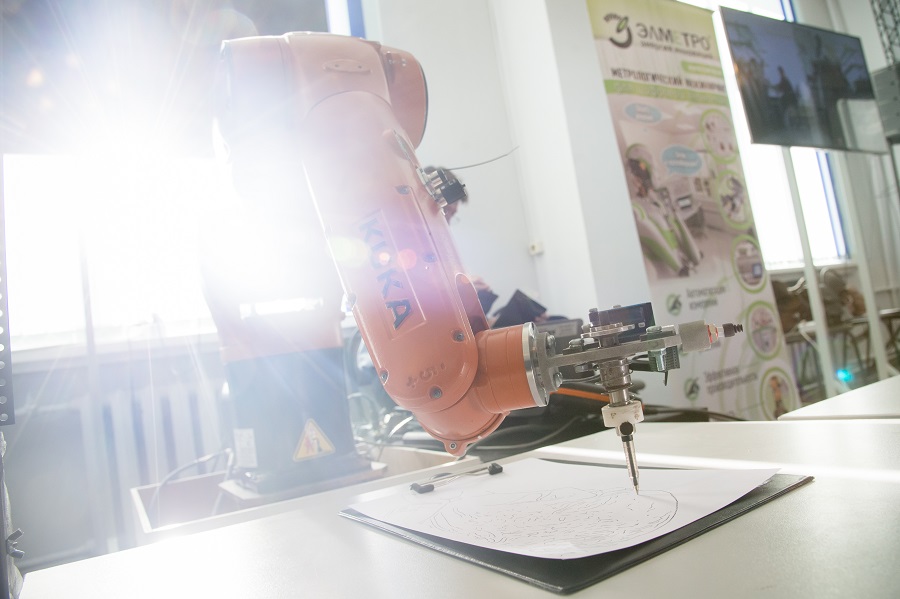 South Ural State University was represented by several posters concurrently: Educational Equipment and Technology – the acknowledged leader in the CIS's market on development and serial manufacture of innovative educational products for higher education institutions, engineering schools, colleges and educational centres of enterprises; Geoinformation Systems Research and Education Centre, which performs development and introduction of geoinformation systems, as well as design of three-dimensional photo-realistic landscape and immovable property models; Inter-department Laboratory of Electronics, the team of which developed a measuring power amplifier for electrodynamic oscillation test bed with adaptive feed of output cascades of the amplifying module, a commanding controller for three-store excitation system of synchronous generator with simulation model of the operational environment, and specialised controllers for collection and processing of measuring information in order to monitor engineering condition of objects.
Also, SUSU unveiled the development products of the Experimental Mechanics Laboratory, namely a Coriolis flow meter manufactured in Russia for the oil and gas industry. The instrument has new algorithms of control and signal processing, which allows measuring a mass flow rate in the presence of a gaseous phase. It makes it possible to switch over to simpler and less expensive separators without compromising the accuracy of measuring the mass flow. The Self-Validating Sensors, Systems, and Advanced Instrumentation Laboratory demonstrated a machine health monitoring system based on the wireless acceleration sensors. The team from Politekh-avtomatika research and development company demonstrated an automatic steer light control system containing the function of brightness control based on the mains supply transmission technology.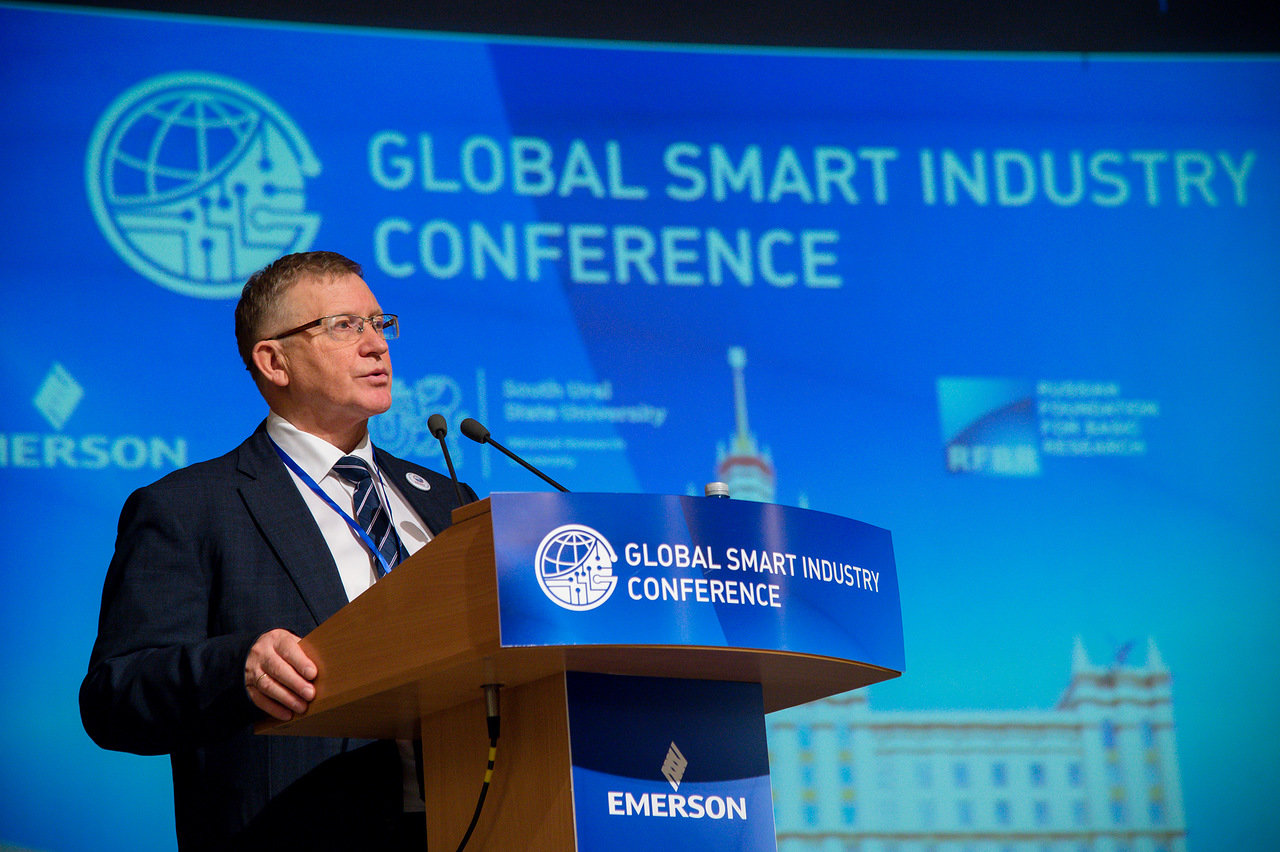 At the opening ceremony, SUSU Rector Aleksandr Shestakov welcomed all participants and guests of the global forum and mentioned its significance:
"Digital industry is a pivotal industrial growth path that makes the industry effective. In a present-day environment under the competition for product quality and new innovative solutions, digital industry is one of the key factors for prosperous development of regions and countries.
SUSU Rector wished all participants a fruitful work, good results that would become a topic for discussion, and further development of digitalization in the science and industry.
The first speaker at the conference was the President of Emerson Corporation Michael Train who, in addition to the ideology of digital industry, touched upon the effect of digital technology on production efficiency.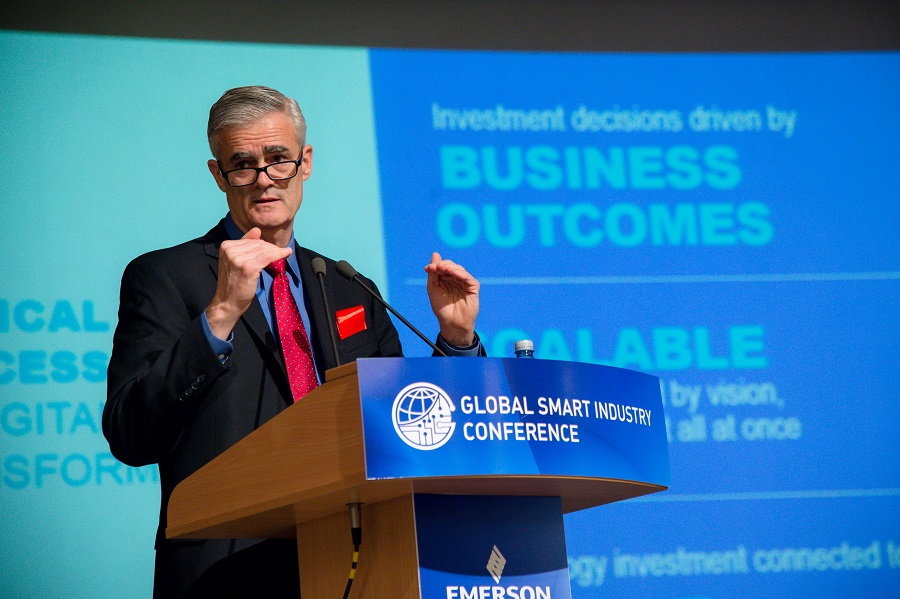 "Today more than ever companies are expected to produce high results. Over a number of years, automation has helped them increase productivity and gain profit. I think, today we witness a new era when automation "gets into a game" with renewed vigour. The next step of digital industry is digital transformation, which qualitatively and quantitatively raise the effectiveness of companies in the context of increasing the output with simultaneous cost cutting and improvement in the quality of production. Furthermore, this transformation will extend the potential of employees, allowing them not to perform recurring tasks, make decisions faster, and gain practical knowledge in a short time", noted Michael Train.
Among the speakers was the Chief Technology Officer for Emerson Automation Solutions Peter Zornio. During the first day of the conference, he delivered a report entitled "Digital transformation – Pragmatic Roadmap".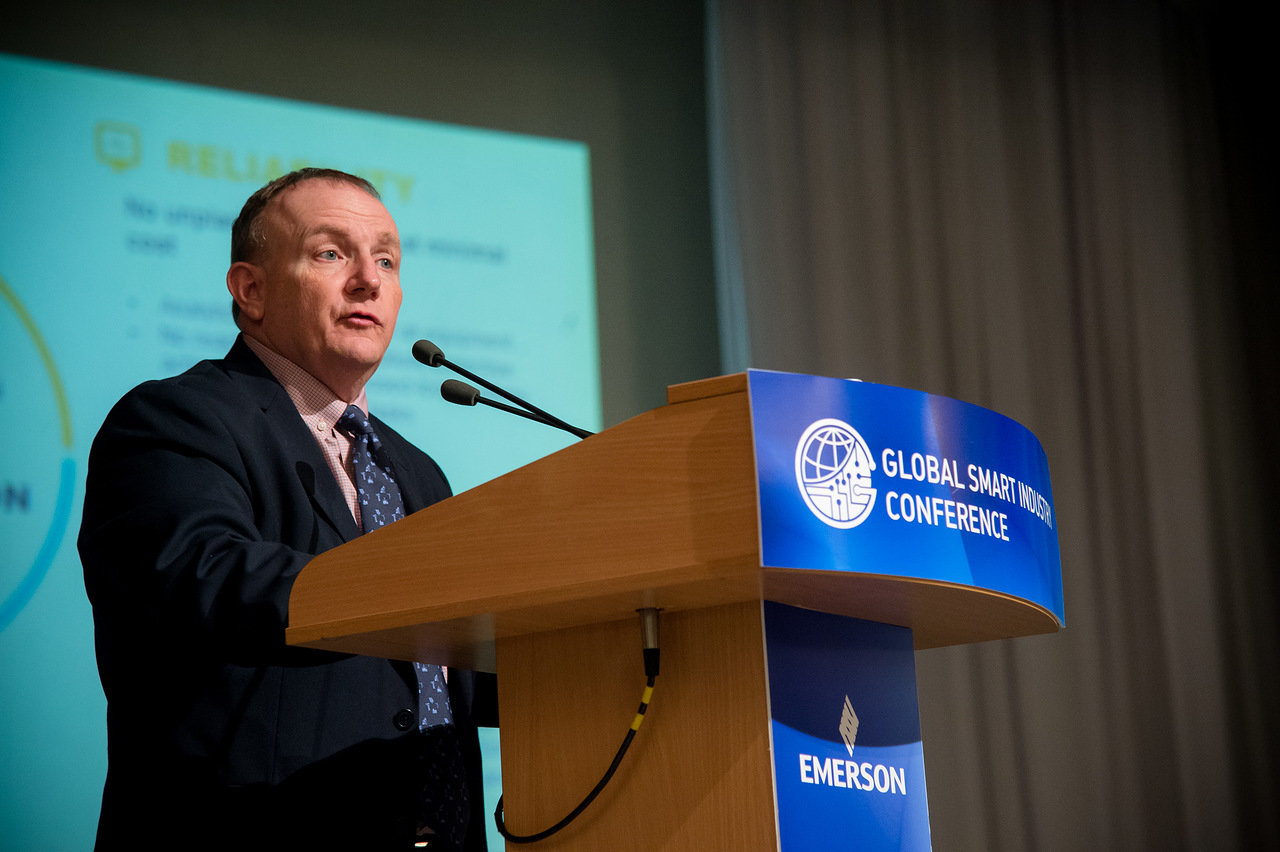 "Talking about key elements of the Digital Transformation Roadmap, I would like to note that Emerson together with Industrial Group Metran sets a goal in helping the industry and production sector with digital transformation. We have been working with a digital platform for automatic processes for many years. The technology and approaches are not new, but our idea consists in receiving all necessary for specific application information. To do this, knowledge and valuable experience should be shared. We have this very expert knowledge for making instruments. We provide support of control devices. Today, we offer instruments that are required to solve the problems of reliability, energy consumption, safety, and other production issues. For instance, digital twin technology is a very sophisticated technology. However, we provide an opportunity to use a digital model of any process and try different methods before you start using them on the real "digital twin". Here, in Russia, we have a strong team which helps businesses employ new technologies for getting the best result," said Peter Zornio.
In his presentation on From Digital Twins to Digital Twins for Manufacturing Workshops Professor Fei Tao from Beihang University (China) described the details of the digital twins technology:
"The creation of digital twins is a complex technology. This is because it's necessary to constantly ensure the interaction between the physical object and digital model. This requires the use of breakthrough technologies, communications, databases, database processing methods, and, of course, high-performance computers. The physical space is characterised by periodic uncertainty, which imposes certain difficulties on the creation of virtual models that copy physical models exactly. When there are differences between reality and a virtual model, those must be identified and correctly used. Working with digital twins involves a huge and constant data flow from various systems, models, objects, and so on."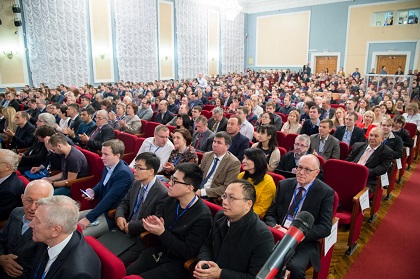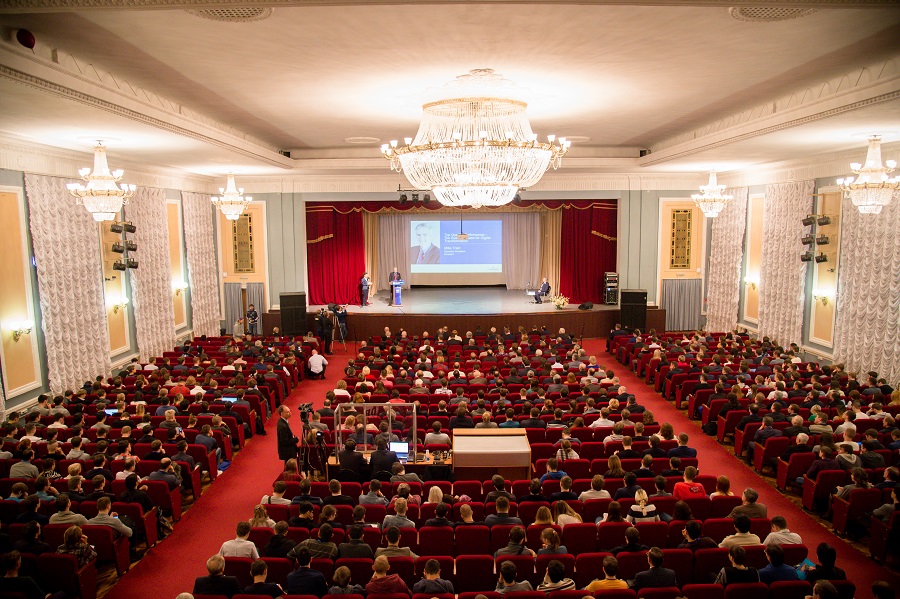 Representative of the National Engineering School of Saint-Etienne (France) Igor Movchan spoke about computerised manufacturing technologies in his presentation. More specifically, about the many applications and possibilities they offer. Igor Movchan separately noted the role of computerised technologies in the development of mankind:
"If we look at every technological process in industry, we will see that, from the design of the product on a computer and to the quality control, the whole production chain is, to some extent, accompanied by computers and special computer programs. So from our point of view, digital technologies play a universal role."
The second day of the conference will be dedicated to discussing the interaction between science and industry. In the Industrial Session, the world's leading companies in the implementation of Industry 4.0, like Schneider Electric (France), SMS-Group (Germany), and PJSC Magnitogorsk Iron & Steel Works (Russia), will present the results of their projects in the digitalization of production. Representatives of such leading research-and-education centres as National Engineering School of Saint-Etienne (France), Warsaw University of Technology, and South Ural State University (Chelyabinsk, Russia) will present the results of their research projects on Industry 4.0 fulfilled jointly with their industrial partners. Also on November 14th the conference participants will gather at a round table to discuss efficient interaction between industrial enterprises, service companies, and scientific and educational organisations for solving issues in digital transformation.
Within the conference's scientific sections, the leading researchers from Russia and around the world will offer presentations on such fields as Information Security and Protection in Industrial Networks; Big Data, Machine Learning, and Artificial Intelligence in Industry 4.0; New Educational Technologies for Industry 4.0; Wireless Sensor Networks, and Other Technologies of Digital Industry.
For more information and the Conference Program please visit https://glosic-ru.susu.ru
The conference will work till November 15th.
Information about SUSU
South Ural State University (National Research University) is the centre of academics, science, culture, and sports in the South Ural region. SUSU comprises 9 institutes, 3 schools, a Faculty of Military Education, and a Faculty of Pre-University Education. Over 40 thousand students study at the university and its branches. More than 5,000 teachers and staff, including more than 360 professors and Doctors of Sciences, and 1,600 Candidates of Sciences and associate professors contribute to the academic process. Bachelor's and Master's students and specialists are trained in more than 200 fields and specialties. In October 2015, as a result of a competitive selection process, SUSU joined the group of the leading Russian universities chosen to participate in Project 5-100. The goal of Project 5-100 is to maximise the competitive positions of the chosen universities in the global market of academic services and research programs. For more information about SUSU please visit its website: www.susu.ru.