On October 25, a festival of alumni of the Institute of Social Sciences and Humanities' Faculty of Psychology took place at South Ural State University.
This day, the university brought together alumni of the Faculty of Psychology of all graduation years, starting from the first graduation in 2001.
Director of the Institute of Social Sciences and Humanities, Elena Ponomareva, addressed the guests and participants of the event with a welcoming speech.
"I think that in the modern world it is impossible to exist without such profession as a psychologist. I can tell that the Faculty of Psychology has good students, and such festivals are needed and useful. Let your school get stronger and bigger and keeps its uniqueness and distinctiveness."
Teaching staff, students and alumni of the Faculty of Psychology were greeted by the Faculty's Dean, Elena Soldatova.
"Each year we hold two events that are very important for us: spring alumni reunion, and matriculation to psychologists for our freshman students which is held on the day of the Faculty establishment in October. This year we decided to unite the two significant events as our university celebrates its 75th anniversary. It was important for us that our guests and students would meet in a celebratory atmosphere."
This day, master classes were held by professionals who had graduated the SUSU Faculty of Psychology and have built a successful career in various spheres of psychology as well as in related areas. Overall, there were 12 master classes held by alumni, during which they talked about formation of family values, individual consulting with the use of arrangement method, specificity of work of sport psychologists and psychologists working in crisis centres. Students learned how to form a dream team, assert oneself in business sphere, and become an executive. Children's psychology became a topical issue. Specialists told how to act with cranky children and how to identify true feelings.
One of the speakers was an alumnus of the Faculty of Psychology of the year 2013, Vladislav Gorbachev. He is the Head of the Centre for Personnel Development at ASKO-STRAKHOVANIE PAO (Asko Insurance PJSC). Within the master class, he shared his experience with students of the Faculty.
"My master class was dedicated to several questions: how to choose a job? How to understand during the trial engagement whether you belong there or not? How to promote oneself up a career ladder? I chose these topics based on two motives. First, I recalled myself during my student years – back then I would really like to attend such master class. A real success story can create a sensation of potentiality, the feeling that everything is achievable, and the chosen profession is in demand. The second motive is in the fact that I discuss things I am confident in, things that I have experience in. And not passing on an experience means betraying it.

I think that such festivals are very useful. This is a meeting of three generations: teaching staff, students, and alumni. The meeting allows discovering different aspects of profession, different stages of identifying oneself as a specialist."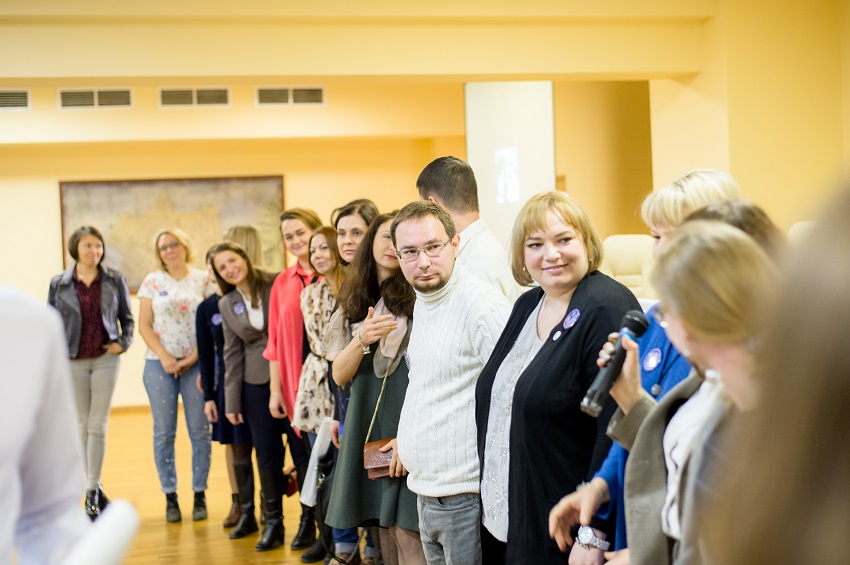 Alumnus of the Faculty of Psychology of the year 2001, Associate Professor of the SUSU Department of Developmental Psychology and Age Related Counseling, Vyacheslav Kozlov, who is also the Director General of Bazovoe Osnovaniye Company Group and the Chairman of the Chelyabinsk Regional Public Organisation called "Association of Professional Psychologists", delivered a report entitled "Evolution of a professional psychologist". He brought up an important issue of professional position of a psychologist in the modern world.
"It is important to know about evolution stages of a professional psychologist, because if one wants to solve global problems, transform the world and bring oneself into it, one needs to form the readiness to walk this path. Understanding the succession of each of the stages helps achieving the set goals more ecologically, faster,a dn qualitatively".
There are people present at the festival who have passed some way and who are ready to share their experience. It is unnecessary that this experience has to be copied in a life of another person. But for a beginning psychologist who is choosing the vector of one's development, it is extremely necessary to get oriented at some milestones and see mistakes made by other people," noted Vyacheslav Kozlov.
Within the festival, students of the Faculty of Psychology presented short videos about their study at the university, their impressions and memories, as well as they performed with humorous miniatures with dance elements and musical greetings on the occasion of the university's anniversary.
In a conclusion of the festival, freshman students performed a ritual of "Matriculation to psychologists" featuring alumni of the Faculty. Freshman student of the Faculty of Psychology, Marina Nikishchenko, shared the impressions that she experienced that day:
"I liked the festival! It was especially interesting to attend a master class called "Meeting the Character", where we analysed Disney characters and associated them with ourselves. I chose to be majoring in Psychology because my relatives often told me that I have the makings of a good psychologist. I would like to help people solving their problems, and be useful for the world."