This year is the 20th anniversary of profile linguistic education at SUSU. Studying at the Institute of Linguistics and International Communications (ILIC) allows arranging the entire cycle of study at all stages of higher education. At ILIC, a student can obtain bachelor's degree in linguistics in the sphere of Fundamental and Applied Linguistics, as well as in such majors as Theory and Methods of Teaching Foreign Languages and Cultures, and Theory and Practice of Translation. Moreover, the major of Theory and Practice of Translation is presented in the frameworks of a specialist's 5-year programme, which provides the possibility to obtain a more profound and integral translatory training.
After that, graduates have a change to continue their education within master's studies at SUSU in master's programmes, such as Theory and Practice of Translation, and Comparatively-Historical, Typological and Comparative Linguistics; a master's programme entitled "Forensic Linguistic Expertise" is getting ready to be launched.
Upon completion of master's studies, many graduates choose going to the next stage – postgraduate studies in such majors as Language Theory, and Comparatively-Historical, Typological and Comparative Linguistics. Some get attracted with development of educational computer programmes for learning foreign languages. Some works on development of sms-analyzers which, upon a certain set of parameters, can determine style of a message and identify the recipient of the message. For someone, this is a possibility to create a linguistic-engineering product with the use of languages of various types, as our Department includes teachers of both Western (English, French, German, Spanish, Italian) and Eastern (Arabic, Chinese, Persian) languages. Others engage themselves into fundamental language theory, political or cognitive linguistics; the range of topics for research is relevant and various, just like the spheres of interests of our academic supervisors, acknowledged researchers in the sphere of linguistics: Tamara Khomutova, Olga Turbina, Elena Kharchenko, Svetlana Sheremetyeva, and Olga Solopova.
Studying at SUSU in linguistic majors is a combination of professionalism of the academic and teaching staff and a comfortable working atmosphere, mastering skills of oral and written speech in a foreign language with the use of modern technical equipment and advanced teaching technology, the possibility of mastering two foreign languages, among which are: English, German, French, Spanish, Italian, Chinese, Arabic, and Farsi.
Each student of the Institute of Linguistics and International Communications studies more than 40 disciplines, including several modern foreign languages and two or three ancient languages. Students participate in social-and-linguistic surveys and in psycholinguistic experiments held by postgraduates and young scientists of the Department.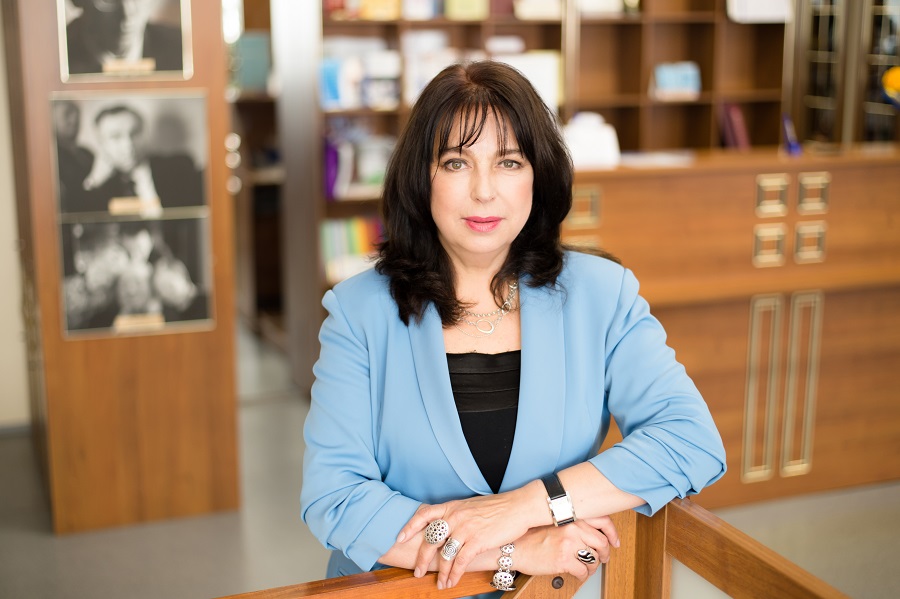 Director of the Institute of Linguistics and International Communications, Elena Yaroslavova
Programmes of ILIC are dynamically developing and improving. In the frameworks of mastering the main educational programme, training is performed for passing IELTS international English language exam with subsequent organisation of passing this exam. Mastering a foreign language is carried out with the use of authentic teaching-and-methodological complexes and computer technology. Game-based courses organised at Electronic SUSU 2.0 corporate platform based on Moodle are applied in the learning process. In order to master disciplines of the translatory cycle, a unique computerised class for synchronous translation was equipped – the own invention of the university that allows simulating real activity of an interpreter.
Mastering of a foreign language starts from the 1st year of study (the second foreign language gets added at the second year of study) and is carried out within the entire study period. Learning structure is organised in accordance with traditions of the best central universities, where aspect-after-aspect learning of foreign languages is being implemented, allowing students to acquire profound knowledge on each of aspects of speech activity in a foreign language: listening, writing, speaking, reading, and translation.
Together with learning foreign languages, students also have the opportunity to master disciplines of the fundamental block which allows graduates becoming true professionals in the sphere of linguistics, as well as disciplines that reflect various aspects of professional language activity: oral and written translation, methodology fundamentals of teaching a foreign language and translation, application of computer equipment in activity of a linguist and translator, etc.
Within the entire period of education, a transparent system of students' academic performance assessment is used: the applying grade-rating system, which provides an objective assessment of achievements upon academic disciplines, encourages for academic activity during the entire period of mastering a subject, provides additional motivation to systematic independent work, exerts discipline and develops such important labor abilities of a graduate as determination, workability, responsibility, etc. Teaching staff has electronic record books so students can monitor his or her grade-rating trajectory online.
Within the study process, students get involved in project activity and take part in real science-to-practice research, many of which are held on the grounds of specially established Research-and Education Centre of SUSU entitled "Linguistic Innovative Technology", where research-and-development, productive and educational activity os carried out in the sphere of simulation and software development for automation of text information processing. This allows graduates to be well-prepared for market requirements and hold winning positions in competition during employment; this also provides motivation for independent activity, forms leader's qualities as well as responsibility for results of one's own work.
By the quality of education, SUSU's Institute of Linguistics and International Communications can be compared to the leading higher education institutions of Moscow, Saint Petersburg, Ufa and Yekaterinburg; it can be compared to Copenhagen Business School and to universities of France and China. For example, within the programme in Fundamental and Applied Linguistics (Chinese – English), students have the opportunity to study in China for a year as exchange students.
Graduate linguists of SUSU are very required at the labor market in the sphere of linguistics, translation and international activity. The majority of alumni are working exactly in the specialty that they had mastered at the university. They teach students in many higher education institutions of the South Ural, obtain academic titles, and deliver classes in such language centres as English Club, Yes and Camelot.
Characteristic features of alumni of the Institute of Linguistics and International Communications are active life position and leader's qualities. Answering the question of whether it was easy to find a job, former student Anna Fleishman, client-relationship management of TD Bank (Boston, USA), replies:
"It was easy for me thanks to studying at the SUSU Faculty of Linguistics, which performs training of universal specialists. I knew all professional terminology. It should be mentioned that selection of applicants for the position is quite harsh and a high level of training is required. We have to be competent in our professional sphere and be able to carry out business communication in order to look reliable for a client. I had no language-related difficulties whatsoever, neither in study nor at work. It is quite often that my clients don't believe me when I'm telling them I'm not American".
Among alumni of the Institute of Linguistics and International Communications are:
Natalia Artyushenko — Director General of Cambridge – School Language Centre
Aleksandra Koziy — Director General of Little Britain Language School
Ksenia Ryskova — Director General of Dialogue Linguistic Centre
Natalia Vasilyeva — Head of the Public Relations Department of Chelyabinsk Zinc Plant OJSC
Aleksandra Prokopyeva — translator of ChTPZ PAO
Artem Lukanin — computer linguist, European Patent Office, Hague, Netherlands
Elena Babkova — specialist of the International Communications Department, UN Headquarters, New York, USA