Each of the SUSU schools or institutes is engaged in project-based education today. The value of such approach to training is that along with theory the future professionals could obtain certain practical skills, which s/he could directly apply in production while joining the process of work. As much as seven Master's students are involved in the project by the SUSU School of Medical Biology, who travel to test fields, do experiments and analyse their results.
As the Food Industry Day is coming up, we are talking to Doctor of Sciences (Engineering), Professor, Head of the Department of Food and Biotechnology, and Supervisor of the project on developing efficient technologies of grain disinfection Irina Potoroko on breakthrough technologies of grain greensprouting and disinfection, on the innovative role of ultrasound in these processes, on active involvement of international Master's students in the process of project-based learning, and on many other things.
– Professor, what is the specifics of project-based education at the School of Medical Biology?
– If we talk about project-based education, we made a group of seven Master's students under the programme of Biotechnology, and Food Biotechnologies in particular, who will be trained according to a separate curriculum. This is essentially the education programme in agricultural biotechnologies. The programme aims at developing efficient biotechnologies of grain disinfection.
– Who does the working group comprise, and what tasks are set before the project participants?
– Our group includes students admitted to the first year of studies under the Master's programme. Four of those have just completed their Bachelor's studies in the same training field (First Cycle Degree), and today they continue their research under the Master's programme. Those are the people who are interested in obtaining additional education, who are carrying out applied research on the specifics of greensprouting, disinfection, and processing of grain. All these Master's students directly or indirectly deal with the technology of growing grain crops, dispatching them for storage, and the processes of advanced processing. The main research topic, Development of Efficient Technologies of Grain Disinfection, formed three years ago under the programme on Agricultural Biotechnologies. Last year we began to fulfil it.
Second year Master's students do the research on the quality of grain provided to us by our partner Borovoe, LLC.
Among the members of this project group is a postgraduate student Batyr Satbaev, who is also a representative of our industrial partner (Borovoe, LLC). Namely Borovoe, LLC supplies raw materials to us, and the research, in which Batyr Satbaev is actively participating, is being held on that company's ground.
Borovoe, LLC is located in Bredy District, which borders Kazakhstan. A while back they were the ones who suggested the collaboration to us. The conditions of growing grain crops on that territory are quite severe due to limited humidity, so new technologies helping in activation of grain greensprouting are vital to them!
Also international Master's students are engaged in the project. In the course of work under the project my Master's student from Iraq Al-Jumailee Dalaf Abdullah Dalaf went to a test field in Bredy District, made a complete study of soils at different test fields, and we analysed the soils composition at the laboratory together. The student's first education was in agrotechnology, so it helped him a lot while he was working on the project.
Al-Jumailee Dalaf Abdullah Dalaf successfully defended his Candidate's thesis in the field of grain activation research titled "Agrobiotechnologies of Land Preparation for Intensification of Grain Germination in the Conditions of Limited Humidity of Territories". This year we are continuing the research under the project-based learning. Taking into consideration the interest that our industrial partner shows, we decided to preserve this research and slightly change its status, following the principle that we are training specialists who may be in demand at the labour market as they study in the process of this project fulfilment.
– Please, tell us more about the technology of ultrasound influence on the process of grain disinfection?
– Grain disinfection is a complicated process featuring a number of risks. The risks are related explained by the fact that grain is a special biological culture with a certain active growing season.
Within the frameworks of the project we are preparing grain for the seeding season, plant it out, harvest and dispatch it for storage, so that a whole mass of socially important food products could be manufactured: bread, flour, groats. The project also includes another field of advanced processing related to the technology of extracting starches and modifying them.
The grain dispatched for storage is not always stable in terms of quality. At a certain stage of storage some microorganisms may develop, for instance moulds, which infect the grain with toxins.
Mycotoxins are of certain interest to us. The thing is that the longer the process of storage, the more mycotoxins may be generated. During the processing these do not always get inactivated, that is become safe for customers. Thus they can migrate into the products of processing. Our task under the research is to trace these migration processes and minimise the risks.
Last year was the first time that we tried to use the effects of ultrasound in order to observe how ultrasound influences the main components of grain.
It has already been proven that ultrasound is safe to use for diagnostics. We have gained positive results from ultrasound effects on water-based system, proteins, and other components.
Within the frameworks of the research our task was to check if the ultrasound-treated grain would behave adequately at the stage of sprouting? We studied not only wheat, but also oats, barley, and other cereals – a whole complex of widely used grain crops. Our research showed that namely the influence of ultrasound at certain power rate and duration activates grain and boosts its sprouting.
The apexes start to get activated. This is of special importance for grain preparation. In certain technologies of preparing food products sprouts are already being actively used (as part of bread, fermented dairy, or brewing), and that means that our research is economically beneficial for enterprises.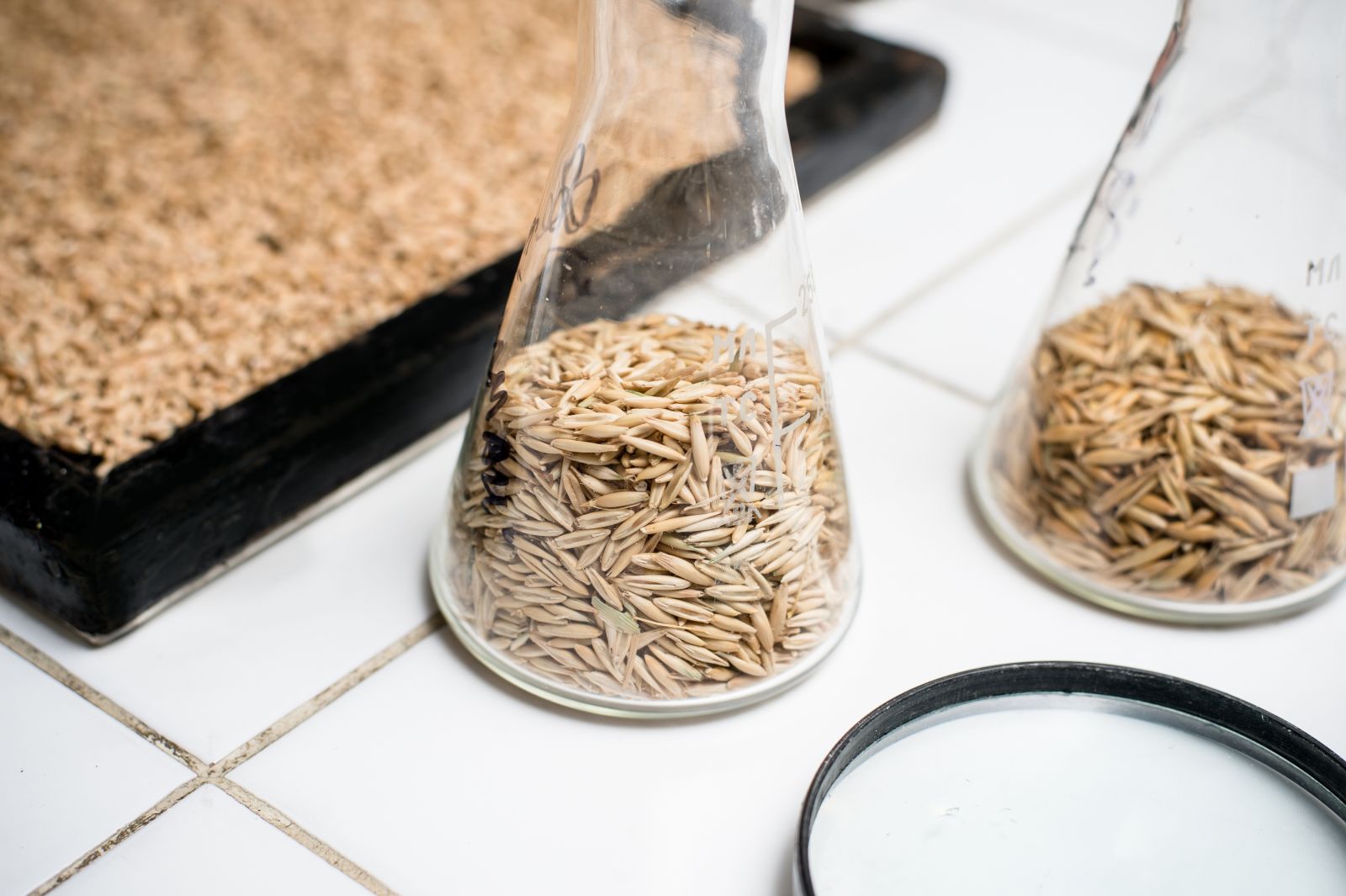 – What results have already been obtained under the project as of today?
– We have filed an application for a patent for the technology of grain disinfection. It's a very interesting and promising innovation! Last year we tried treating grain and planting it out to see how this culture will behave at the stage of growing and cropping.
We have reached agreements with our industrial partner Borovoe, LLC, and already starting next week we will be supplied with test batches of grain harvested from the specially sown test ground. At the test grounds the grain sprouted without any delay, as compared to other crops.
Currently our task is to analyse how full the grain is, with consideration to the fact that it was greensprouted in usual soil, which was not prepared in any special way. Moreover, the experimental grounds, where our test samples sprouted, were located on poor soil, and used after growing crops that squeeze the soil completely dry.
Earlier we would plant out grain in the laboratory, monitored its actively growing and developing its strong root system, we would record and analyse all these processes, and would come to our initial conclusion that using ultrasound during grain greensprouting gives certain positive effect. Today research evolves within the project of project-based education. This is a certain project aimed at resource saving in the agricultural industry complex (Project on Development of Efficient Technologies of Grain Disinfection (Agricultural Biotechnologies)). We are confident that our collaboration with the enterprises of agricultural industry will be successfully developing under the project.
– In the laboratory conditions the experiments are performed on a small area. So how will the project evolve in the future when big amounts, and may be even industry-scale amounts of grain will require to be treated?
– That is precisely our concern currently… We have an apparatus intended exactly for performing treatment at big scale.
In fact the project is only at the start stage, it has to "grow" and develop for two more years at the very least. The first effects that we obtained inspired us to study this topic more profoundly and in details.
– Is it early yet to talk about the first serious publications on the project?
– At present the articles on the research in grain disinfection are at the stage of preparation for publication. We already have short publications, in Agronomy Research Journal for instance. This is the journal by the Estonian University included into Q2. We have an experience in interacting the editorial board of this publication. As of today it has accepted an article on studying the electrophysical effects on disinfection into publication.
Moreover, we have a patent related to the issue of grain disinfection. Articles on the analysis of the activation effects (plants growth boost) are still at the stage of preparation.
This topic is being studied at the Department of Food and Biotechnology by Candidate of Sciences (Engineering), Associate Professor Natalya Naumenko and Candidate of Sciences (Agriculture), Associate Professor Yulia Kretova.
– What important project events are planned for the nearest future?
– We will be participating in Golden Autumn 2018 Russian Agricultural Exhibition, which is held in Moscow every year.
Under the exhibition's category on Innovations in Processing and Storage of Agricultural Products we will be presenting two projects: "Method of Intensifying the Process of Grain Sprouting Based on Ultrasound Treatment" and "Innovative Technologies of Special Food Products Based on Grain Raw Materials".