The new concert season of Student Philharmonia had been opened at South Ural State University. This time, B-A-C-H chamber orchestra from Yekaterinburg performed at the stage of the Activity Hall.
For several decades, Student Philharmonia of SUSU has been promoting acquaintance of students and teaching staff to ageless high art. Concerts and programmes in the frameworks of Student Philharmonia allow students to get familiar with various genres of classical and contemporary music, as well as get to know the best composers and performers of the present and the past.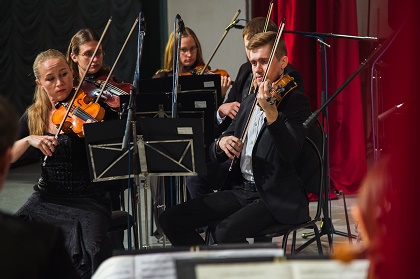 This time, it was the celebrated B-A-C-H chamber orchestra from Yekaterinburg that performed on the stage of SUSU Activity Hall. The orchestra was created in 1990 and united best musicians of one of the largest cultural centres of Russia.
Before the beginning of the concert, Vice-Rector for Extracurricular Activity and Youth Policy Vyacheslav Burmatov addressed the audience with a welcoming speech.
"It is for many years already that the project entitled 'Student Philharmonia' has been successfully functioning at South Ural State University. Leadership of the university, headed by Aleksandr Shestakov, has always been paying a lot of attention to musical and aesthetical education of students. In this regard, we always maintain close contact with concert associations and theatres of the city, which allows us inviting the best performance teams of the country."
Programme of the concert featured compositions of A. Vivaldi, W.A. Mozart, P.I. Tchaikovsky, D.D. Shostakovich, A.A. Babadzhanyan and other composers. Conductor of the B-A-C-H chamber orchestra, Nikolay Usenko, told us about the principle, based on which compositions for this concert were chosen.
"We were offered to perform at the stage of SUSU Activity Hall with an academic program. Antonio Vivaldi and Wolfgang Amadeus Mozart are the composers whose compositions are classic. We performed together with soloist Aleksandr Krasnov; in this regard, we had some nuances when compiling a joint repertoire. Many pieces were not composed for chamber orchestra, but, thanks to united efforts, we adjusted the programme to the common idea. We simply couldn't exclude the cycle of compositions by Vladimir Rebikov entitled 'Autumn Leaves'. The audience today was benevolent and responsive. Though I, as a conductor, stand with my back towards the audience, I nevertheless can feel the feedback. This is very inspiring."
Director of the SUSU Art Centre, Svetlana Filipchuk, told us about importance of holding classical concerts for students and staff of SUSU.
"Thanks to the university, our students have the chance to attend such amazing concerts for free, get charged with positive emotions, get aesthetic enjoyment, and get familiar with classical music. This year, a series of concerts are to be held in the frameworks of the Student Philharmonia, and, of course, we would like to dedicate them to the 75th anniversary of our university."
Art Centre invites students and teaching staff of SUSU to visit concerts that are scheduled for October of 2018. Stay updated!