On September 21 of 2018, South Ural State University opened another Pushkin Institute Centre in China – at China University of Petroleum (Beijing).
In the course of presentation, Rector of SUSU Aleksandr Shestakov talked about main spheres of the Centre's activity, targeted at teaching Russian language for Industry 4.0: digital transformations in teaching Russian language using the neural networks learning technology.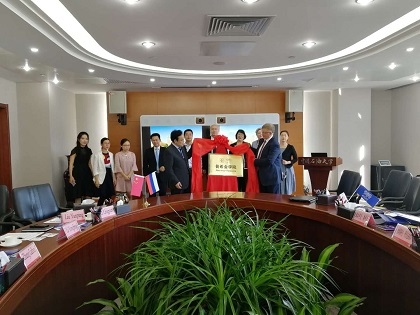 Within the project upon an assignment from the Ministry of Education and Science of the Russian Federation entitled "Development of robotized dialogue system for learning Russian language by various target audience with subsequent application in the current system of electronic support for learning Russian language and for distance education in Russian language", academic team of SUSU has already developed an integrated computer teaching system which provides submergence of students into the target language environment. The complex intends for functioning of massive open online courses, as well as operation of a virtual office with a system of speech samples processing.
Design and development of educational courses for distant education excited special interest among Chinese colleagues due to the fact that the ceremony of opening the Pushkin Institute Centre featured President of the China University of Petroleum, Zhang Laibin, as well as Head and employees of the International Office, Li YungFeng and Li Linyun, Head of the Continuing Education School, Qing Qiong, Director for teaching of the Continuing Education School, Jiang Chunglei, and a Russian language teacher Li Yangping. Russian party at the Centre's opening ceremony was represented by Vice-Rector for International Relations, Olga Yaroshenko, Head of SUSU's International Relations and Regional Studies Department, Liudmila Shestakova, and teaching and learning specialist of the SUSU Pushkin Institute Research, Education and Coordination Centre, Tatiana Beloglazova.
Within the project entitled " Establishment and development of a network of Pushkin Institute Centres in the PRC on the basis of organisations performing education in Russian language" in accordance with implementation of the state programme of the Russian Federation entitled "Development of education", an international Internet Olympiad is to start in the nearest future. The Olympiad will be including a section of Russian language for professional purposes, which assumes knowledge of terminology in engineering sphere, as well as vocational enhancement courses with the use of distant learning technology named "Elaboration of author's electronic course on Russian as a foreign language."