An exhibition of artists of the Department of Design and Pictorial Arts – Distinguished Artist of Russia, Professor, Department Head, Dmitry Surin, and Associate Professor, Candidate of Sciences, member of the Union of Russian Artists, Larisa Surina – opened at the Arts Hall of South Ural State University.
This is the 4th exhibition organised by the artists in the Arts Hall, where their artworks are presented for students and staff of the university. Current exposition is dedicated to Orthodox theme. Doctor of Arts, Professor of the Department of Theology, Culture and Arts, academic supervisor of the SUSU Arts Hall, Natalya Parfentyeva, told us why showing artworks of the artists Lasira and Dmitry Surin was important.
"Now is the time where there is some kind of gap between young people and the past. We need to remember our roots, remember that Russia was not created today or yesterday. It has profound history that started with Orthodox Christianity and spirituality. It was the force that brought people together. And now we need to not only know this but feel this. Students and staff should understand what is original high art and true values. This is what the SUSU Arts Hall exists for; this is where one can come and learn understanding art."
Artist Larisa Surina explained why they chose precisely this theme.
"We depict various periods in artworks. Monastery is a special life, atmosphere, and people. It was very interesting for me to work with monastery people. As strange as it sounds, they actively establish contact and agree to pose. Presented works are just a part of all thematic artworks. Some paintings became the property of monasteries."
There are hundreds of artworks in the artists' archive. Generally, completing one painting takes several days. Larisa Surina loves painting people, and Dmitry Surin creates inimitable landscape paintings.
"We work for people, and our purpose is to show what we create. For example, an actor shows his acting in a theatre; so we as well should show our work to people," says Dmitry Surin.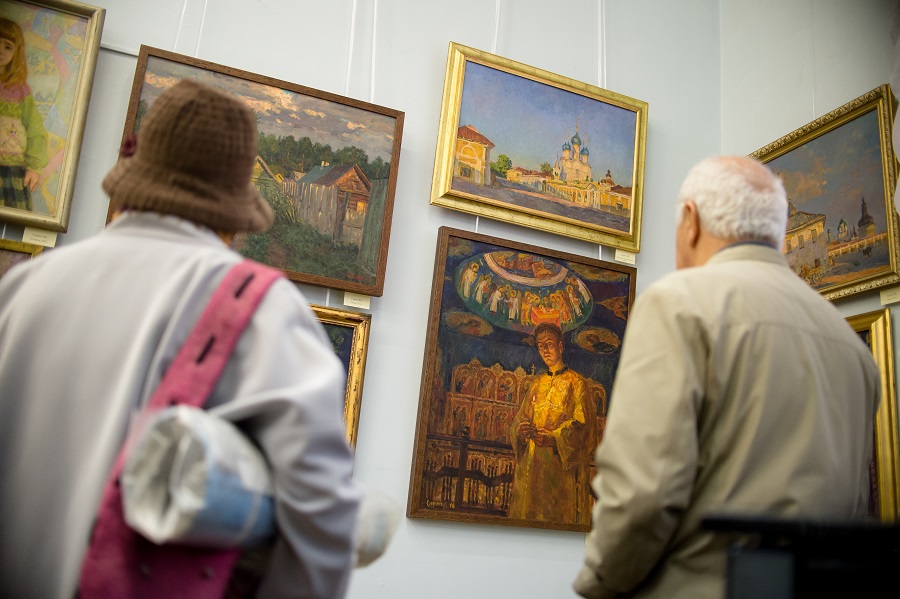 One of the exhibition visitors, a second-year student of the Faculty of Journalism, Evgenia Gofman, noted that nowadays such masterpieces can't be found in the Internet.
"I loved the exhibition very much! Students and staff of the university have a chance to connect with the beautiful: watch the paintings and get inspired by them. There are visitors who are painters as well. They can learn something useful."
The exhibition is to go on till the end of November. We invite all who wishes to visit the Arts Hall on the 1st floor of the SUSU main academic building.