Sun, lake, warm weather and nature are all that one needs for a great recreation. Everyone knows it, and especially students, lecturers and staff of SUSU, since year after year they spend their summers in the university's sports and recreation complex located on the shore of lake Bolshoy Sunukul. This year the complex has celebrated its 60th anniversary.
The event's guests were offered concert programmes performed at three venues at the same time. In Berezka Children's Camp the counsellors demonstrated the ceremony called Orlyatsky Krug (Eaglet Circle) to the employees and the Rector's Office staff.
In Olimp Student Camp, guests visited the "360 Degrees" site, where they plunged into the world of the golden student years. The main programme closed in Nauka Recreation Camp, where certificates of merit were awarded to the employees for their contribution into the complex's development. The unofficial part of the celebration began with the feast on the lake shore, where fish soup was served and people sang songs accompanied by guitar music.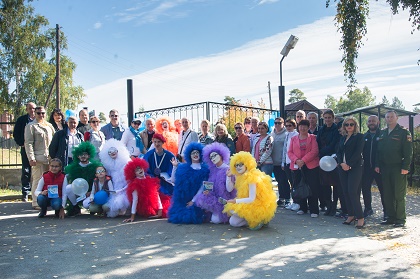 Throughout its long history the SUSU sports and recreation complex has underwent significant changes. Its director Rasima Fakhretdinova shares how the sports and recreation complex was modernised:
"Starting from 1958 it was a camping site. Later cabins started being built in Nauka camp. After that cabins for 4-6 students also began to be erected to replace camps in Olimp. The buildings in the pioneer camp were left the same, but we made them cold-proof and added verandas."
Specially for the anniversary a memorial stone was installed which symbolises the history of the sports and recreation complex. The ceremony of the memorial opening was attended by the SUSU staff and guests.
"This event that we're celebrating today is very important for our university. The university owns such a significant, big, and serious campus on the territory along lake Bolshoy Sunukul. And today we're marking the 60th anniversary of the date when the first camp was put up on this territory, and our university began developing its premises here," notes Vadim Trofimychev, Vice-Rector for Administration.
These changes are not final: some of the facilities on the territory of the complex will undergo reconstruction in the nearest future.