On July 9th in Ekaterinburg-EXPO an annual international industrial exhibition INNOPROM 2018 opened, in which South Ural State University is taking part.
INNOPROM exhibition unites the main industrial sectors in one space: industrial automation, metalworking, additive technologies, technologies for the power generation sector, mechanical engineering and production of components for the mechanical engineering sector.
Every year this exhibition is attended by more than 20,000 top managers and specialists of mechanical engineering enterprises from industrially developed regions of Russia and CIS countries, who are interested in purchasing equipment for metalworking and robotic automation of production.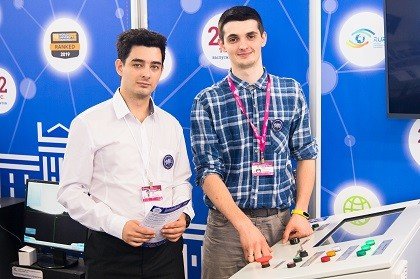 Scientific innovations by South Ural State University were also presented to the guests and participants of the INNOPROM international exhibition. SUSU Rector Aleksandr Shestakov shares why the university's participation in the international exhibition is good for the institution.
"We are demonstrating the achievements and potential of our university at the major INNOPROM exhibition, which is being held not far from our city of Chelyabinsk. This is a great place to show our scientific projects and to see what developments other organisations have. Our stand presents developments mostly in the fields of mechanical engineering and in-depth research in digital technologies. Geoinformation technologies and virtual reality are also presented here. All of it means that various fields are getting closer to digital industry."
The stand of South Ural State University the university's scientists have presented 9 unique innovations in technologies and digital industry. One of such developments is Coriolis flow meter for oil-and-gas industry. A research engineer of Experimental Mechanics Laboratory Dmitry Telegin shares what this device is intended for.
"A Coriolis flow meter is being developed at SUSU which will be capable of measuring two-phase flows, and namely water with gas, with the content of up to 5%. This is the first such Russian innovation which can measure both fluid and gas at the same time. As of today, we have developed a new algorithm of signal processing. Also we have developed a mathematical model of a flow meter in which the control system is combined, and the flow part is improved to reduce the system failures."
Vice-Rector for Research, Doctor of Sciences (Engineering) Aleksandr Dyakonov explains what another SUSU innovation is – samples of resurfaced parts.
"SUSU's Laboratory of Additive Technologies. Mechanics, Laser Processes and Digital Production Technologies presented an oil pump ring. Earlier, such devices, which had short operational life, were manufactured from one and the same expensive metal. We suggested a technology of coating for a cheaper base – structural steel. It is coated with nickel-containing layer, which allows to several-fold extend the operational life at a reduced cost of the product. These samples were made following an order by Konar Industrial Group."
Director of Geoinformation Systems Research and Education Center Valentina Maksimova presented at the exhibition a geoanalytical system of agricultural facilities monitoring for rational use of agricultural lands.
"The complex of this apparatus integrates heterogeneous information on a certain facility. Such information may feature on any website, in any statistical report – all in all, in any electronic resource. All this information can be integrated in the unified geoinformation system on a unified platform, and using these data we can create, model and predict development of the facility of territory. Of course, geoinformation systems are aiming at solving tasks in the field of big territories management."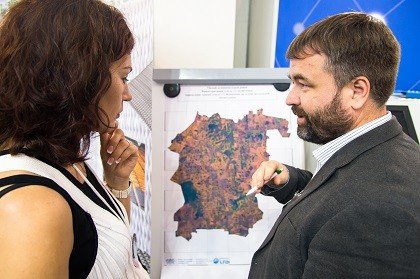 GIS is a very popular field, it is widely developed in agriculture and forestry, mining, and in studying of city infrastructure. Without geoinformation systems, geolocation data and neural networks such prediction would not be possible. Our platforms, such as GIS systems, allow to integrate all of it into a unified format, and based on the results, to make some model in perspective. A new UAV model allows to assess the condition of air, water and climate, register the presence of vegetation, or emergency situations. Flying over the land surface an apparatus makes several hundreds or thousands of photos, and then in a supercomputer these photos are seamed together, and one big photo is obtained. Already based on this photo, 3D models, maps, layout schemes are made, directly with which it is possible to solve management tasks.
Vice-Rector for Research, Doctor of Sciences (Engineering) Aleksandr Dyakonov shares what is unique about the Coordinate measuring machine with CNC (computerized numerical control) and computer vision system.
"There exist contact methods of measuring article shapes. What we are presenting is a non-contact method, and namely an optical one. You can scan a part's shape, and using a computer calculate errors in size and shape as compared to a reference shape."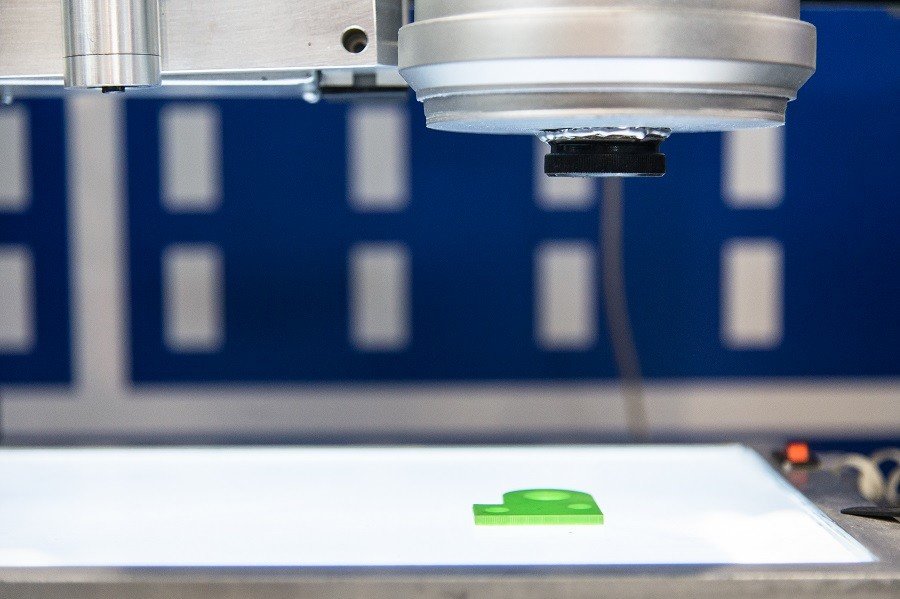 Engineer of the Machine Tools Office of the SUSU's Research and Production Institute of Education Equipment Pavel Chigintsev shares on the education-and-production machine lathe machine with a computerized numerical control system (CNC).
"This machine tool allows to manufacture rotation parts from various materials: ferrous, non-ferrous metals and plastic. The machine tool is equipped with a system of feeding cooling lubricant and an in-built computerized numerical control system. This machine tool is unique because it is supplied with a dust-and-noise protection cabin and lighting, what makes it absolutely safe in operation and allows to use it for training purposes in any educational institution."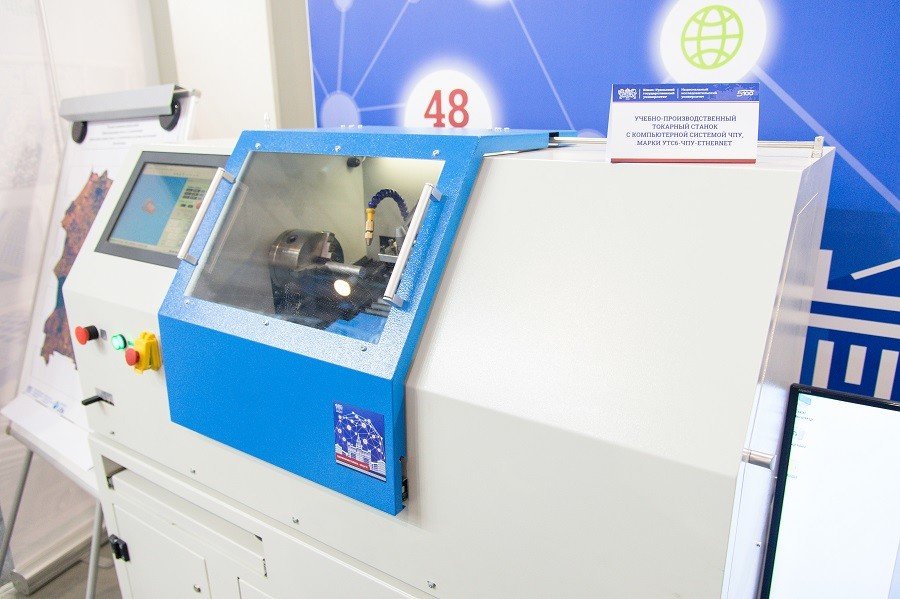 Engineer of the Research and Production Institute of Education Equipment and Technology Artem Semashkov presented at the exhibition his training apparatus complex featuring seven simulators for training service engineers for machine tools with CNC.
"We have presented a software virtual complex with augmented reality system. It is intended for training operators and technical engineers. One of the main complexes of today is engine defects detection, and in this case we are performing diagnostics of ПС-90 engine, which is installed in ИЛ-96 planes. Thus, using our complex a person can fully master the technology of engine testing and process the required information."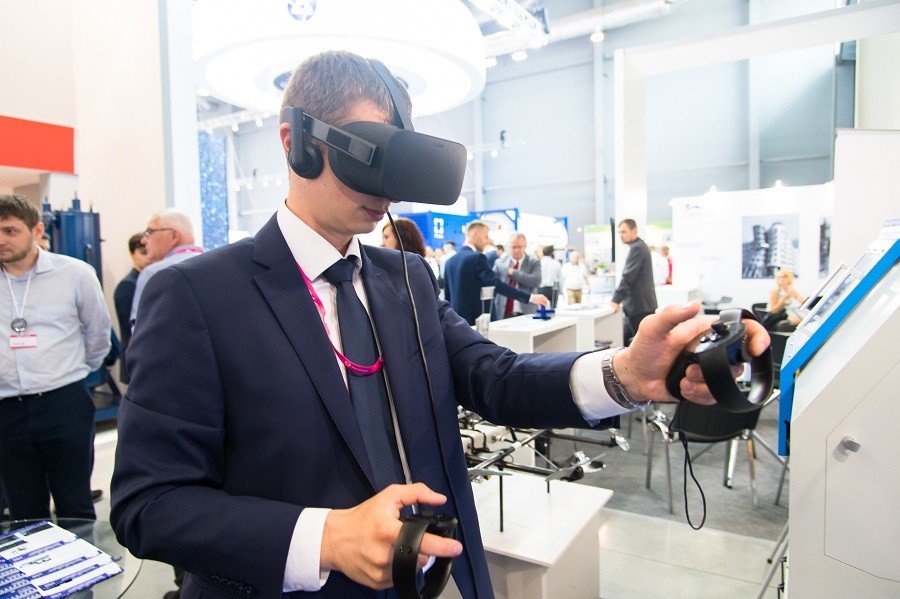 Vice-Rector for Research, Doctor of Sciences (Engineering) Aleksandr Dyakonov shares why the Simulators demonstration complex is useful.
"Before a person starts operating certain equipment, s/he can thoroughly study it through augmented reality and learn how to properly operate this machine. At the first level one can study labour safety conditions and general information, at the second one – learn how the presented installation works, and at the third level one can become a machine's operator and try to work on it."
Engineer of the Research and Production Institute of Education Equipment and Technology Roman Lisovsky shares on another SUSU's development – an automated laboratory rolling mill ДУО-130.
"The rolling mill is the result of work of the project education program. It was created for educational institutions and allows to learn the principles of the rolling mill's structure, as well as to perform scientific research since it is fitted with high-accuracy detectors."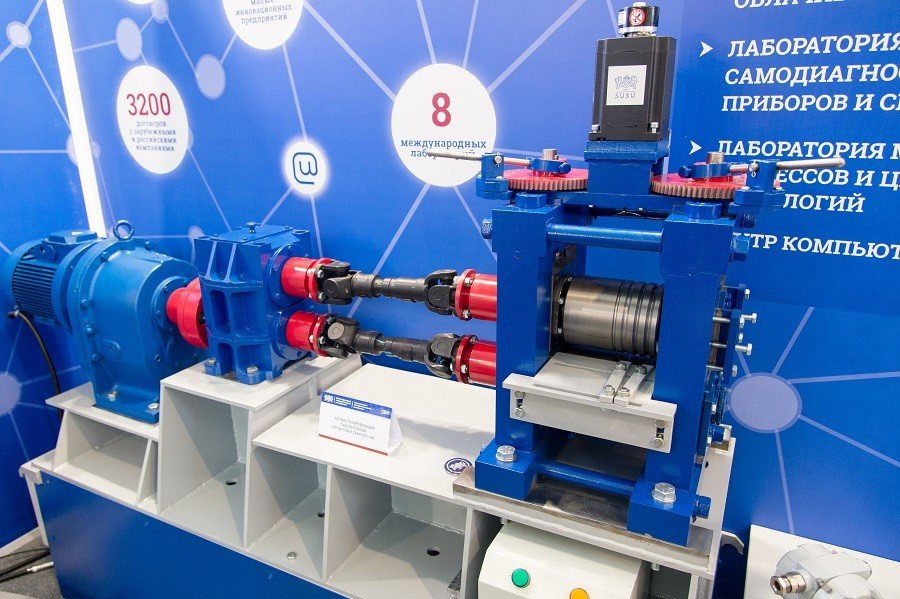 Vice-Rector for Research, Doctor of Sciences (Engineering) Aleksandr Dyakonov explains why developments by the university students and staff can be called innovative.
"Practically all exhibits are intended for training workers in their professional activities. Before a person is admitted to expensive equipment, s/he learns how to operate it on simulators."
Our slogan 'We Create Digital Industry of the Future' agrees with the presented exhibits. We are transiting to digital technologies. Our current developments are mostly intended for personnel training. Steps have also been made on implementing these technologies in the context of real productions.
"Digital Production" is the main theme of INNOPROM 2018. Republic of Korea has acted as the exhibition's partner country since it is one of the leading countries of the Asian-Pacific Region as per rate of economic development and scope of commercial turnover with Russia.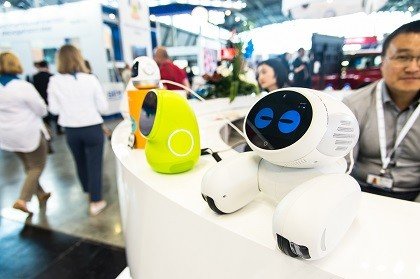 Over the recent decades Korean industry has reached the leading positions in such fields as automotive engineering, shipbuilding, production of household electrical appliances and telecommunication equipment.
The Korean exhibit is located in pavilion No.1 and is occupying the biggest area of the exhibition's territory – over 3,000 sq.m. The national exhibit comprises 105 leading enterprises of Korea – leaders in such sectors of industry as mechanical engineering, robotics, automotive engineering, power generation, industrial equipment, metalworking, and consumer goods.
Besides the Korean national exhibit, 7 more countries have presented their developments: Japan, Italy, Switzerland, Slovakia, Germany, Hungary and Belarus.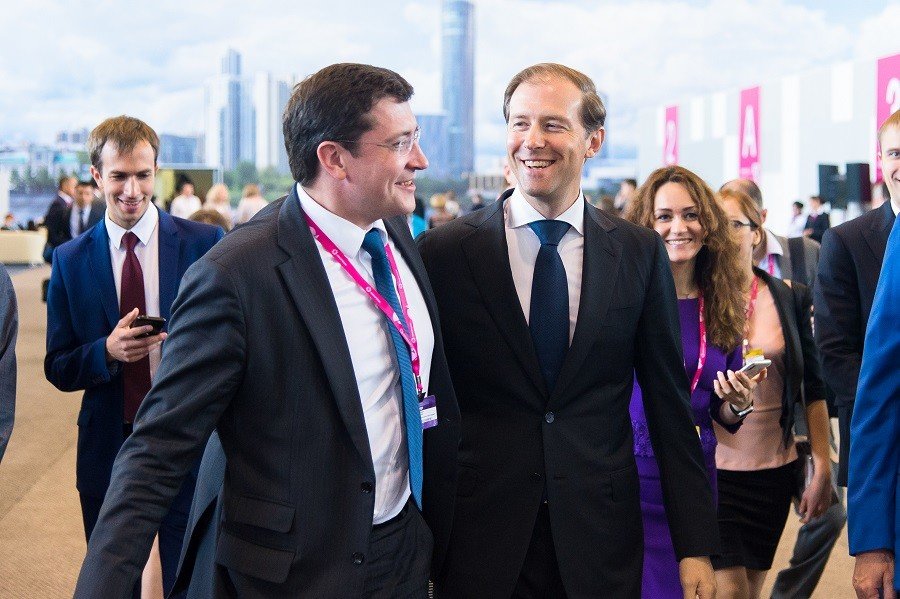 In the course of the first day of INNOPROM 2018 the main strategic session was held on People/Machines/Software: How to Squeeze Maximum Efficiency, which aims at answering the key question of the top managers of global companies regarding the ratio Equipment/Personnel/Software. The discussion participants in detail touched upon such basic trends of the "Fourth Industrial Revolution" as 3D printers, robotic automation, Big Data technologies, artificial intelligence, and Internet of Things.
Let us recall that INNOPROM International Industrial Exhibition is being annually held in Yekaterinburg since 2010. In 2012 Russian Government assigned federal status to this exhibition. The main goal of the program is to organize direct contacts between potential foreign consumers of Russian industrial products and Russian manufacturers. This year the exhibition is being held July 9th through July 12th. INNOPROM is organized by the Russian Federation Ministry for Industry and Trade.