People who underwent larynx surgery face a necessity of a voice prosthesis implantation, but such artificial windpipes are only produced abroad. SUSU scientists are developing a Russian analogue of such an apparatus which will be several times cheaper than the imported products.
Import Substitution for Vocal Rehabilitation
The problem of vocal rehabilitation after larynx is removed has been an issue ever since the surgery itself was developed — laryngectomy (complete larynx removal). This surgery allows to prolong life of cancer patients, but unfortunately such patients are not able to speak anymore. A surgical method of vocal rehabilitation is by implanting a voice prosthesis.
A student of the SUSU Institute of Sport, Tourism and Service Nikita Dubrovsky is working on development of a Russian voice prosthesis, which will help solve the problem of the absence of audible speech of larynx removal surgery patients. At the SUSU's Research Center for Sport Science developed a project on "Creation of a Russian Analogue of a Voice Prosthesis and Tracheostoma". The project's academic advisor is Vitaly Epishev, Director of SUSU Research Center for Sport Science, Associate Professor at the Department of Theory and Methods of Physical Education and Sports.
"Everywhere in the world, the method being chosen for vocal rehabilitation of the patients who underwent laryngectomy is the voice prosthetic care. Most often abroad-manufactured apparatus are used which allow patients to recover their voice. But the big minus here is that such an apparatus is due for replacement after approximately just one year. Imported prostheses are quite expensive, so we decided to come up with our own development, which will feature similar technical characteristics, but will be much cheaper," explains Nikita Dubrovsky.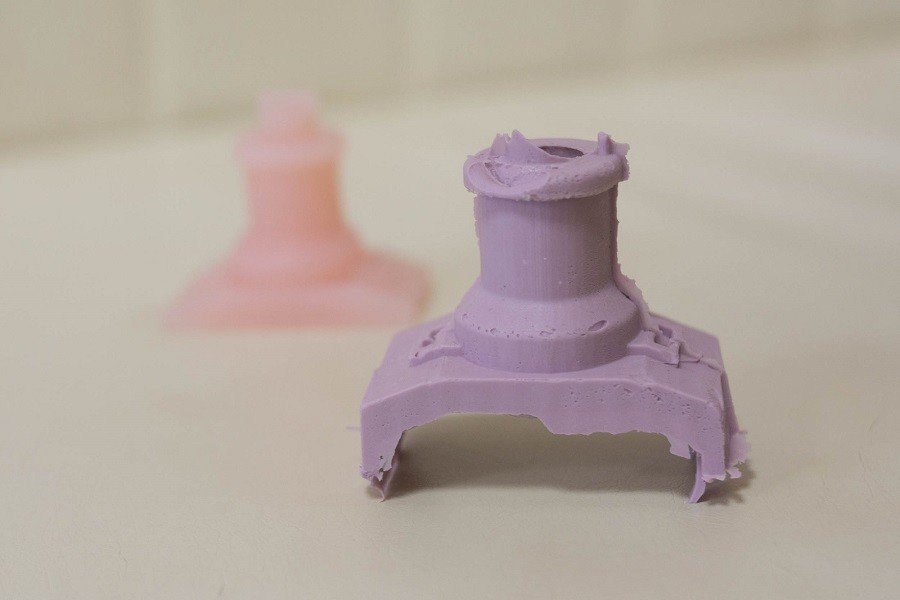 Photo: model of a silicone voice prosthesis
Creating a Voice Prosthesis by 3D Printing
Voice prosthetic care was invented in 1980 and became a regular practice in all oncological clinics in the developed countries of the world. The method's principle is that a shunt (aperture) is made between trachea and the upper esophagus at the level of tracheostoma, and after that a specially designed valve is implanted. The construction of this valve (voice prosthesis) allows to exhale and forward air from trachea to esophagus, and in this process the walls of esophagus and lower pharynx start vibrating. Thus a loud voice is generated.
"The abroad-manufactured prostheses mostly use plastic, which is very inconvenient because it's hard. We're planning on using food silicones, which will make the prosthesis softer, and patients will less suffer from pain. The forms for drip moulding, which we will be filling with silicone, will be manufactured using 3D printing," shares SUSU student.
The 3D computer model of the voice prosthesis has already been created, and it will be possible to use it in 3D printing. Many modern 3D printers use laser technology, and the produced models result to be quite accurate. Within the frameworks of the project 3D models have already been created for the end-products, as well as drip-moulding forms for food silicone. Using a stereolithographic 3D printer, scientists of the SUSU Research Center for Sport Science have created a model and a prototype of the apparatus, which will be sent for clinical testing in Chelyabinsk Regional Center for Oncology and Nuclear Medicine.
Work Will Continue under the Master's Program
"Unfortunately, when we were working with 3D printing, we faced damages that occurred in the drip-moulding tank in the process of the model creation. Moreover, such process of production may take 12 to 24 hours, which is a very long time. Since 3D printing turned to be not that accurate, we will probably have to give it up in the future and turn to lathe operators instead, as they are in command of high-accuracy equipment. But first we need to improve our computer model," notes Nikita Dubrovksy.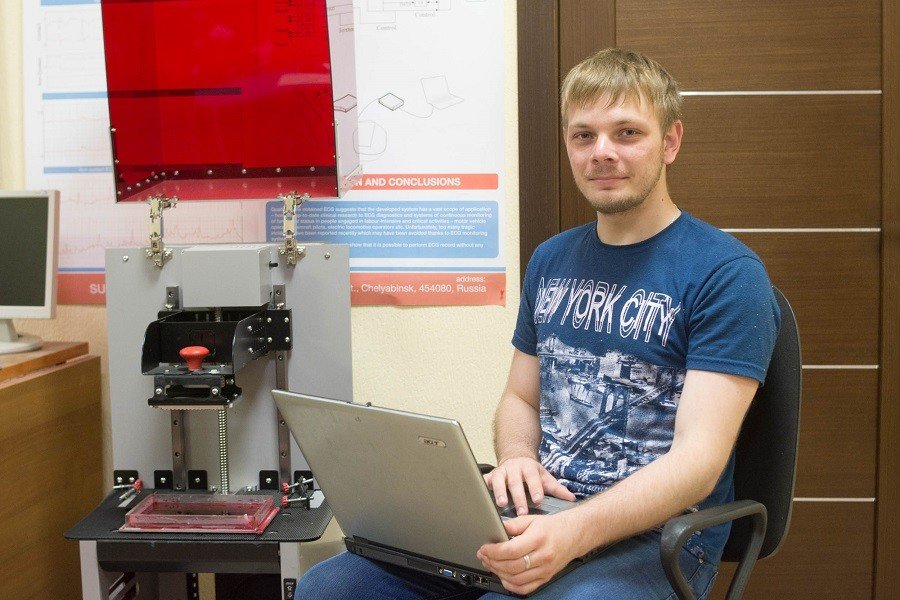 Moreover, the scientists are planning on selecting food silicone of optimum hardness, as this is the main condition of comfortable use of a voice prosthesis. Once an improved model is obtained, testing will be held, what will allow to account for its use in medicine.
This year Nikita Dubrovsky has obtained his Bachelor's Degree in Physical Education and is planning to continue his research work under Master's program of the SUSU Institute of Sport, Tourism and Service. The research results have already been presented at a science-to-practice conference for young scientists on Academic Readings: Fundamental Sciences and Clinical Medicine, as well as allowed student Nikita Dubrovsky become of the winners of an authoritative program UMNIK aimed at supporting commercially oriented scientific and engineering projects of young researchers.