On July 3 opening of a motor-and-tractor equipment exhibition took place on the SUSU's main building square. It was devoted to the 75th anniversary of South Ural State University and Automobile and Tractor Engineering Faculty. Here organizations and companies which employed the graduates of the university presented new models of automobile and tractor equipment.
Andrey Shmidt, SUSU Vice-Rector for Academic Affairs says on the significance of event:
"Opening of the exhibition is very important for us as now it is the period of enrollment and we would like to acquaint the enrollees with examples of equipment designed by students and graduates of the university in order to create for them an idea of the university history. It is inseparably associated with manufacturing of different purposes equipment and today Automobile and Tractor Engineering Faculty of the SUSU Polytechnic Institute continues the university traditions which go back to 1943. I hope that a great amount of school pupils and their parents will visit the exhibition and get acquainted with the equipment."
Such manufacturers as Motorcar Factory Ural, Uraltransmash, Avtovaz, Iveco, Uralavtopritsep, Uralvagonzavod, ChMZ, ChTZ, ChKPZ and other producers presented their products. Nowadays former students of Automobile and Tractor Faculty head the design bureaus or hold other senior positions at these plants. SUSU plans to continue the interaction with them in the new direction of project-based teaching.
"We look forward, and that is why we develop project teaching at the university connected with industry, manufacturers, and designers. This is the requirement of life — employers are interested in graduates who are filled with the work at organization from the very beginning and after graduating from the university become good professionals. If a project is being created by means of partners work, then the students become not guests but people who are acquainted with the manufacturing work. We would like that starting from nowadays our students together with professors create new and more effective equipment," underlines Director of SUSU Polytechnic Institute Sergey Vaulin.
Among the equipment presented by SUSU during the exhibition there are several dozens of examples including big-dimension bulldozers, loaders, tank T-34 and new foreign cars from the dealer centers.
"This exhibition is a so called retrospective. It presents equipment from tank till modern models which was designed by our graduates starting from 1943. The exhibition allows to assess the work of producers and companies, it is held once every 5 years, and equipment presented this time differs from that presented in 2013," says Dean of SUSU Automobile and Tractor Faculty Yury Rozhdestvensky.
Students of SUSU Polytechnic Institute presented their technical developments — racing cars. Some of the racing cars - Korsar and Estonia–21М were designed in the frames of student international competitions Formula Student and have already undergone road racing tests. One of the racing cars - so called Baggy Mina - was manufactured shortly before the exhibition.
"This car was produced in the process of studying at the university. Our team consisted of three men and a professor who supervised the work. This was a project approach at work, we developed it ourselves, designed and assembled it with our own hands, no other professionals were invited," comments graduate of Automobile and Tractor Faculty Mikhail Yeshchiganov.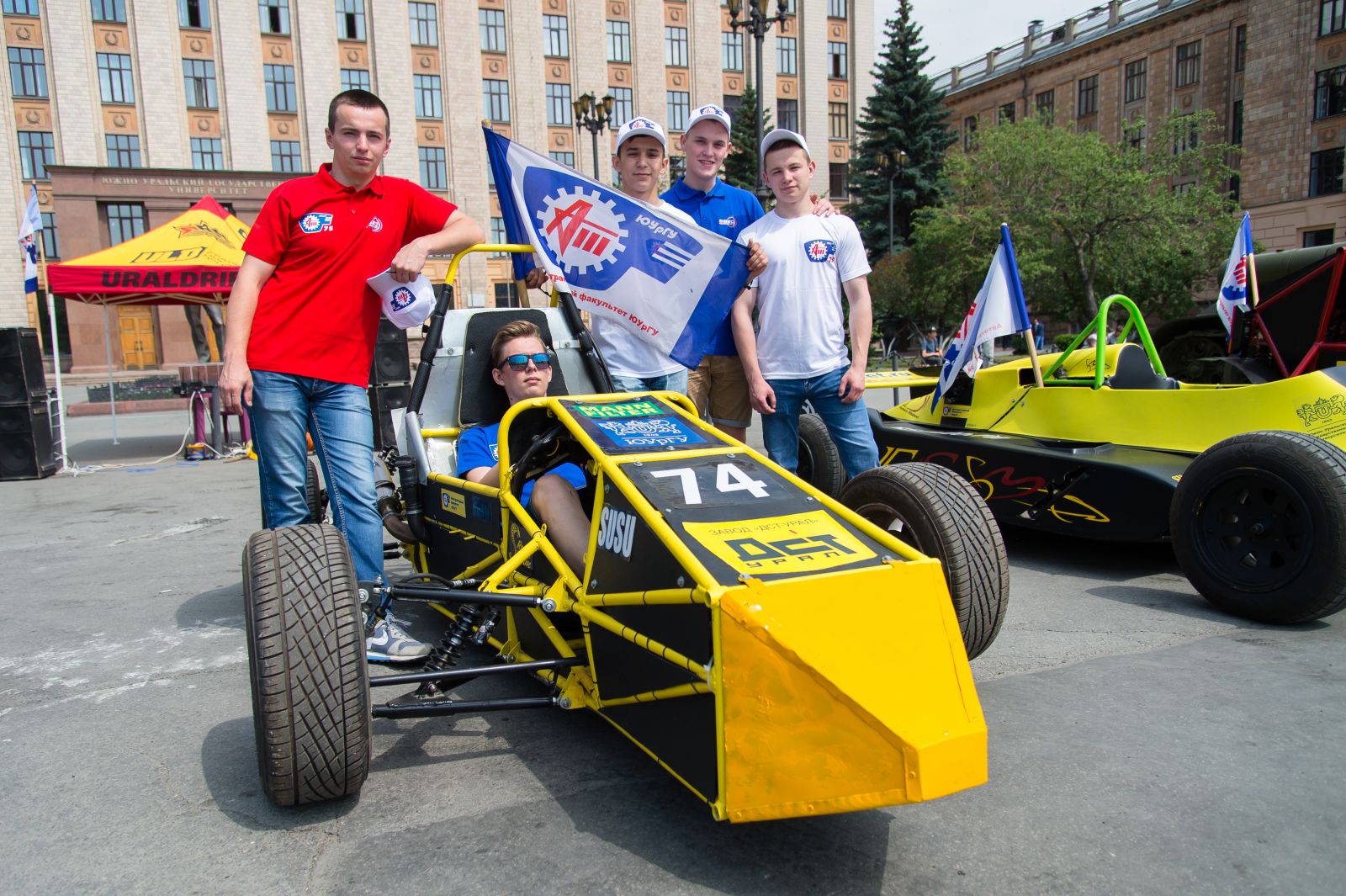 Other students' works during the exhibition were presented by a drift trike — motorcycle with carting backwards wheels on which special plates are put for the glide improvement. In Ural such equipment was first assembled by SUSU students. It is possible to see these and many other samples of equipment of students and graduates work until July 13. Entrance is free.