Graduates of the 2018 academic year were awarded their degrees at South Ural State University on Saturday, June 30th. Around four thousand SUSU students in graduation caps and gowns were awarded the documents proving completion of their education at one of the leading universities in Russia. Since its founding day, a quarter of a million highly-qualified specialists have graduated from the university!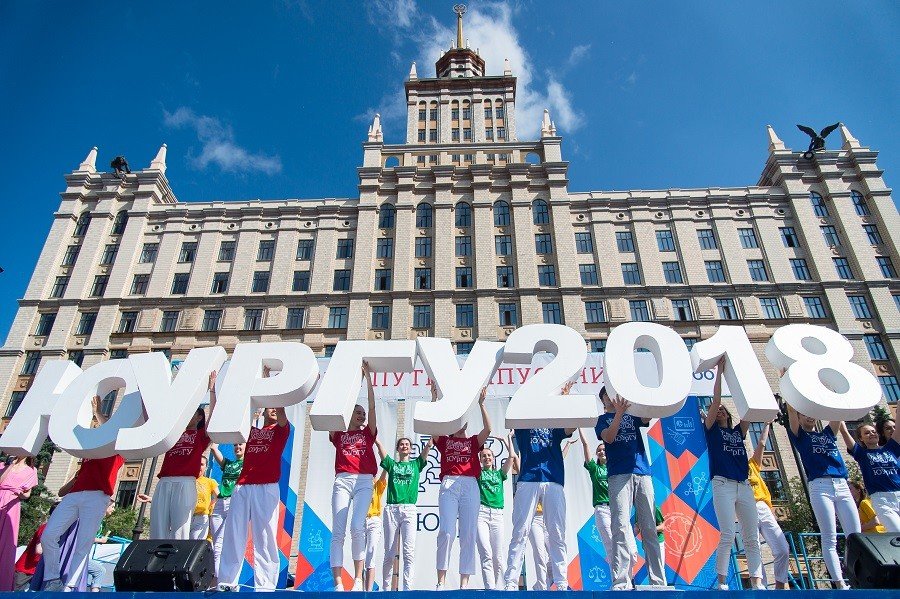 Students who completed their education in 2018 were witnesses to significant changes at SUSU: South Ural State University's entrance in to Project 5-100 – a program for increasing the competitiveness of Russian universities, consolidation and transformation of the university's academic divisions in to 10 new schools and institutes, opening of laboratories, unique developments, presentation of a new brand platform, and the university's entrance in to the list of the top 1000 universities around the world. This year, the award ceremony will be a special one, as this year is the 75th anniversary of SUSU. And on graduation day, at the main higher education space in Chelyabinsk, they shared this new achievement with their friends, parents, and professors.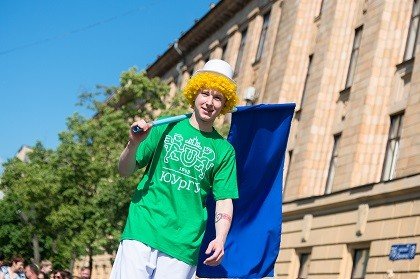 The event was opened by members of the Deep Vision dance theater and actors from the Mannequin theater studio. The artists offered their audience a theatrical prologue titled "Bright Future", and the Primavera choir performed the university hymn. Rector of South Ural State University Aleksandr Shestakov gave the command for the ceremonial march of the Faculty of Military Training. After this, Aleksandr Leonidovich congratulated the students and wished them confidence in their own strengths, career growth, and success.
"Graduates of our university occupy various positions in life, and I can happily add that they are successful. The most recent graduates are young people who are actively involved in the innovation sphere. The representatives of the older generation who graduated from SUSU are the heads of large businesses. Our graduates are among the top 10 most in-demand around the country. They are in demand in many businesses and organizations in the region. The most important thing for a graduate is to turn their knowledge into material products and put them to work. Graduation is just the beginning of everything," stressed SUSU Rector Aleksandr Shestakov.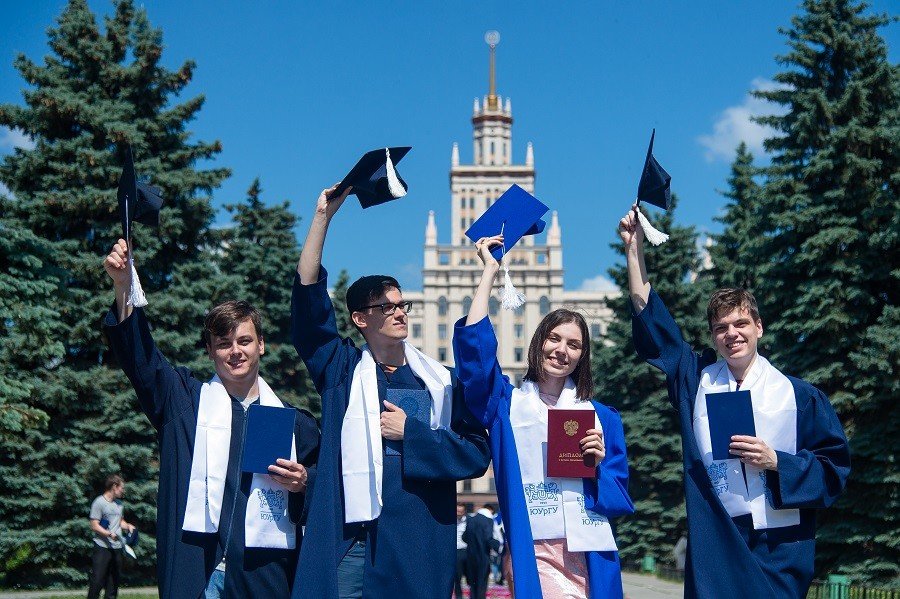 Pino Teze, General Director of the American Office of the German company SMS Group – the leading international manufacturer of metallurgical equipment, which has partnered with SUSU for more than 5 years, came from the USA to the graduation ceremony.
"We began our work in this city in 2008, and our Chelyabinsk offices work with SUSU graduates. One SUSU graduate heads the laboratory of chemical analysis, others work in sales and in technical offices. The university trains specialists in all of the technical offices that we need – metallurgy, chemistry, and many more. Graduates are ready to work for us immediately after graduation, because they have very good academic knowledge, and we offer them the chance to participate in practical work both in Germany and in regional businesses. For me, the graduate ceremony is a significant event, and I remember my graduation, which was 30 years ago in Germany. But it wasn't as packed as this day, when four thousand graduates gathered in one place. It wasn't so easy to arrive from the United States, but I'm happy that I made it to this event," said Pino Teze, sharing his feelings.
According to an old tradition, the event included the graduate oath of allegiance to South Ural State University performed by students whose successes and victories in science, culture, sport and social activities were a large contribution to the development of the university. Before their nearest and dearest ones, the students promised to be true to the citizens of their homeland, develop its potential, and, of course, not to forget the academic institution which became the launch pad for their professional growth.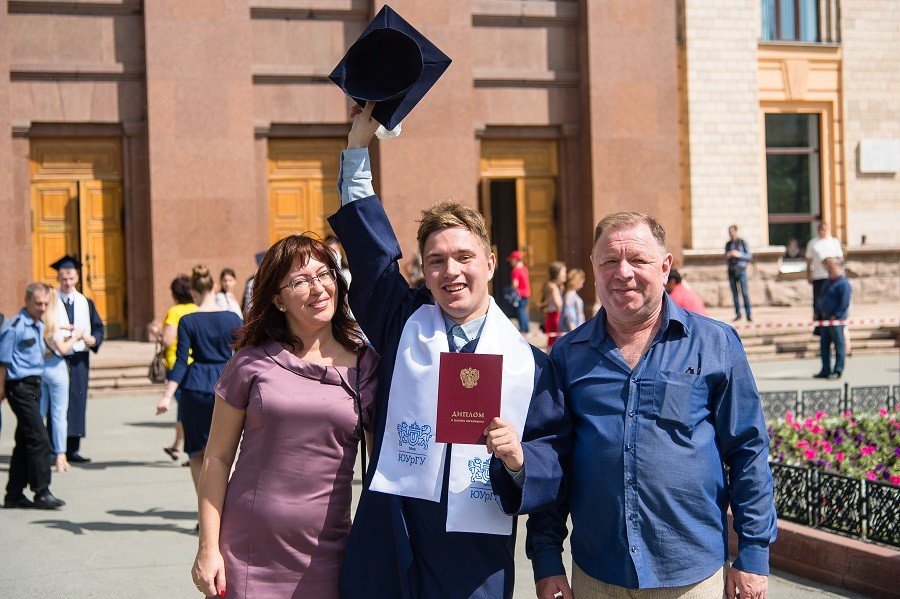 On this day, in front of thousands of participants and guests of the ceremony, one more historical moment took place – the 250 thousandth graduate received his degree from SUSU. This was a former student of the School of Electrical Engineering and Computer Science Nikita Ashikhmin, who earned his Master's Degree in two universities simultaneously: South Ural State University and Lappeenranta University of Technology in Finland. Nikita earned only top marks, and his works were published in editions indexed in Scopus. He won an U.M.N.I.K. grant from the Foundation for Assistance to Small Enterprises in Science and Technology Sector, and in 2017 he was a prizewinner in the final of the Praise to Men of Labour contest in the "Best Software Engineer" category.
"I wouldn't have guessed that I would become a milestone graduate. When they said my last name, I was surprised and a little lost. But I was quite pleased. I enrolled at SUSU 6 years ago, so I knew that this university is one of the best. I found new friends here, travelled around Russia and the world, spent one year in Lappeenranta, and earned new knowledge – and not just in my field of programming. Thanks to the experience I gained here, I was offered a good position in Saint Petersburg. I was also offered work in Finland, but I chose my homeland. I want to say thank you to SUSU for the excellent professors here and for their support!" said the 250 thousandth graduate Nikita Ashikhmin.
A SUSU graduate Emma Wan Zhang from China shares her emotions:
"I'm proud that I managed to graduate from a foreign university with honours! Russian is one of the most difficult languages, but I managed to find an approach to learning it. I'm grateful to my teachers that they helped me reach my goal. When I get back home, I will definitely devote my life to the Russian language. Russia is a wonderful country,where everyone can get a memorable experience. SUSU became a reliable foundation for me, on which I will be able to build my future career. Thank you, my dear SUSU!"
In honor of the graduates, hundreds of balloons of various colors symbolizing a bright life and beginnings which gain height quickly, were released in to the sky. The final event of this bright and unforgettable day for graduates and guests was the song Goodbye, SUSU performed by vocal group Ladies Band. The event ended with a procession by the honorees in caps and gowns around the campus.
While graduates said goodbye to their alma mater, SUSU continues its enrollment campaign: in 2018, more than 3 thousand state-sponsored spots will be offered at the university.