In the course of its 75-years-long history, South Ural State University passed a long way of development and reforms, and several generations of brilliant scientists were fostered within its walls. Nowadays the university is represented by entire scientific dynasties. The founder of one of them is Gilya Elyevich Paley.
More than half a century among the university's best scientists
Gilya Elyevich Paley was born on January 24 of 1922. He was a second-year students of Bauman MSTU when the Great Patriotic War started. In 1941, he was called up in the military and served in a training air defense regimen in the city of Bronnitsy. Then, upon an order of the Commander of the Moscow military region, students of defense universities were recalled from the military to continue their study. As part of the university he was evacuated to Izhevsk, and in the course of study concurrently worked at an armament factory and produced breechblocks for antitank rifles until 1943.
In 1945, Gilya Elyevich graduated from his alma-mater. After finishing postgraduate studies and having successfully defended his Candidate's dissertation, he was sent to Chelyabinsk Mechanical and Machine Building Institute (ChMMI). Working first as senior lecturer and then as associate professor of the Automobile and Tractor Faculty's Department of Combustion Engine, Gilya Elyevich studied hydraulic processes and read lectures on this subject.
Later he became one of the founders and Head of the Department of Hydraulics and Thermal Engineering. Upon Gilya Paley's initiative, in 1965 the Department officially started training of engineers in the specialty of "Hydraulic machines, hydraulic drives and hydraulic and pneumatic control systems". In the 1990s, training laboratories of the Ural Automation Center of FESTO German company were established through active participation of the scientist.
"My father worked on different problems. For example, in the latest years he contributed a lot of time to stochastic calculations of a hydraulic drive," says Gilya Elyevich's son, Aleksandr Paley. "He had worked at SUSU for more than 50 years, and ever after having stopped teaching, he never parted with the Department and considered himself to be its part. He had the ability to work with people, and a lot of his students and followers remained at the university. Despite his colossal experience, he got specially prepared for every lecture. Father had done a lot for our university, and he has always been my role model."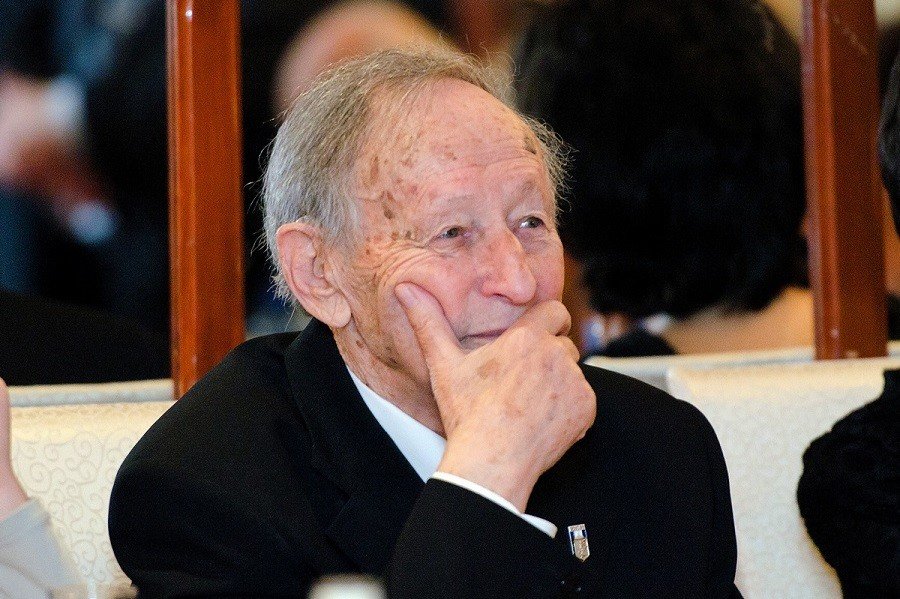 Photo: Gilya Elyevich Paley, Candidate of Engineering Sciences, Professor
Aside from his teaching and research activity, Gilya Elyevich also actively participated in organizational activity at the university. In various years he was a secretary of the Automobile and Tractor Faculty's Trade-Union Bureau, Chairman of the Chelyabinsk Polytechnic Institute's Arts Council; within a series of years he held the position of an editor of the Polytechnic Cadres newspaper. He was recognized with a Plaque of Honor of the USSR's Ministry of Higher Education Institutions "For outstanding results in work", awarded medals "For valorous labor in the Great Patriotic War of 1941 – 1945", "On the occasion of the 50th anniversary of the Victory in the Great Patriotic War of 1941 – 1945", "For merits to the fatherland's cosmonautics named after academician N.A. Pilyugin", and other state rewards and plaques of honor.
"Gilya Elyevich was a talented leader, a very knowledgeable man, and a true professional in his sphere. At the same time, he had a brilliant sense of humor; he danced perfectly, loved music and wrote poems. I consider him my teacher: he taught me a lot and supported me at the beginning of my teaching career," says Head of the SUSU Veterans' Council, Nadezhda Kuzmina.
Aleksandr Paley: "It is important to be dedicated to what you're doing"
Photo: Aleksandr Gilich Paley, Candidate of Engineering Sciences, Associate Professor
Gilya Elyevich's son Aleksandr Paley also dedicated himself to teaching and researching activity. He graduated from the Department of Automated Control Systems of the Chelyabinsk Polytechnic Institute in 1974, and stayed there as a research fellow.
"Getting enrolled to the Department of Automated Control Systems(ACS) was my father's advice. I have always loved mathematics, and my future specialty was closely related to it," recalls Aleksandr Gilich. "After graduation from the institute, I started working on problems of half-sized modeling of aircrafts' movements. At the Department of ACS (this is how it was called back then) existed a scientific school in this research area supervised by Professor G.S. Chernorutskiy. We cooperated with many enterprises of the according profile all around the country; we were spending a lot of time in work trips, introduced our inventions, and I really loved project activity. I had worked in the position of a research fellow for several years, completed postgraduate studies and later defended my Candidate's dissertation. After that I started to think of what to do next. I had no doubts that my future had to be connected with teaching and research career."
At the beginning of 1990, Aleksandr Gilich was invited to work at the newly-established Department of Computer Science. In 1995, he became an Associate Professor of this Department (nowadays the Department of Information Technology in Economics), and in a few years he became Deputy Dean of the Faculty of Economics and Management. His area of expertise is simulation modeling of economic processes taking place in the region. According to the scientist, modern informational technologies and developed software allow for constructing adequate models of even such complex processes as the region's economics.
"For me, the possibility to combine teaching and research activities has always been important, and from this point of view SUSU is one of the best variants. In the profession of a teacher and a scientist interest is of a great importance, probably even more important that all the other factors. It is important to be dedicated to what you're doing. Nowadays the university has been significantly animated by Project 5-100: we realized that one can't always count on success based on experience of the past; we need to perceive new things, move forward; and we have such opportunities."
In the course of his research and teaching activity, Aleksandr Gilich was awarded with a Honorary credential of the Ministry of Education and Science of the Russian Federation. But the most important reward, according to the scientist's opinion, is the words of his former students: "Thank you; what you told us was very useful."
Aleksandr Gilich's son Ilya Paley also graduated from South Ural State University. He is a graduate of the Department of Applied Computer Science of SUSU's Faculty of Economics and Management.