Every year there remain less and less veterans of the Great Patriotic War who performed their great heroic deed, but our university honours the memory of them. South Ural State University, established in 1943, evolved in many aspects namely thanks to the veterans. One of those people is Professor David Aronovich Gokhfeld, the founder of the SUSU's Resistance of Materials Department.
At the Front and on the Home Front
David Aronovich Gokhfeld was born on July 31, 1919. In 1937, once he finished school in Kiev, he entered the Engine Building Faculty of Moscow Aviation Institute (MAI). In June of 1941, while he was a student of the fifth year of studies, he volunteered at the front. In July of 1941 David Aronovich was severely wounded in the battle near Polotsk.
"After the hospital my father wanted to go back at the front, but by then an order was issued by the Commander-in-chief stating that all students of the senior years of studies from the defense-regions' universities be sent back from the army to continue their studies. Despite his protests my father was sent to continue his studies in Alma-Ata, where MAI was based at that time. So, in September of 1942, after he successfully defended his qualification work, he was offered to stay in the Institute at the Department of Aircraft Engines Production. During the war time, David Aronovich together with a team of MAI engineers took part in final adjustment of a new aircraft engine as was set in the task by the Defense Committee," shares daughter of David Gokhfeld Elena Vaisman, Professor of Department of Finance, Money Circulation and Credit of the SUSU School of Economics and Management.
Photo: Elena Vaisman
Scientific Career in Chelyabinsk
In December of 1948 David Aronovich successfully defended his candidate thesis, and was appointed to go to Chelyabinsk to work in Chelyabinsk Institute of Mechanics and Machine Building. In 1949 at the David Aronovich's initiative a Resistance of Materials Department was created, and he was appointed the head of the department. In May of 1967 he defended his doctor thesis.
"The scientific work by David Aronovich and his disciples excited interest not only in the USSR, but also abroad. In 1973 my father was invited to read a course of lectures at Polish Academy of Sciences in Warsaw. In 1977 he read a course of lectures in Italy, for academic workers and engineers from 16 countries. The book written by D.A. Gokhfeld and O.F. Chernyavsky was published the Netherlands and in the USA in 1980. According to the publishers, it was in quite high demand. Positive reviews of this book were published in specialized journals in all countries with developed engineering," shares her memories Elena Davidovna.
Being the founder of the Structural Analysts Scientific School, and new fields of research, David Aronovich Gokhfeld created a mathematical theory of processes of stable low-cycle deformation, developed its calculation methods and practical applications. Under his guidance the department took part in developing strength of nuclear reactors, elaborated works related to structural models of mediums and structures. He trained 40 candidates of sciences and 3 doctors of sciences.
David Aronovich published more than 140 works, including six inventions, and books. 19 printed works were published abroad. All the books that he wrote for foreign publishing houses David Aronovich also translated mainly himself. He was fluent in English.
"Besides the fact that my father worked a lot, he also knew how to rest. He liked skiing, swimming, jogging, and picking mushrooms in the forest. He was a classical music connoisseur. It was always interesting to spend time with him as he was a great companion who could talk just about anything," continues Elena Davidovna.
Acknowledgment of Achievements, and Government Awards
David Aronovich had a number of honorary titles and government awards. In 1989 by the Presidium of the Supreme Council of the RSFSR he was awarded the honorary title of the Honoured Worker of Science and Technology of the RSFSR. David Aronovich Gokhfeld was elected Professor Emeritus of South Ural State University. For his dutiful many-years' work on training specialists, and for great contribution into the university development his name was included in the Book of Honour by the Rector's Decree. His government awards comprise: the Badge of Honour Order, the Order of the Great Patriotic War of the 2nd class, Medal for Bravery, Medal for the Victory over Germany in the Great Patriotic War 1941-1945, Medal for Distinguished Labour, and others.
Family Connections to the University
The wife of David Aronovich, Olga Nikolaevna Gokhfeld also graduated from MAI. When they came to Chelyabinsk, she worked as an engineering economist at Chelyabinsk Zinc Plant and at Chelyabinsk Tractor Plant. Starting from September of 1961 and until retirement in June of 1982 Olga Nikolaevna worked as senior lecturer at the Economics of Mechanical Engineering Department at Chelyabinsk Polytechnic Institute.
The daughter of David Aronovich and Olga Nikolaevna, Elena Vaisman, who is now Professor of Department of Finance, Money Circulation and Credit of the SUSU School of Economics and Management, and Doctor of Sciences (Economics), decided to follow in the steps of her mother when choosing her future profession. Having finished school, she chose the economical speciality and entered Chelyabinsk Polytechnic Institute. Once she graduated, she stayed at the university having successfully defended first her candidate thesis, and later her doctor thesis. Under the guidance of Elena Davidovna 10 candidate theses were already defended, and 3 more postgraduates are working on their research studies.
"I'm working in quite a wide field of research on Managing the Competitiveness of Industrial Enterprises in the Context of Development of the Economy of Knowledge. There was a time when I got interested in such a fascinating field as the Economy of Knowledge. Nowadays everyone is talking about Digital Economy, which is inextricably connected to the Economy of Knowledge. In these conditions the main productive power is not materials resources anymore, but the non-material ones, and first and foremost, intellectual capital," explains Elena Vaisman.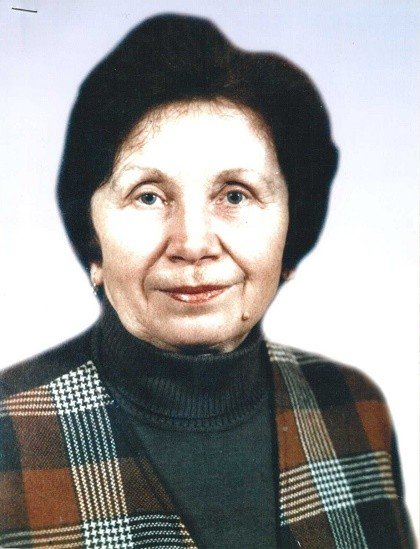 Photo: O.N. Gokhfeld, L.A. Vaisman
The whole Vaisman family has relation to South Ural State University. The husband of Elena Davidovna also worked at SUSU at the Welding Department. He addressed the issues of strength in welding processes under the guidance of Professor O.A. Baksha and Associate Professor N.L. Zaitsev. He worked in the laboratory and performed scientific research. Their daughter studied at the Department of Information Technologies in Economics. Now she lives and works in Moscow. The elder brother of Elena Davidovna also graduated from our university, he studied at the Instrumentation Engineering Faculty, and now he works at one of the defense complex enterprises in Yekaterinburg.