"How to stay healthy?" It is a topical issue for every person. Nowadays, leading specialists all around the world are searching for solutions which will allow maintaining and improving our health. This area of research is among the prioritized ones for South Ural State University.
Today, scientists of SUSU's School of Medical Biology are implementing a series of unique projects aimed at invention of healtful food products. Among the projects is obtaining BADSs out of plant extracts which possess antioxidant and immunostimulating characteristics. Moreover, the scientists are planning on developing a complex product with the use of several extracts, which would include all healthy properties of its components. Irina Kalinina, Associate Professor of the Department of Food and Biotechnology and Candidate of Engineering Sciences, told us about the process of obtaining new supplements.
New supplements are the strongest antioxidants and immunostimulators
"We have a series of plant extracts which have very good pharmacologic and preventive effects. But they are poorly dissolved in water, which impedes their use in production of beverages. A poorly dissoluble substance won't have the full effect when being inside human body. Our goal is to increase the level of these extracts' solubility in water, as well as the level of their biological availability."
At the present time, active work is being carried out with an extract called dihydroquercitine (larix extract). It is a strong antioxidant which can prolong the period of food storage. In order to use it in food production, it is necessary that the healthful substance could maximally reveal its properties in a finished product.
"The substance that we are working with possesses a colossal antioxidant activity; it has no rivals in this. Quercitine, its 'relative', had been a leader for a long time, but consuming it in excess amount can lead to undesired effects. Dihydroquercitine suppresses oxidation processes in human body, impedes aging and possesses an anti-stress effect," explains Irina Valerievna. "We are also working with such extracts as betulin (an extract obtained out of the bark of a birch tree) and shelf fungus (birch fungus). Shelf Fungus has immunostimulating and anti-virus effect, and betulin possesses hepaprotecting characteristic, i.e. it maintains normal functioning of liver."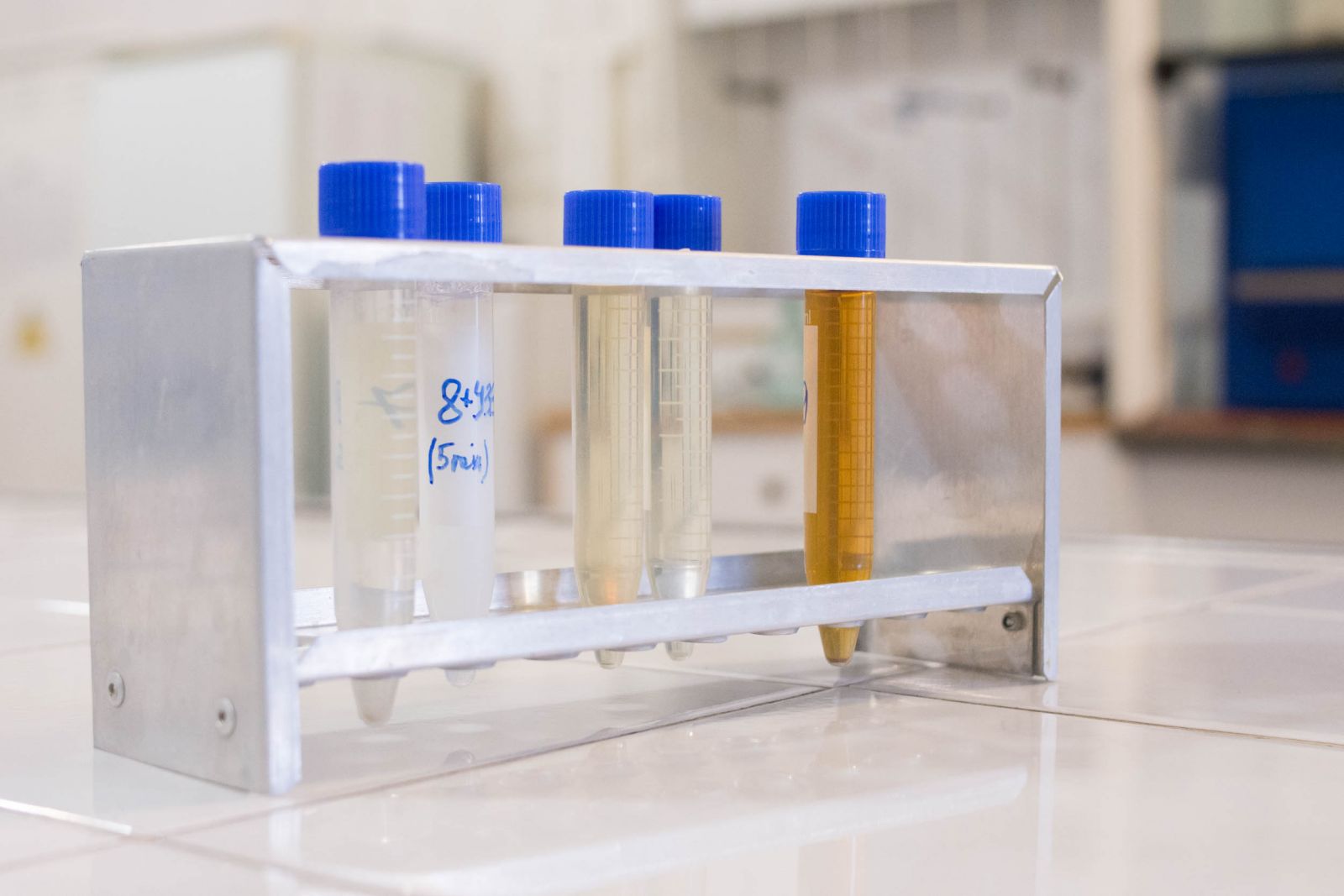 Photo: extract of shelf fungus, dihydroquercitine, betulin
A bio-composite which includes all healthful properties of the extracts is to be created.
Another goal of scientists from the SUSU School of Medical Biology is to obtain a bio-composite based on several healthful extracts. The complex product will possess maximal antioxidant and immunostimulating characteristics as well as perform hepaprtotective function. The healthful supplement is mainly created for juice-containing beverages on the basis of apple, beet, honeyberry, carrot and buckthorn juice. Industrial partner in implementation of the project is Biotech Company.
Moreover, the extracts can be used in production of dairy products. But whereas production of juice does not incline for complex technological processes, production of such products as yoghurt or bread is more time-consuming.
New juice has successfully passed tasting
"One of our objectives is to determine how biologically active substances are going to act in the food matrix. Nowadays, many producers of food products do not pay sufficient attention to how BADSs act in a finished product and at what extent their characteristics remained after all technological operations. We are trying to find a solution which will allow fully preserve healthful properties of supplements in a finished product."
The initial tasting of beverages with addition of dihydroquerticine has already finished. At the present time, the industrial partner is developing a brand under which beverages are to be produced. After releasing the trial batch of the product and its successful testing, a certificate that allows starting mass production of the product will be obtained.