International Rock and Roll Day is a holiday for fellow-thinkers for whom rock and roll has become not just music, but a style and a way of life. This holiday is celebrated every April 13th, though the historical event which initiated it happened a day earlier: on April 12, 1954 Bill Haley recorded his Rock Around The Clock single, which became iconic for a new musical genre that quickly spread beyond the USA border to other countries and continents daring the society and its traditions.
At South Ural State University rock and roll music is represented by the First Time Band, the members of which are the university graduates. In March 2013 Nikita Golubchikov, the band's rhythm guitar player, gathered guys who had long known each other. When spending summers in Olimp Sports and Recreation Camp they occasionally met at the camp fire, they would play cover versions of songs and felt that someone else's creations were not enough for them. All of them had different tastes in music, but when they started improvising at the rehearsals, they knew immediately that they were working as a whole. Already one month later they began recording their first track, and then created more and more music till 2015 when they recorded their first album You. In that same year the First Time Band became the 1st prize winner at the Russian Student Spring 2015 where they represented SUSU under the Bands category. Moreover, the musicians successfully performed at UTRO Youth Forum last year.
"We love rock and roll. This is an incredible and revolutionary form of expressing oneself, which can transform a person in such a way that s/he no longer his/her former self. Rock and roll is eternal since it's simple, there's nothing out of place in it. Its rhythm penetrates through any obstacle. Its power is in some special authenticity. The fact that rock music is absolutely natural stuns you right away when you first hear it. In a word, this is true art," share the musicians.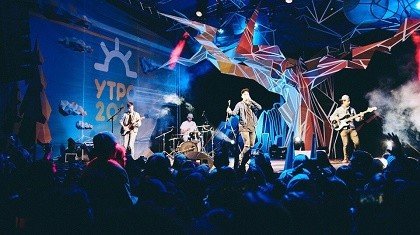 For over five years now the band have been regulars at student events, as well as have been performing in Chelyabinsk, Kurgan, Magnitogorsk, Vladivostok, and even in Moscow. The band members are really fascinated by their music, and they try playing it at the top level.