On Saturday, February 17th, Eurasian Culture Day was celebrated at SUSU. The celebration was held as part of the International Festival of Creativity "Together".
International and Russian students from South Ural State University, representatives of national cultural centers, presented 23 performances imbued with national colors for the audience.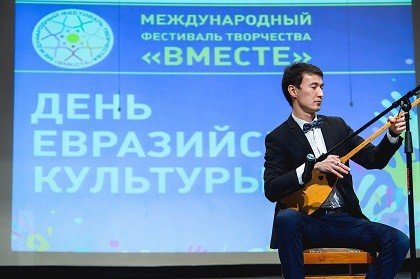 "Our international students prepared creative performances. Of course, in their own languages. We have never had an event like this; all of the students were happy to participate to introduce national cultures of their countries to us," notes Valeriya Chachina, international student affairs specialist.
Before the beginning of the festival, SUSU students were greeted by national dishes on the second floor of the main building. They were offered Tajik pilaf, Russian blinis, and Sri Lankan tea.
"We made very tasty, real Ceylon tea. We add ginger, cinnamon, cloves, and many more spices. This kind of tea is very good for the immune system and protects people from getting a cold," says student from Sri Lanka Uvindu Vidjeveera.
After this, the guests moved to the Activity Hall, and the creative program began. On this day, representatives from Russia, China, Kazakhstan, Kyrgyzstan, Uzbekistan, Tajikistan, China, and Iran came on stage. The participants performed in 4 categories: Songs in Native Tongue, Art of Declamation, Choreography, and Folk Instrumental Performance. Salamat Laykhan, student of the Polytechnic Institute, decided to participate in three categories.
"Today I'll be participating in three categories: we'll sing a folk song in a duet, then I'll play a medley on the dombra – a national Kazakh instrument, and then I'll read a poem called "Flag of Independence"," saysSalamat Laykhan.
The students' friends came to watch their performances as did representatives of the assemblies of national cultures for the Chelyabinsk Region and South Ural.
"We were very happy that they invited us to this event. SUSU is our friend and partner," says Sergey Bredikhin, Vice Chairman for the Council of Assemblies of National Cultures for the Chelyabinsk Region."We are trying to participate in all of the events. Youth events like "Together" are of special interest to us as the youth of today are the main driving force in society."
"The variety of national cultures is very important to us. Participating in such events, you get to know the world better and yourself, too," notes Ekaterina Teltsova, Chairperson of the Youth Assembly of National Cultures for the South Ural.
All participants of the Day of Eurasian Culture were awarded diplomas and were invited to participate in a gala show of the International Festival of Creativity "Together", which will be held at SUSU in May.
Event date:
Tuesday, 20 February, 2018 - 12:45