On February 17th, the regional round of the Olympiad in Psychology for School Pupils was held at South Ural State University. In 2018, more than 350 pupils from schools around the Chelyabinsk Region participated in the Olympiad.
The regional round of the Olympiad is being held in Chelyabinsk since 1996 – the year of founding for the SUSU Faculty of Psychology. For more than 20 years, South Ural State University has been the main methodological center and organizer of the regional round. Besides SUSU, the organizers also include the Regional Center of Evaluating the Quality and Informatization of Education in Chelyabinsk and the Chelyabinsk Institute of Retraining and Continuing Education for Education Workers.
The Dean of the Faculty of Psychology in the SUSU Institute of Social Sciences and Humanities, Doctor of Sciences (Psychology), Professor Elena Soldatova, greeted the university's guests, noting that the number of Olympiad participants increases annually:
"138 individuals and 17 teams submitted applications to participate in the Olympiad. This tells us that interest in psychology is quite stable and broad. And this is no accident – as a rule, after participating in the Olympiad, these children take their interest in psychology along with them in their lives. The skills and knowledge that participants gain will absolutely come in handy in the future when they are applying for university, when they are studying, in choosing their profession, and in much more."
The jury members included representatives of a few institutions of higher education in Chelyabinsk: Associate Professor of the SUSU Department of Developmental Psychology and Age Related Counseling Galina Zakharova; Associate Professor of the UralGUFK Department of Health and Safety Alevtina Rendikova; Associate Professor of the ChelSU Department of Psychology Irina Ponomareva; and Associate Professor of the ChIPPKRO Department of Pedagogy and Psychology Elena Selivanova; and more.
The regional stage consists of team and individual competitions in which students from 7th through 11th grade participate. The topic of the 2018 Olympiad was Psychology of Conflict. In previous years, the students worked on such topics as "Psychology of Family Relationships" and "Youth. Searching for Identity, Values, Meaning" and others.
"The topic for the school round of the Olympiad was also "Psychology of Conflict", and the assignments were varied and informative. I really liked working in teams. It's interesting because each of us adds to one another, and we work as a unified whole. Everyone has their own experiences and knowledge and their vision of a particular issue. This is a great chance to test your strength in teamwork and get to know interesting people," says 11th grade student Anna Akhmadieva.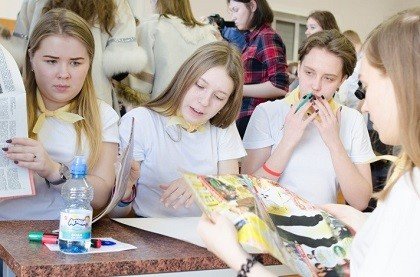 The teams and individual participants had to complete 3 assignments, each of which was geared towards evaluating their theoretical knowledge or practical skills in psychology. The assignments for the team round were to create a collage, crossword, and stage performance including solutions to a given situation. The individual round consisted of the following stages: a test (to determine their theoretical knowledge in the psychology of conflicts), psychological analysis of a video, and a professional simulation in which participants had to demonstrate their organizational skills, ability to listen, and other communicative skills.
"Such tasks as collage making are related to knowledge-based skills. Stage performance also requires their use. The students had to identify the problem hidden in their assignment and, demonstrating this situation, show their ability to solve it. Here they are demonstrating their practical and knowledge-based skills," notes Associate Professor of the Department of Developmental Psychology and Age Related Counselling of the SUSU Institute of Social Sciences and Humanities Elena Gudkova. "In addition, this is a great opportunity to show one's creative strengths. For example, teams even sew their own costumes."
Participating in the Olympiad makes it possible for future applicants to gain a significant amount of theoretical knowledge in psychology, increase their psychological skills, and form skills for effective communication. In addition, the winners and prize winners will earn diplomas and will be able to qualify for additional points when applying at higher education institutions in the Chelyabinsk Region.
Event date:
Monday, 19 February, 2018 - 15:00