On December 15th, on the occasion of South Ural State University's Birthday two laboratories were opened: Laboratory for Mechanics, Laser Processing, and Digital Technology, and Laboratory for Massive Online Open Courses, as well as a round table on "Surface Engineering: Laser and Sputtering Technologies" was held.
At the ceremony the Laboratory for Mechanics, Laser Processing, and Digital Technology was opened by the SUSU Rector Alexander Shestakov.
"For quite some time we were planning to open this laboratory since many centers are now working on additive technologies. We have been searching for our own field where we could develop successfully, and we found it together with our partners – Saint-Etienne National School for Engineers (Ecole Nationale de Ingénieurs de Saint-Étienne) and SMS Group Company. Here we see the research and engineering tasks which will help our industry to manufacture more competitive products. And what is most important, here we will be training top-ranking engineers for the industry," says Alexander Shestakov.
Moreover, Pino Teze, Vice President of SMS Group took part in this ceremony. This company is the world's leading manufacturer of metallurgical equipment and it was directly involved in the laboratory's establishment.
"This laboratory is a strategic project for our company. A team consisting of researchers and engineers is the best combination for such a project," notes Pino Teze.
Also, the guests were greeted by Professor of Saint-Etienne National School for Engineers Philippe Bertrand.
"Several years ago, here in Chelyabinsk we found very motivated and ambitious partners, and we are very pleased to be creating such a laboratory together with them. We believe in the future of additive technologies. We also have great expectations of the cooperation between the University and industry, as it provides a way of training engineering students and a chance to show that together we can achieve much," says Professor Bertrand.
Guests and partners from the major enterprises of Chelyabinsk and Russia were present at the ceremony of the laboratory opening. Among them were "Konar", ChelPipe, and "IPG-Photonics" Company ("IRE-Polus" Company). They were demonstrated the process of powder coating by means of laser cladding and high-volume piece synthesis.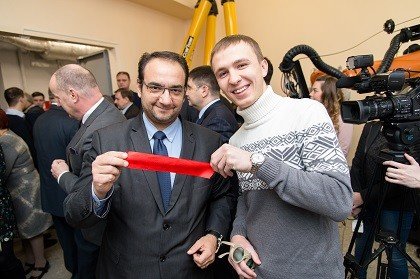 Two main tasks will be solved by the laboratory: performing the required research and development, as well as practical implementation of the innovations in the state-of-the-art equipment. Additive technologies is one of the promising fields of creating of surface engineering with the required technological and physical-and-mechanical properties.
The event was continued by the round table "Surface Engineering: Laser and Sputtering Technologies", where the partner enterprises demonstrated their innovations in the field of additive technologies.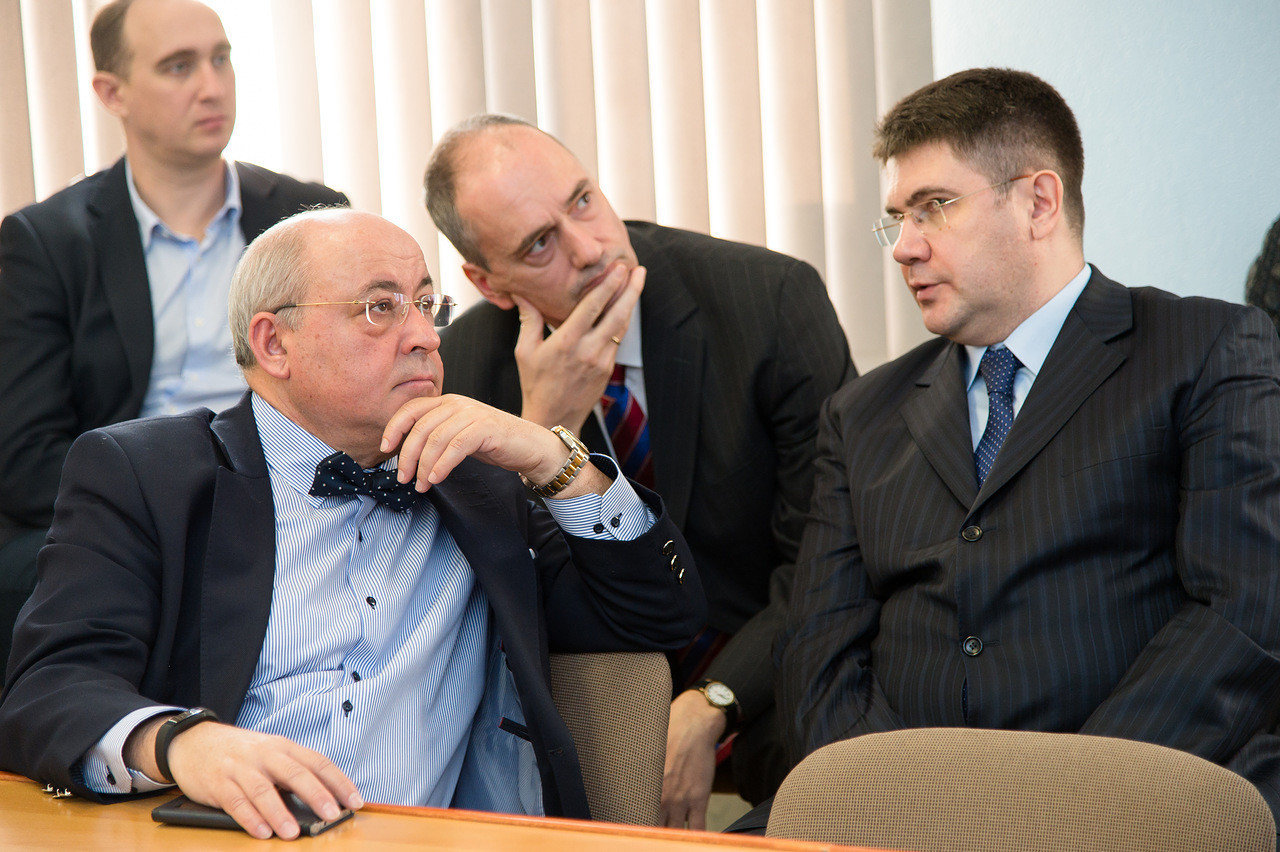 Professor Philippe Bertrand shared his ideas on the laboratory's activities. He described additive production and the design of the unit installed in the laboratory. Pino Teze, who is also Professor at the SUSU Department of Machines and Processes of Plastic Metal Working, explained why laser technology is important for SMS Group and named its advantages for end-consumers.
"IRE-Polus" Company, a world leader in the laser industry, presented its revolutionary fiber lasers which can be operated in any conditions, allow to perform remote cutting, and suit for the majority of metals.
Moreover, the University's birthday celebrations were marked with the opening of the Laboratory for Massive Online Open Courses at the SUSU Institute of Open and Distance Education. This event was attended by Rector Alexander Shestakov, Director of ODE Alexander Demin, directors of Schools and Institutes, as well as the University employees.
"This laboratory mostly aims at recording of massive courses of top quality and their broadcasting via YouTube," notes Alexander Demin.
The laboratory consists of a sound control board and a studio for the online courses recording. The studio is equipped with a sound suppression system, professional lighting equipment, backgrounds of various colours, as well as with video-cameras and microphones. In the future this studio will be used to promote structural elements of our University.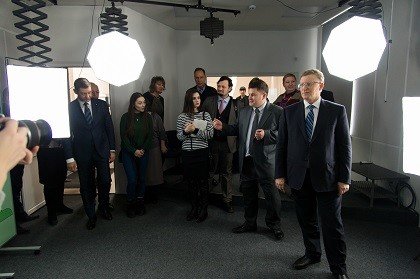 "Opening of this laboratory starts a new phase of development of educational technologies at South Ural State University. We are stepping up to the level of the top foreign universities. This laboratory will allow to create free technologies for training our students, and the level of teaching will surely get significantly higher. I wish all the University professors and employees to create brilliant courses which will become popular not only in our University, but beyond it as well," Alexander Shestakov expresses his wish.