Alexander Leonidovich, congratulations on the upcoming Birthday of our University. You would probably agree that over its 74 years of history our University has seen a lot of memorable and important events, but not many of them may be compared to the one when within the framework of this year's 14th Russia-Kazakhstan Interregional Cooperation Forum the Forum of Rectors of the universities of the two countries was held namely at South Ural State University.
– Yes, of course, and we truly appreciate that SUSU was trusted as the venue for holding of this Forum. It was for a reason that our University was chosen since over 1,000 Kazakh students are studying at the University, and 15 professors and 45 young scientists from this neighbouring Republic are reading lectures and performing scientific research at SUSU. The Forum's significance is obvious: it resulted in adoption of a joint resolution on collaboration in the fields of science and education, training and teaching of students, joint use of the universities' laboratories and technical resources, fulfillment of joint projects. The heads of the Russian and Kazakhstan universities signed more than 40 collaboration memoranda. In particular, over 20 collaboration agreements have been signed by SUSU and Kazakhstan universities as of today. These are the leading educational and scientific institutions of Kazakhstan. The fact that SUSU became the venue for holding the large-scale Forum of Rectors of Russia and Kazakhstan is a great achievement for us – we demonstrated educational, scientific and innovation infrastructure of our University, as well as our cutting-edge laboratories; we did networking, and planned trajectories of joint development. I am sure that this Forum allowed not only to establish new contacts between the two countries' universities, but also helped demonstrate our University's potential to the international community.
In this context how do you assess SUSU's professionalism at the major higher education event, Conference of the European Association for International Education (EAIE Conference and Exhibition) in Seville, Spain. You attended it personally, right?
– Our delegation was working in Seville for several days. A series of very important for SUSU agreements with authoritative ranking agencies, in particular with THE and QS, were signed at EAIE Conference and Exhibition. The agreement signed with QS facilitates solving one of the most important tasks set for SUSU as the participant of Project 5-100, namely, improvement of the University's recognition at the international level. Academic exchange programs, which are being successfully developed at SUSU, play a special role in a university's promotion in the rankings. In this field we signed agreements with the University of Seville (Spain), a framework agreement with the University of Applied Sciences of Lithuania (Lithuania), agreement of intent with the Administration of Philippines, held negotiations with the University of the Basque Country (Spain), Darmstadt University (Germany), Wroclaw Technical University (Poland), University of Pretoria (South Africa), University of Venice (Italy), Artois University (France) and Marmara University (Turkey) regarding collaboration in science and education. With such international agreements South Ural State University on practice strengthens its relationships with partner universities, expands the collaboration geography, develops joint educational programs and research studies, as well as by attracting foreign students and specialists facilitates the internationalization of higher education, and that is exactly what the tasks of Project 5-100 imply.
And what did our foreign partners think of the SUSU's new brand?
– You know, our new brand, which we adopted this year namely for the purpose of strengthening our positions at the international educational space, turned out to be understandable for the foreigners and people could relate to it. Including such mighty mythical creatures as Griffin and Lion in the SUSU logo was seen by our partners is a way of preserving traditions and paying respect to history and culture of the peoples of Europe and Asia. They interpreted the new logo as a new way of development for our university as a multinational and multicultural university uniting Europe and Asia. And of course they perceived of our striving to create a common Eurasian future based on the priority of scientific knowledge, respect to personality and faith in our creative powers.
How do you think SUSU's participation in Project 5-100 influences this process? What are the University's achievements at the first stage of the Project?
– SUSU's participation in Project 5-100 first of all aims at full-scale development of our University in order to step up to the international level. And it is extremely important that the international educational community notices the University's work in this field. SUSU has significantly moved forward in the course of this year. Our University improved its position in the international ranking "QS University Rankings: Emerging Europe and Central Asia (EECA)". According to the international ranking "Webometrics Ranking of World Universities" we improved our position by 213 points in 2017, especially with regard to the "openness" and "excellence" indicators; and among Russian universities the SUSU's web-site climbed up from place 40 to place 23. Moreover, according to the university ranking by "Interfax" Information Agency our University was listed among the top 22 universities of Russia, having improved its position by 16 points. Also, for the first time SUSU was listed in RUR international university ranking and in the TOP-10 ranking of our country's universities' invention activity by "Expert" Analytical Center.
To achieve such results, our University put in a lot of effort. A large-scale transformation of its organizational structure was performed, and namely, restructuring of academic divisions which resulted in over 30 faculties having been transformed into 10 Schools and Institutes, and reduction of the number of Departments from 145 to 85, and it all was done just within two years. A Supervisory Board and an International Scientific Council were established to monitor the transformation process of the University and its further sustainable development.
SUSU constantly attracts the world's leading scientists and talented young specialists. In this context we implemented new management principles, and created a bilingual medium using the method by Cambridge University Press, which became a basis for a new model of English language training for over 1,500 students, professors and employees. The total of 60 international postgraduates are studying at SUSU, and in 2017 7 postdoctoral fellows from India, Nigeria, Belorussia and other countries were attracted, what speaks volumes on a good start of the University on its way to internationalization.
Our University's location on border between Europe and Asia is a serious advantage in attracting foreign students and creating a comfortable bilingual medium. Within the recent years SUSU managed to adjust the channels of attracting students both from the near abroad, and from China and Middle Eastern countries. All in all, our University has more than 140 current agreements with foreign universities, transnational corporations and major production companies from 48 countries around the world. Today over 2,000 international students are studying at SUSU under various specialities and programs.
SUSU is creating an infrastructure for the Bachelor Degree students who excel in their studies and strive to fully realize their intellectual potential – a zone of elite training under the guidance by the SUSU Center of Elite Education. Through the elite education programs the most ambitious and talented students of our University not satisfied with the standard package of knowledge can obtain high professional competencies and become high-demand and competitive specialists in the future not only on the Russian labour market, but abroad as well. It is worth noting that in 2017 SUSU became an International Member of the National Collegiate Honors Council, USA.
The new generation of students for sure must be demanding to adopt academic programs to the realities of this age of distance computer technologies. Has our University succeeded in this field, do you think?
– We deal with this problem every day. The Russian Federation Ministry of Education and Science Olga Vasilieva stressed that major role in forming of the human capital is played by university education, and noted that it shall meet the present-day demands, and that universities shall become innovation and technological centers of our country. Creation of an up-to-date digital education environment is one of the priority fields of development for South Ural State University. For more than 10 years our University has been fulfilling its distance learning program for students under the e-learning system using cutting-edge information Internet technologies and multimedia. Within the framework of the project on developing and implementation of Massive Online Open Courses (MOOC) in Russian and English at the leading Russian and international venues, SUSU prepared 8 courses to be developed. The course on "Renewable Energy Sources" was first tested at Lektorium. The total of 100 various courses for school pupils, students, postgraduates, professors and state officials are available at the SUSU's distance learning portal.
Also, the SUSU's distance learning is being fulfilled under six Bachelor Degree programs: Economics, Management, Construction, Law, State and Municipal Management, and Pedagogic Education. Using the distance learning mode it is possible to continue your studies under such popular Master Degree programs as: Economics, Law, and State and Municipal Management. To make training more convenient, efficient and of better quality, we are uploading all the University's educational programs to the "Electronic SUSU" web-portal. As a successful example of blended learning we may name a series of video-lessons on mathematics developed by the SUSU Institute of Natural Sciences. These video-lessons were created taking into consideration the specifics of the educational programs for students of different University faculties: from humanities to technical ones. Through online distance learning all those willing can study those topics which were not fully understood by them during lectures, or which they would like to refresh before the exams. This video-course is hugely popular among our students.
In 2017 more than 3.5 thousand people have been receiving distance education at SUSU, and the total number of active users registered at the "Electronic SUSU" web-portal amounted to 9,500 people. The distance learning geography is wide: USA, Cyprus, Turkey, Qatar, Mongolia, Kazakhstan, Tajikistan, Azerbaijan, Uzbekistan, Republic of Bashkortostan, Moscow and the Moscow Region, the Yamalo-Nenets and Khanty-Mansijsk Autonomous Districts, the Amur Region, Yekaterinburg, Chelyabinsk and the Chelyabinsk Region, and other regions of Russia.
And if we touch upon scientific and innovation activities, what is the scale of international collaboration here?
– Eight international research laboratories guided by the leading scientists from Australia, Great Britain, Germany, India, Canada, Mexico, USA, and France were formed in the course of the passing year at the University.
A great example of science and industry collaboration is a joint project on additive technologies fulfilled by SUSU, SMS Group Company and Saint-Etienne National School for Engineers (Ecole Nationale de Ingénieurs de Saint-Étienne), with which our University jointly established the Laboratory for Mechanics, Laser Processing, and Digital Technology (headed by one of the world's leading scientist, Philippe Bertrand). The developments were carried out in cooperation with the founders of the fiber laser building industry in Russia, "IPG-Photonics" Company ("IRE-Polus" Company). The project comprised research-and-development, educational and innovation aspects, and aimed at solving tasks on designing an electric engine of new generation for "Konar" Industrial Group.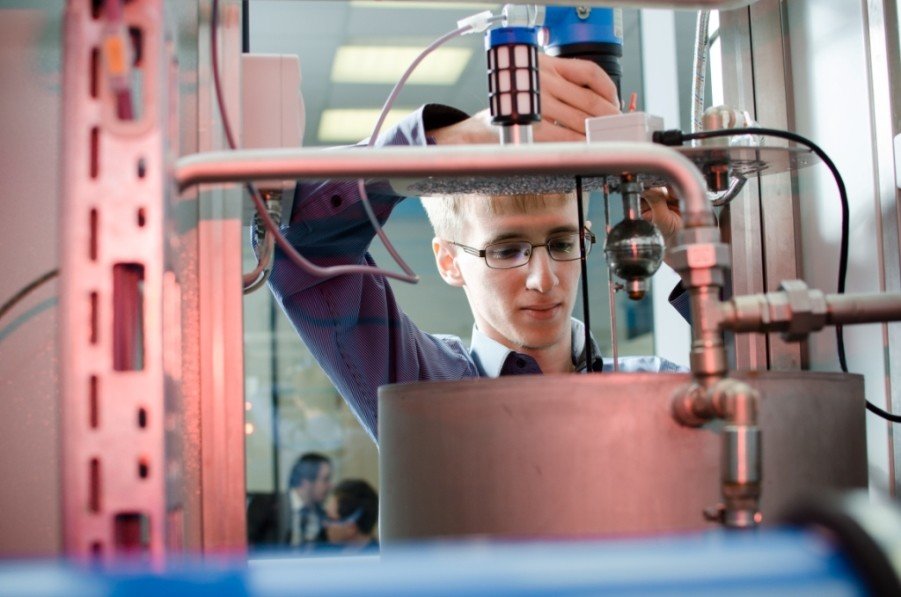 SUSU boosts the growth of entrepreneurial activity in high-technology sectors by means of creating small innovation enterprises for sustainable development of the Chelyabinsk Region and the Ural District, as well as by launching a Youth Business Incubator. SUSU youth teams participate in acceleration programs Generation-S, "You Are an Entrepreneur", and "Factor". The SUSU's innovation projects get support at the contests by Skolkovo Foundation, RBC's InfraFund, and the Innovations Facilitation Foundation. Over the recent 10 years, just within the framework of the Innovations Facilitation Foundation's "Umnik" Program support for developing their ideas was granted to 126 students, postgraduates and graduates of SUSU, who then registered 202 intellectual property objects and established 24 small innovation enterprises. The total of 68 small innovation enterprises have been established at the University over the period of 5 years.
The SUSU's innovation infrastructure and developed business ecosystem allowed to start many the today well known enterprises of the region and our country. Such companies as "Intersvyaz" (leader at the Chelyabinsk Region telecommunications market), "ElMetro Group" engineering company and "Ural Engineering Center" were born as businesses at SUSU.
But you have more ambitious plans on enhancement of the university competitiveness at the international space?
– Yes, we do. Our goals are quite ambitious, but achievable. During its second transformation stage SUSU will focus on development of the breakthrough fields: research studies integrating computer sciences into engineering, humanities, economics and other sciences in the context of active implementation of the Internet of Things into industry, and aiming at solving global contemporary challenges jointly with the leading industrial partners. Strategic Academic Units "Smart Industry" and "Smart Education" will be created for these purposes in 2018.
"Smart Industry" would not be possible without using digital technologies and implementing of innovation production which uses the Big Data methods (big data mining) to process information received from sensor networks. Today the world's leading industrial corporations are already using it all for prompt monitoring and collection of information on the condition of production's technological processes.
In the context of global competition Russian and foreign enterprises need unique innovation solutions for adequate fulfillment of their potentials, and it appears that today only SUSU can offer such solutions since it closely collaborates with Emerson Corporation, the world's leader in production of sensor systems for "Industry 4.0" enterprises.
Development of IIoT sensors (for the Industrial Internet of Things), designing digital twin systems and systems of model feed-forward control, development of Artificial Intelligence models, data mining, information security for industrial systems – all of these are the new SUSU-developed digital solutions which can help in solving the tasks of Industry 4.0, and facilitate improvement of production efficiency and competitiveness of companies.
As an example of the industry digitalization we may name an original methodology of process management as per criteria of minimizing consumption of energy resources and raw materials, which was developed by the SUSU scientists for Magnitogorsk Iron & Steel Works.
"Smart Education" Strategic Academic Unit is as important since it comprises several crucial aspects. First, it is the use of online distance resources in education, which we believe, will reduce teaching load by 20%.
Second, mass integration of distance learning into educational programs will help diversify them and will make the training process more flexible. Implementation of individual learning trajectories will allow students to control their own education, what is especially important in the context of elite training programs.
Third, learning efficiency will increase due to introduction of adaptive educational technologies which take into account individual ability of every student to master new disciplines. "Smart Education" Strategic Academic Unit implies creation of an open educational model focusing on personal growth of every student and providing the best opportunities for the SUSU's graduates.
What would you wish our University in the context of its upcoming birthday?
– Every research scientist, every professor and every student make a tremendous contribution into development of South Ural State University. Thorough work of immense complexity on creating innovative solutions allows our University gain recognition in the international science community. Everyday work and patience of our professors, their devotion and will to share their most up-to-date knowledge with students are priceless! And students are our future, many of them generate most extraordinary projects and ideas, and it is thanks to them that a special atmosphere of creativity, confidence and aspiration to move forward reigns at our University. All together are we are one big team! I wish you success in work and studying, health, unconventional ideas and incredible discoveries!