On Monday, December 11, an opening of the Production Studio Laboratory took place at the Department of Journalism and Mass Communication of the SUSU Institute of Social Sciences and Humanities. The Laboratory will operate as a base for creating professional photo materials which is necessary in order to form the university's image and promote it in the international education space; it will also operate as a training venue for teaching fundamentals of professional photo shooting to students.
"First of all, this project is significant for developing the university's international informative space," noted Director of the Institute of Social Sciences and Humanities, Elena Ponomareva. "Photography is universal; it is understandable without translation to all nations of all countries. And it is very important that now we have the possibility to shoot and publish photo images at a professional level, and work efficiently over creation and promotion of the image of the university as the leading center of science, education and culture."
The Production Studio Laboratory is located in 3B academic building. The location was chosen for a reason, because this is precisely the place where the University's television originated.
"Today we are present at a historical spot, and the moment is historic as well," commented the Laboratory's opening Lyudmila Shesterkina, the Dean of the Faculty of Journalism. "In this precise building, the university's television and radio originated; and now photo journalism came here as well, and it proves that we keep moving forward and developing the best traditions of training universal media specialists."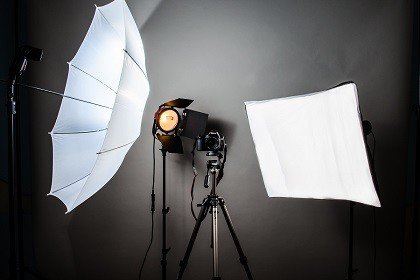 The photo studio will become a place for training not only journalist students but also future specialists in the sphere of advertising and public relations. Here they will master technologies for creating contemporary advertising product in which visual component plays an important role.
"Today, our students can learn photography in practice, bring their ideas into reality and create worthy portfolios while still being a student. Students have the opportunity to use this Laboratory to become more professional and competitive," noted Head of the SUSU Office of Marketing and Strategy Communications, Lidia Lobodenko.
Production Photo Studio is equipped with all the necessary technical facilities: at the Laboratory, there are several sources of light which can be used for both photo and video shooting. At students and employees' disposal are 4 types of background, various modifiers for total control over illumination and 2 powerful computers for editing photos.
"This will allow creating projects and arranging photoshoots for all schools and institutes of the university at our Laboratory. For example, on the occasion of the Instrumentation Engineering Faculty's anniversary we took pictures of all departments of the School of Electrical Engineering and Computer Science. And we will keep doing this job. As the results of the training, students will master a set of skills necessary for illustrating all kinds of media text. Besides, using the knowledge obtained during the training at Production Photo Studio, students will be able to shoot their own photo reportages and photo stories," said Supervisor of the Laboratory, Oleg Igoshin.
For students of ISSH and ILIC who took part in the opening ceremony, a New Year holiday-themed photoshoot was arranged at the new photo laboratory.